Family vacations should be memorable for all its members and whatever their ages.  They need to offer activities and conditions that accommodate the different likes and dreams too! How about an unforgettable family vacation in the Costa Rican rainforest? How about Nicuesa Rainforest Lodge, a luxury, eco-lodge located on the Golfo Dulce in southern Costa Rica and immersed in a rainforest? 
With family vacations in mind, Nicuesa has designed a Family Adventure Package that will keep all members of the family happy. It is the perfect place for the whole family to learn, play and make memories together whether it is in the rainforest on the stunning Golfo Dulce or both! Thanks to its secluded location and a number of free-standing cabins, it is also a wonderful moment to have some real family time without the interruptions of daily life.
So, why is Nicuesa the perfect place for an adventure-filled family vacation? Let´s see how.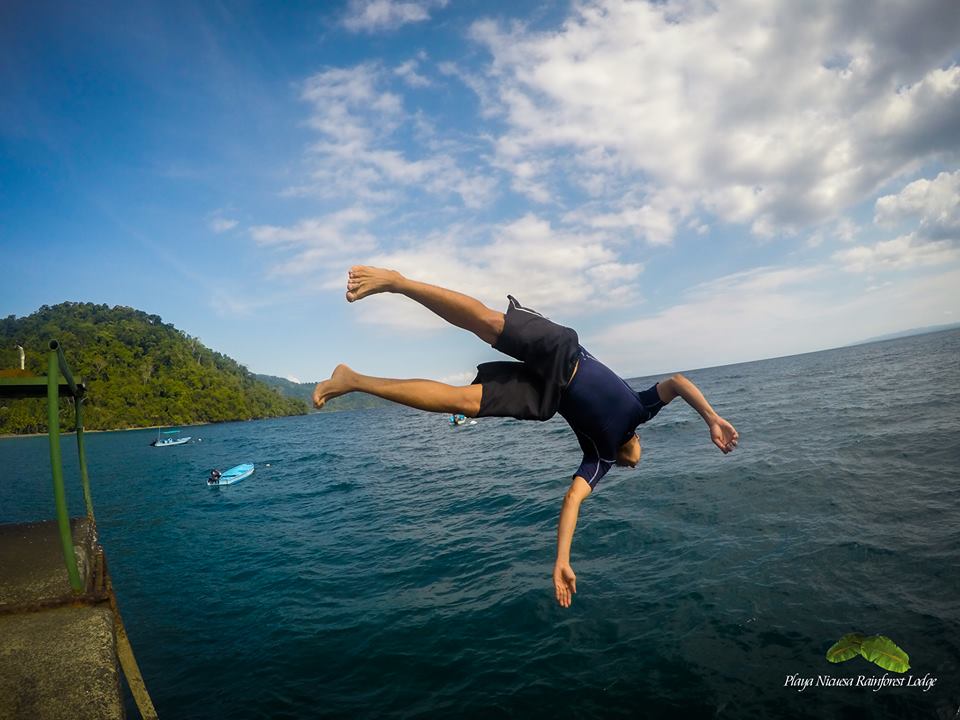 Activities for all ages
The Nicuesa Rainforest Lodge offers a variety of activities that are suitable for families with children of all ages, including guided rainforest hikes, kayaking, fishing, snorkeling, and wildlife watching. There are also opportunities to learn about local culture and sustainable living.
This means that during your family stay, your days can be filled with adventures that nature lovers of all ages can enjoy. This is where memories are made and how better than from different perspectives. Here are just some of the great adventure in nature activities, families can do together:
Kayaking Tours: 
Visitors can take guided kayaking tours of the Gulf of Dulce, which is home to a wide variety of marine life, including dolphins, sea turtles, and tropical fish. The tours are suitable for all levels and include snorkeling stops to explore the vibrant coral reefs or through the mystical mangrove forests.
Hiking Tours:
The rainforest surrounding the Nicuesa Rainforest Lodge is home to a diversity of wildlife, including monkeys, sloths, and toucans. Guided hiking tours are available for visitors of all ages and skill levels, offering an opportunity to explore the lush jungle, observe flora and fauna, and learn about the local ecology.
Snorkeling Tours:
Visitors can explore the underwater world of the Golfo Dulce on snorkeling tours, which offer a chance to see colorful tropical fish, sea turtles, and other marine life up close.  This fun, underwater activity can be done as part of one of the kayaking tours or just jump off the Nicuesa dock and snorkel to your heart's delight. Nicuesa has snorkeling gear at no extra charge too!
Sportfishing Tours:
For those looking for a more active adventure, the lodge offers sportfishing tours that provide an opportunity to catch a variety of fish species, including snook, roosterfish, and mahi-mahi. Choose from a half-day, inshore fishing tour, an offshore big game fishing for the whole day or sit on the dock and throw your line in. The chef will cook your catch for dinner too!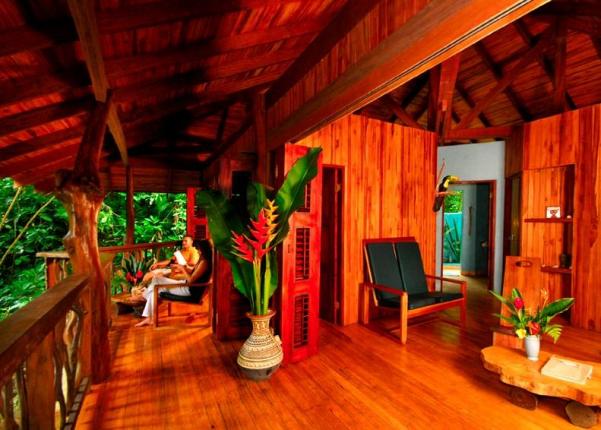 Family-friendly accommodations:
The lodge features eco-friendly accommodations that are built using sustainable materials and designed to blend seamlessly with the surrounding rainforest environment. Families can choose from a variety of lodging options, including private cabins and suites.
With families in mind, Nicuesa created the Two Bedroom Cabin that features two bedrooms and a living room that can be converted into an additional bedroom if so requested. The cabin also boasts a terrace, an open-air shower, and panoramic views of the surrounding rainforest. It is also just steps from the main building and restaurant too.
The Jaguar House is another fantastic family lodging choice. This 2-story, 3-bedroom house immersed in the rainforest includes a living room, bedroom, and full bathroom downstairs and upstairs find the master bedroom, the third bedroom, full bathroom, and a generous open terrace. This additional space becomes a perfect lookout for spotting birds, and animals and enjoying the sounds of nature!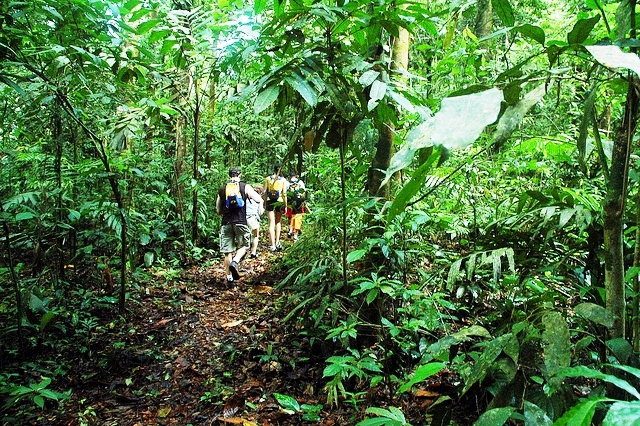 Educational opportunities:
The Nicuesa Rainforest Lodge offers educational programs that are designed to teach families about the importance of environmental conservation and sustainable living. Children can learn about the local flora and fauna, participate in hands-on activities, and explore the rainforest with experienced guides.
Nicuesa´s Family Adventure package includes some great "Learn Together" activities which are fun too. These include:
Forage the rainforest for jungle edibles and play "chef" for the evening's meal.

Practice yoga together at sunrise & sunset. The deck is right on the beach.

 

Take a tour of the nearby animal sanctuary that has a release program.

Learn how to open a coconut and how pineapples grow.

Open up a whole new world of insects! There are lots of them and they are very interesting!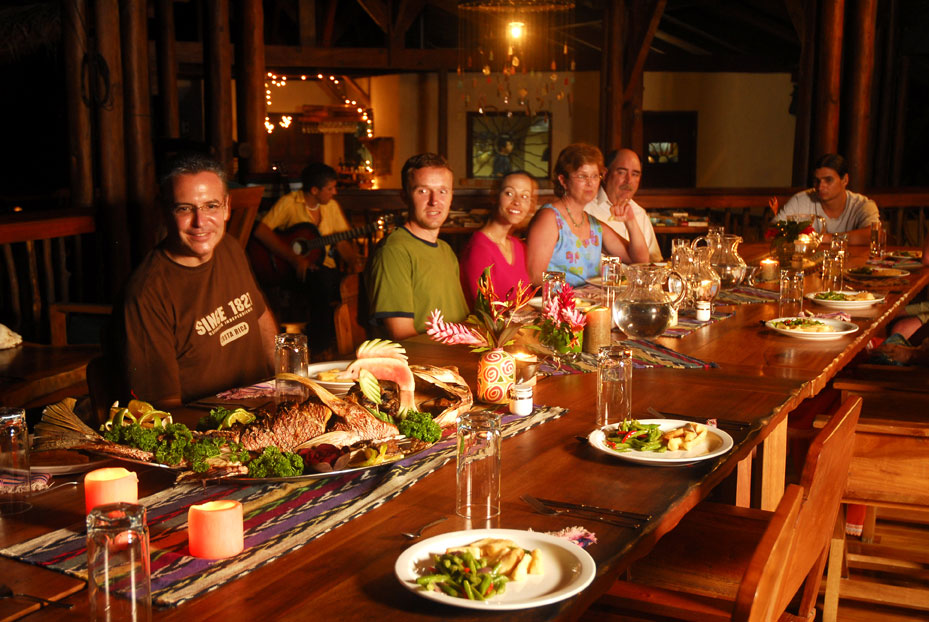 Family-friendly amenities:
The lodge offers a range of amenities that are designed with families in mind, including a family lounge, and a restaurant that serves delicious, locally sourced cuisine. With so much adventure and fresh air, nourishing, fresh and tasty meals become a must. And, with so many stories to tell over the breakfast, lunch, and dinner tables, mealtimes will become a favorite activity for all.
The Nicuesa Rainforest Lodge location provides families a unique opportunity to disconnect from the outside world and reconnect with nature and family.  Make even dinner an unforgettable part of the family vacation in the Costa Rican rainforest! 
Did we mention that the lodge can only be accessed by boat? This is the perfect way to add to the sense of adventure and excitement from the very start!
Nicuesa Rainforest Lodge is a great family vacation destination because it offers a range of activities for all ages, eco-friendly accommodations, educational opportunities, family-friendly amenities, and a remote and secluded location. Families can create unforgettable memories while learning about the importance of environmental conservation and sustainable living.  So, when will you enjoy an unforgettable family vacation in the Costa Rican rainforest?