Costa Rica stands out on the world stage as an example of ecotourism and sustainability. This is a well-deserved recognition of how a country can preserve its culture and environment and support the local community in a sustainable way while still providing ways to enjoy all it has to offer. Nicuesa Rainforest Lodge is not only one of the best eco-lodges in Costa Rica but is also an example of how sustainability can be done right!  With the Golfo Dulce as its front garden, Nicuesa is actively involved in many initiatives to conserve this important body of water,  collaborating with Mision Tiburon, among others. This is a way that Nicuesa Rainforest Lodge supports the Golfo Dulce.
When you stay at Nicuesa Rainforest Lodge, you ultimately become part of the sustainability movement, as many of the unique and wonderful aspects of the eco-lodge are thanks to the sustainability processes in place.  Nicuesa believes you can experience nature and adventure while remaining mindful of the property's pristine land.  As stated, "We strive to offer luxury service in an authentic, sustainable, and pristine location."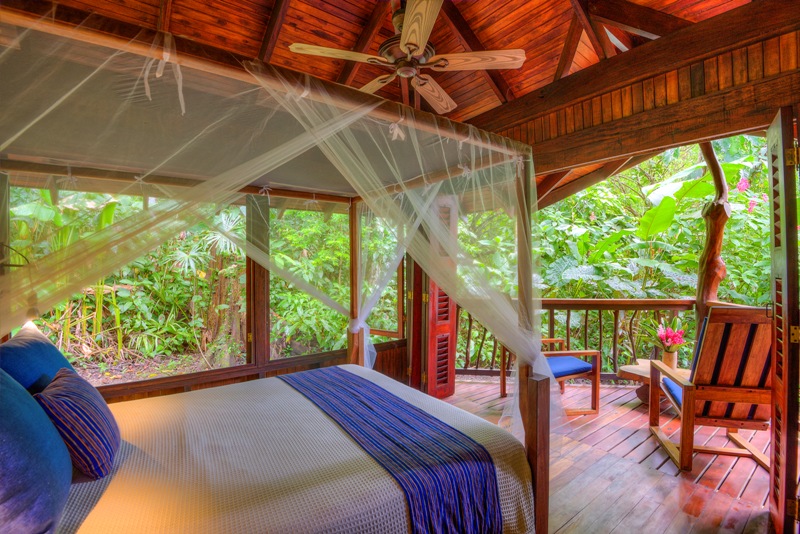 Nicuesa and Sustainability
Nicuesa has many sustainable activities going on that you will appreciate during your stay at this remote yet stunning lodge in the rainforest. The list is long yet meaningful. Here are some of them:
Environmentally friendly design features: design of the cabins and lodge is unique and in context with the natural environment, and the orientation of the cabins and lodge maximizes natural ventilation of air from the mountains and the beach through the structures
Use of recycled construction materials, such as roof tiles on the lodge and cabins, are made of recycled plastics, including banana bags.
The wood used throughout Playa Nicuesa is either naturally fallen and permitted by the government to be pulled out of the forest by oxen or farmed.
A hydroelectric turbine and solar panels provide electricity throughout Nicuesa. The backup generator runs on recycled vegetable oil.
Passive solar drying room used to dry all of the wash
Use of organic-biodegradable cleaning products as well as organic-biodegradable shampoos and soaps in guest rooms and for employees
Energy-efficient light bulbs, refrigerators, and freezers
Lodge meals focused on national and regional cuisine, utilizing food from the property or grown as locally as possible
Employ local/Costa Rican staff (98% of employees); primarily from the immediate coastline and two area villages
Support the local economy by purchasing food, hardware, and other supplies from nearby towns
Nicuesa Rainforest Lodge also supports national and international organizations and NGOs like Misión Tiburon, including hosting one of its educational initiatives, the Citizen Science Program. During this nature immersion trip, families participate in citizen science to tag baby hammerhead sharks (fishing), assist with coral restoration work (snorkeling), and rainforest restoration.
Recently, Nicuesa Rainforest Lodge was where a group from Families in Nature was. This organization looks to connect children with their families to nature while spending time learning, playing, and volunteering in nature and outdoors! They were part of Mision Tiburons Citizen Science Program and chose to stay at Nicuesa Rainforest Lodge as part of their time in nature and volunteering.  And Nicuesa loves being part of this project and the creation of future conservationists!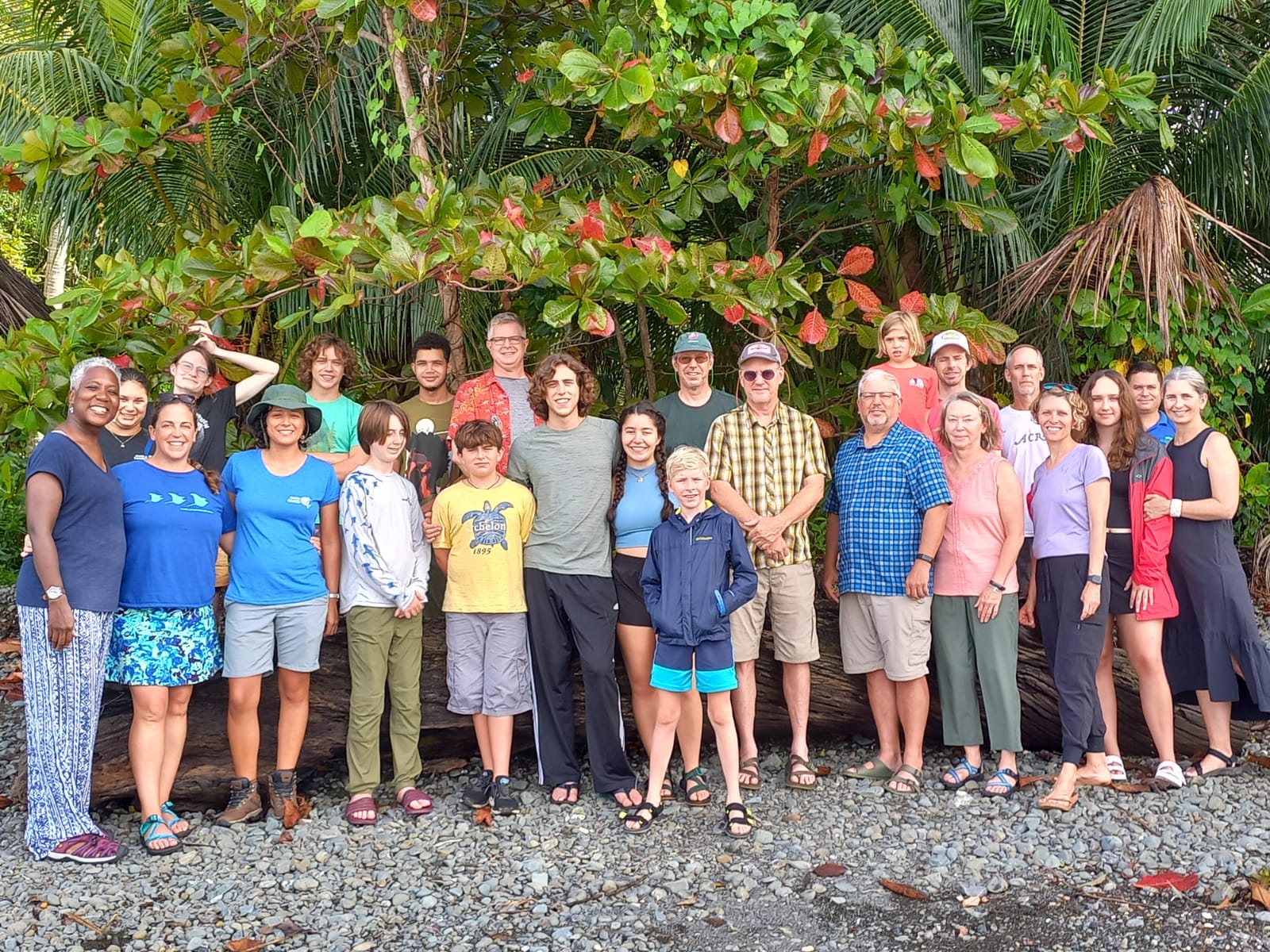 What is Mision Tiburon?
Mision Tiburon is all about protecting and conserving the oceans, sharks, and marine life in general.  This worthy cause believes that oceans are healthy when they have sharks! This recognizes sharks' extremely important role in the oceans and their key to creating healthy oceans.
It was co-founded by Andrés López and Ilena Zanella and part of a group of scientists, divers, photographers, and ocean lovers with the same goal: protecting the ocean and the planet. We could say that sharks are both Andres and Ilena´s favorite animals, and they decided to dedicate their lives and efforts to their preservation and protection.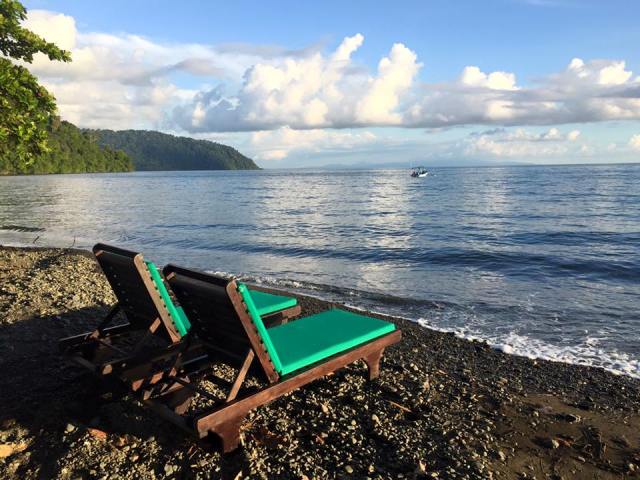 Why is the Golfo Dulce so important?
The Golfo Dulce is actually just 1 of the 4 tropical fiords in the world, and it is Nicuesa´s front garden. It is home to many ecosystems, wildlife, and marine life, including the endangered scalloped hammerhead shark.  They are non-aggressive, and the nursery grounds of this species have been repeated over the years, where their litters are numerous.  The Golfo Dulce was declared a "Hope Spot" by Mission Blue due to its importance as a nursery area both at a national and international level.
The scalloped hammerhead shark uses the mangrove forests and wetlands as their nursery. In 2018, the Costa Rica government declared the wetlands of the Golfo Dulce as a protected Scalloped Hammerhead Shark Sanctuary.
This creates new opportunities to work with the coastal communities to educate new generations, create volunteering programs, promote a blue economy, further research and study of the sharks and other marine species and work with community and government institutions in creating awareness.
Nicuesa Rainforest Lodge is committed to supporting these initiatives in the Golfo Dulce, providing the ideal conditions for families, scientists, and nature lovers to enjoy the very best of this incredible corner of the world.  The Golfo Dulce is a nursery for many marine species, including the Humpback Whales that come yearly to its safe, calm waters. So, whether you are exploring the rainforest or the Golfo Dulce, nature is your wonderful companion at every turn.