The Gulf of Papagayo is one of Costa Rica´s most beautiful stretches of the coastline of Guanacaste. Its calm waters are protected from the open sea by the world-renowned Peninsula of Papagayo, one of Costa Rica´s most important tourism magnets and developments. Dotted with beautiful beaches, impressive rock formations, and vegetation-laden headlands, the Gulf of Papagayo is a favorite beach destination for many eager travelers. Let´s explore 5 top beaches in the Papagayo Gulf for you to include in your journey along the Golden coast of Costa Rica.
Papagayo Golden Palms Beachfront Hotel is located in the Gulf of Papagayo and is just steps from the beach. This secluded resort is surrounded by tropical gardens anchored by some beautiful Guanacaste trees that offer shade and colors that can be enjoyed from your room's private terrace. Admire them as you walk to the gourmet restaurant and refreshing pool area. It is also located on one of our top beaches in the Papagayo Gulf!
Let´s ride around the Gulf of Papagayo to explore the beautiful beaches and see what they offer for a day in the sun and the surf.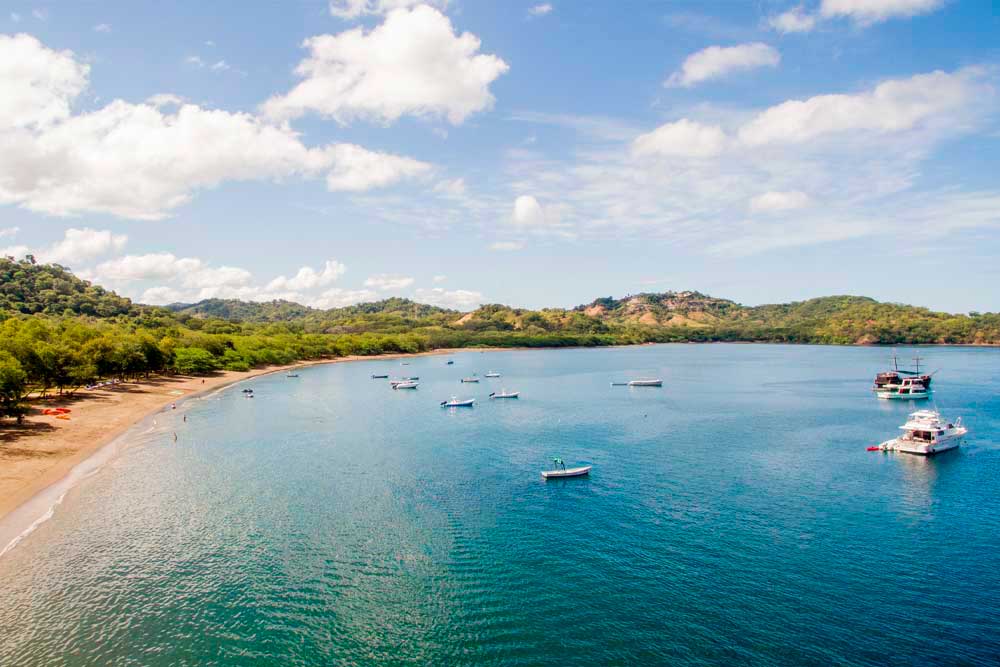 1. Panama Beach
Panama Beach is a great inner-bay beach with soft waves that make swimming, SUP, and kayaking fun and easy! It is located in Culebra Bay, which sits with the Gulf of Papagayo, so it is further protected from the open sea, creating a pool-like beach perfect for families and children.
Panama Beach is just minutes away from Hermosa Beach and Playas de Coco, making it a great beach to stay at. It is also a 25-minute drive from the Guanacaste International Airport on a newly paved scenic road. This translates to an afternoon cocktail enjoying the sunset when you arrive in beautiful Costa Rica.
Panama beach has light-colored sand and is palm-tree lined, offering shade after some time in the water. It is a great beach for a morning or afternoon walk or runs. It is about 1.5 miles long, with rock pools at either end for some further exploration. Playa Panama is a great beach, too, as it is just under the radar, so your stay on this beach will be relaxing, and you won't have to share the beach with many other people.
2. Hermosa Beach
Hermosa Beach translates to Beautiful Beach, and we agree. Just around the headland from Panama Beach and Papagayo Golden Palms Beachfront Hotel, Hermosa Beach has lots going on. It is one of the more popular beaches in the Gulf of Papagayo. Home to hotels, restaurants, and shops, Hermosa Beach, is lively and a great beach to visit during your stay.
Hermosa Beach is in a valley, and its hillside is filled with condos, luxury beach homes, and vacation rentals that bring many people to its clear sand and gentle waters throughout the year and every year. It sits right in the middle of Panama Beach and Playas de Coco too, so it is conveniently located between the tourist vibe of Playas de Coco and the laid-back vibe of Panama.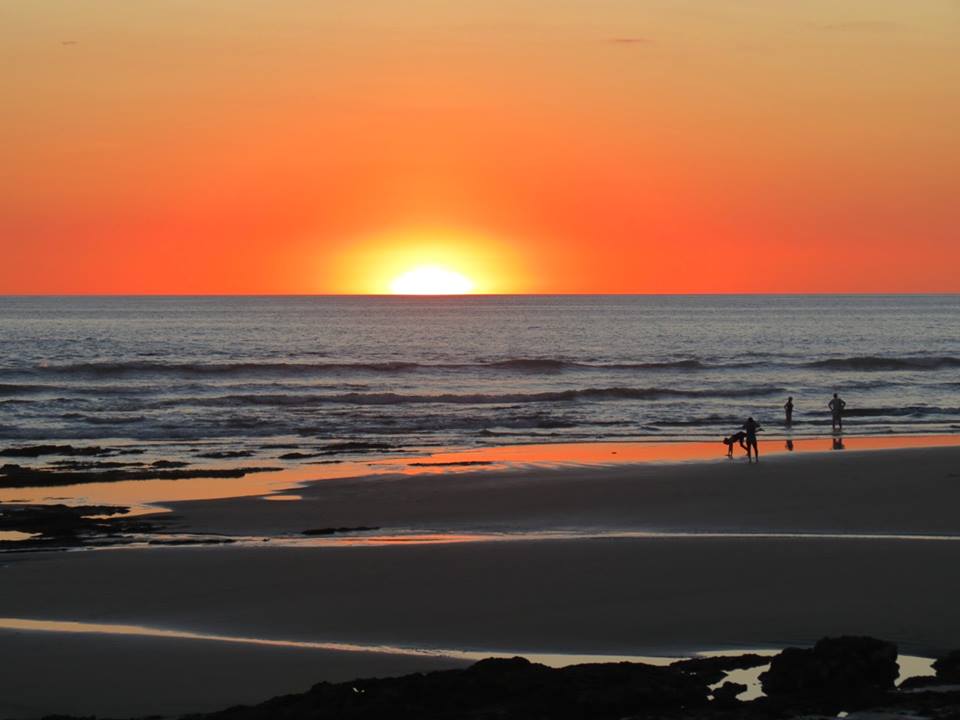 3. Virador Beach
Virador Beach is on the Papagayo Peninsula and is a bit of an adventure to get to but well worth the walk. This white-sand beach with pool-like waters is popular with the locals and the Papagayo Peninsula tourists thanks to its beauty and seclusion.
All beaches in Costa Rica are public, which means that while many are embraced by private property and beachside hotels, there will always be a way to reach them. This is the case with Playa Virador, which requires you to leave your car in a car park, and a bus will transport you to the entrance of a walkway that includes around 700 steps to reach the beach.
While this sounds like a challenge, the destination is well worth the walk down onto this picture-perfect paradisiacal beach. So, Playa Virador is about enjoying this beautiful beach and getting a good cardio workout for a fantastic day under the sun and in the refreshing ocean.
4.Playa Calzón de Pobre
Playa Calzon de Pobre is an interesting name with an unknown origin. It translates to a poor person's underwear which certainly isn´t very appealing, especially when the beach itself is beautiful. While small and secluded, it is a wonderful beach to visit and well worth the walk down the headland to get there.
Calzon de Pobre sits just north of Playas de Coco, and before you descend down to the coast, you can enjoy some great views of this famous Gulf of Papagayo beach. As you begin your walk down through the forest, you will begin to see what beauty awaits you at the bottom. Enjoy the shady beach with deep, calm waters and great gulf views.
This beautiful beach has no development, so come prepared with water and supplies if you want to spend the day there. This is what makes it even more special and well worth a visit!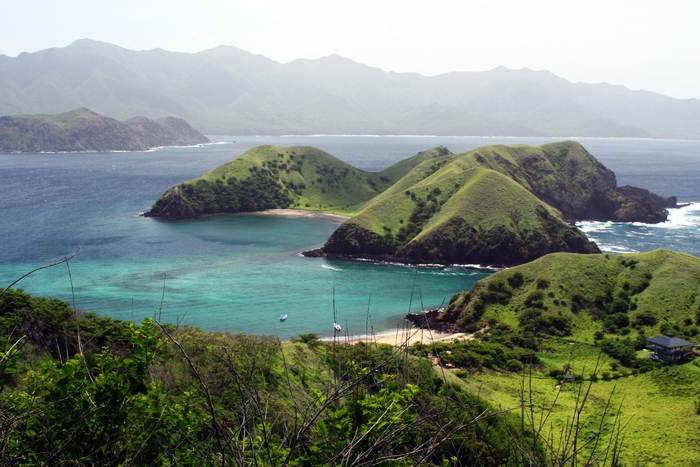 5. Playa de Coco
Playa de Coco may not be the prettiest beach on the Guanacaste Coast or the Gulf of Papagayo, but it is the most popular and most developed with shopping, restaurants, and bars. It has a vacation vibe that makes it one of the 5 best beaches in the Gulf of Papagayo.
Playas de Coco is also one of the first vacation spots for Costa Ricans. This little country extended its roadways, and new places became favorite holiday destinations to enjoy and explore. This once was a quiet fishing village, and as more and more tourism reaches its shores, Playas de Coco has become a favorite place to visit and stay.
This is the beach that many tours will depart from too. Its sheltered bay is perfect for anchoring fishing and luxury boats that rock to the rhythm of the soft waves. The dark-sand beach is lined with beach clubs, open-air restaurants, and bars, and the holiday atmosphere makes it a place worth visiting.
Enchanting Hotels and Papagayo Golden Palms Beachfront Hotel invites you to explore the Gulf of Papagayo, Guanacaste´s premium coastline! Explore the Gulf and all its beaches.