Let´s do some exploring of Guanacaste, Costa Rica!  This is a land of contrasts and surprises that has converted it into such a fantastic place to visit and a favorite for local and international travelers.  Thanks to its vastness, diversity, and beauty, pack your spirit of adventure and get ready to explore the 5 Must Do´s while visiting Guanacaste, Costa Rica!
When we talk about diversity in Guanacaste, it means you have amazing white-sanded beaches, live volcanoes, wide-open plains, a mountain range, and lots of cultural richness in between.  There is an openness to Guanacaste that makes it unique and different to the rest of Costa Rica so come prepared for vast blue skies that contrast the drier, golden-tinted forests with the colorful folklore that evokes a sense of pride and happiness.
What is also a wonderful plus for Guanacaste is its international airport so getting there is easy from all the major US hubs.  As Costa Rica begins to re-open airports and global travelers, the Liberia airport received its first commercial flight just this week from New Jersey on United Airlines.  Further flights will begin spreading their wings with eager wanderlusters aboard as the weeks go on so stay tuned!
Now, let´s get back to those 5 must-do´s while in Guanacaste Costa Rica when you travel to this spectacular corner of the world!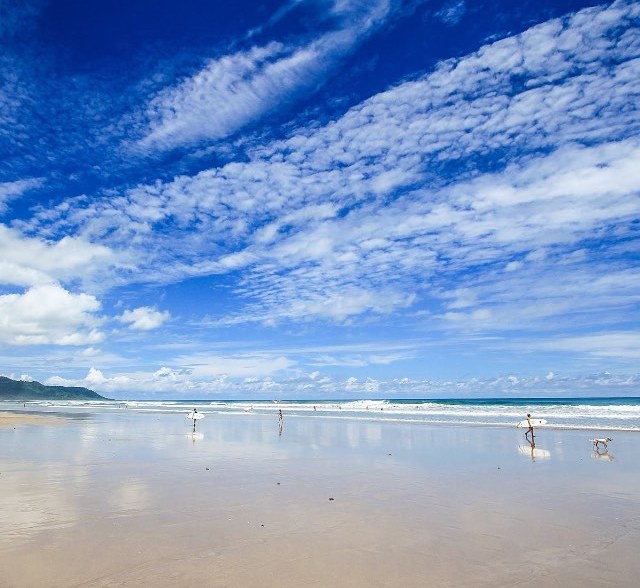 1.Beach Hopping
Guanacaste has many beaches along its dramatic coastline that is dotted with bays, headlands, islands, tourism havens, and seaside towns.   In Spanish, the word for beach is Playa, and are there some amazing playas in Guanacaste!
While many of the beaches have reached worldwide acclaim, others are known only to the locals and are considered secret tropical treasures.   Whether they are famous or not, Guanacaste is a beach lovers paradise and the best way to see them is to get a 4×4 and go hopping and enjoy the refreshing turquoise waters and the opportunity for some sun-worshipping along this strip of amazing beaches.
While it´s hard to pin-point the best beaches of Guanacaste here are a few that are well worth the visit because of their beauty, their vibe, their significance, or because they are home to an Enchanting Hotel!
Nosara: The Nosara area is made up of a few beaches, each beautiful in themselves. Fantastic sunsets, great surfing, and the Ostional Beach welcomes huge quantities of sea-turtles every year.
Puerto Soley: This beach is on the northern corner of Guanacaste and is a bit off the tourist track which makes it so lovely.  A long stretch of deserted, vegetation laden beach with calm, cool waters is refreshing.  Tourism is not big (yet) in this part of the coast so it is well worth checking out!
Playa Carrillo: Just around the headland from it´s more famous beach neighbor, Samara, Playa Carrillo is a hidden treasure. It is also home to Nammbu Bungalows, an Enchanting Hotel. The beach is calm and bordered by shady palm trees. A real treat with the shining Guanacaste sun!
Playa Hermosa: In the Gulf of Papayago, this grey-sanded beach is close to the action of it´s better-known neighbor, Playas del Coco but far from the crowds.  You can stay at Bosque del Mar Hotel while exploring and enjoy Hermosa and this fantastic beach-side hotel
San Juanillo: The newest discovery on the best beaches list and wow is it gorgeous. A white-sand dune that dips into crystalline waters makes up this amazing little beach. The best photo-ops are here and while becoming really popular remains very quaint.
Flamingo: One of my favorites and off the beaten track a bit as it lays north of Tamarindo and Conchal. A beautiful stretch of white-sand beach and perfect for a swim.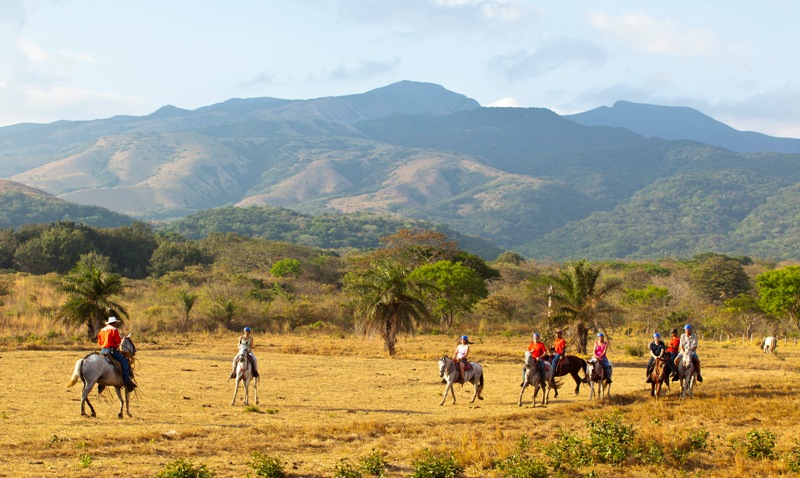 2. National Parks
Guanacaste has some fantastic national parks that protect a diversity of precious ecosystems including rivers, dry tropical forests, volcanoes, beaches, islands, and many others.  This is what makes Costa Rica so special and is why so many visitors decide to come!
Here are a few to choose from:
Rincon de la Vieja Volcano: Take an easy hike to observe the fumaroles, steam vents, sulfur springs, and boiling mud pools that dot the walkways.  This active volcano has nine craters and likes to make it´s presence and activeness felt with relative frequency
Santa Rosa: An important protected area of tropical dry forest and is of great historical value for Costa Rica as this is where the Costa Rican army overturned an imminent invasion back in 1856.
Palo Verde: This will take you along the Tempisque River on a boat to enjoy the diversity of flora and fauna that inhabit this rich water channel. Birdlife galore, basking crocodiles, monkeys, and reptiles are just part of the wildlife on display.
Marino Las Baulas: Just north of Tamarindo, this national park is home to beaches that welcome the leatherback sea turtles every year for their arrival to lay eggs. This is a once-in-a-lifetime experience that will be unforgettable.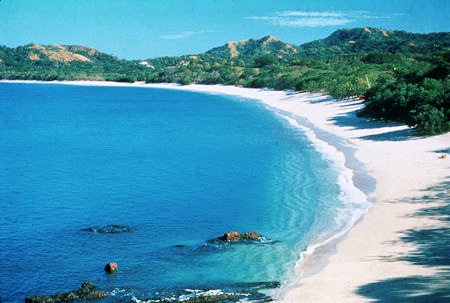 3. Snorkel/Scuba/Surf/Fishing
Lots of coastline in Guanacaste translates into lots of water sports and the list is long! No need for wet suits either as the water is warm yet refreshing.
For the surfers, welcome to the waves, riders!  Some top surfing spots include:
Tamarindo: The surfer´s paradise of Guanacaste and a must for surfers of all levels. It also has a great vibe to it and has a fantastic variety of waves
Witches Rock: Great waves and as it is within a National Park, you will need to take a fun boat ride to get to this great surfing spot. Long lefts and rights with strong offshore winds
Guanacaste also has some great spots for snorkeling and scuba diving too.  Catamaran rides out of Tamarindo include snorkeling and there are some certified scuba diving options too.
Guanacaste is the perfect place for anglers too with a range of fishing tours available whether it is in or offshore so charter your boat and start catching snappers, roosters, mahi-mahi, wahoos, sailfish and yellow tuna to your heart's delight!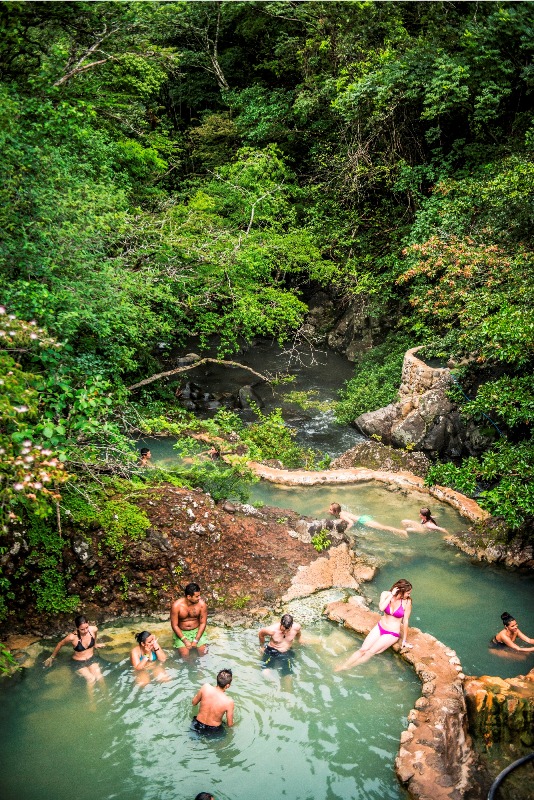 4. Hot Springs
Thanks to those active volcanoes along the Guanacaste Mountain range, a Guanacaste must-do is traveling up into the mountains and enjoy those amazing natural hot springs and therapeutic mud baths immersed in nature.
After some time in the sun and on the beach, to take a trip up into the cooler altitudes, surrounded by verdant forest and delight in the calming, mineral-rich springs and baths is a gift to your soul and body.  This spectrum of possibilities is what Guanacaste is all about!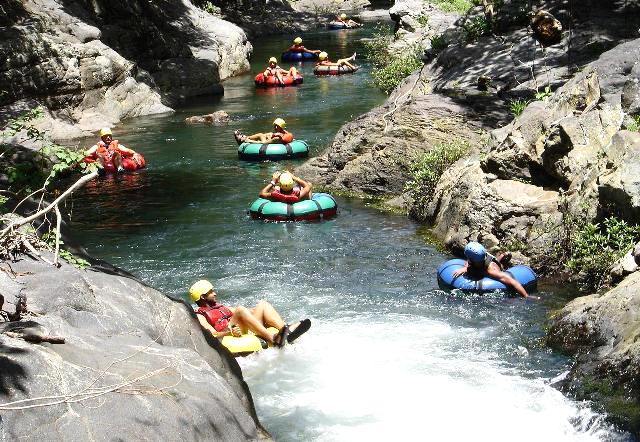 5. Adventure
Last but definitely not least is the Guanacaste for the adrenaline rush lovers and there are lots of ways to get your heart-beat going with all sorts of adventure activities whether they be on the water, in the air, or on the ground.
Ziplining, rappelling, tubing, kayaking, or rafting down a river, horseback riding, mountain biking, ATVs, waterfall catching, or some good old hiking are just the beginning to go all out for some absolute fun.
Enchanting Hotel Hacienda Guachipelin is the perfect place to stay if you want some adventure in your life.  Nestled on the slopes of the Rincon de La Vieja Volcano, it is not only a great hotel, but it is also adventure activity-filled, a must-do while in Guanacaste.
So, there you have it!  5 Must-Do´s while you are visiting Guanacaste.  It has all the ingredients for an amazing vacation and thanks to the variety of possibilities, the sky is the limit to enjoy them during your stay.  See you soon!