When a beach is called "Hermosa" or Beautiful in Costa Rica, you can be 100% certain that it is as there are so many gorgeous beaches in this little paradise. Then you add a great hotel, just steps from that beautiful beach, and it is as good as it gets. This is Bosque del Mar Hotel at Hermosa Beach and here is where eco-luxury, tropical forest and the beach unite.
Bosque del Mar Hotel is a hidden treasure in the famous Gulf of Papagayo in the northern province of Guanacaste despite its great location to the international airport and Coco Beach. This means you are close to activities and amenities and some fantastic restaurants too which is great. Yet, the hotel is nestled into the lush, greenery of the forest that meets the calmness of the beach and you sense seclusion and privacy.
The Gulf of Papagayo is home to a number of exclusive resorts and endless possibilities for a fun-packed vacation in Costa Rica.  This small inlet is the perfect getaway for nature and adventure lovers alike and its quiet waters are perfect for beach activities and relaxation.  Of course, the beaches are the epitome of Costa Rica and what makes it such a wonderful place to visit.
Spacious, eco-luxury on Beautiful Beach! 
While Bosque del Mar is a boutique hotel, it has all the comforts and services to enhance your sun and beach vacation in Costa Rica.  One of the best aspects of the hotel is that your suite, whether it has a view of the amazing gardens or of the ocean, will feature, not only a large bedroom, it will also have a spacious living room and a private terrace.  This is tropical living at its best! Some of the suites even have their own outdoor, private Jacuzzis to make your stay even more sublime.
As one recent guest summed his stay up "Location could not be better as it was direct access to the sandy beach.
Accommodation was to a high standard, very clean and well maintained, Restaurant provided excellent food and a wide range of choice."
While the refreshing pool area and the beach next door or just relaxing in your wonderful room on the property is a holiday in itself, Costa Rica invites you to discover your adventurous spirit too! The variety of land or sea activities that you can organize through the hotel means you can combine exciting with adrenaline in the morning with laid back and contemplation in the afternoon.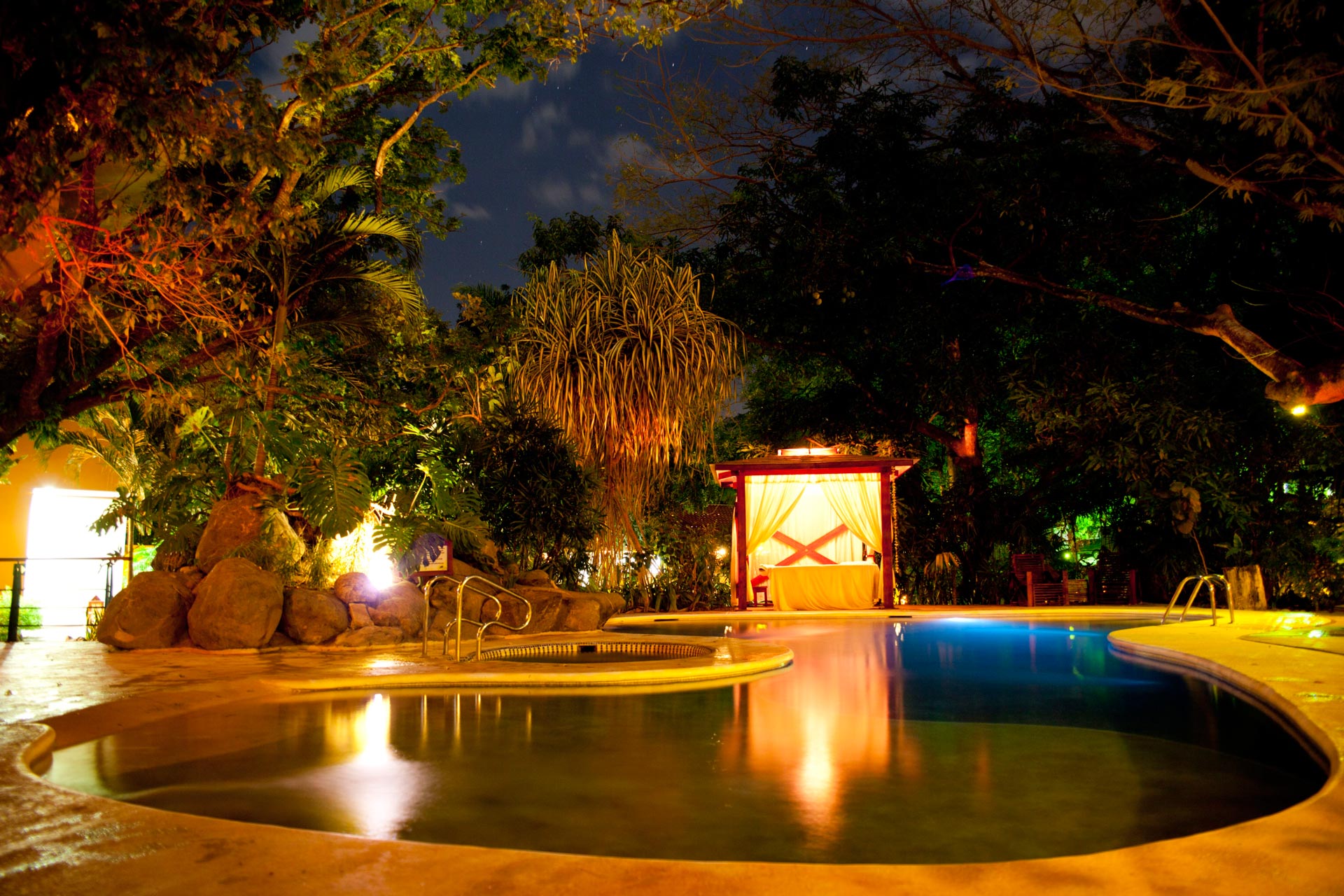 Adventure is Guanacaste; on the beach or in the tropical forest
Guanacaste offers a world of possibilities to enjoy all the wonderful "close to nature" activities that have put Costa Rica on the map as one of the best destinations for fun!  Ziplining, ATV`s, surfing, hiking around the volcano or horseback riding through the dry tropical forest are just a few of the fabulous possibilities! Bosque del Mar is so conveniently located you are close to the adventure!
All this fun and adventure works up an appetite and Bosque del Mar and Guanacaste has thought of that too!
Hermosa Beach boasts some great restaurant options so eating out is as easy as going to the beach.  Bosque del Mar`s Niromi Restaurant is one of the beach`s top eateries so having a delicious meal is right on property!   This is where exquisite cuisine is savored while enjoying the beautiful views of the beach and the spectacular sunsets.
What better than fresh seafood overlooking the beach!?
The Niromi Restaurant is a fusion of international and national flavors mixed with fresh seafood and wonderful service.  In the mornings, you will be treated to the traditional Costa Rican breakfast and for lunch and dinner, you decide from a wide variety of delicious gastronomical possibilities!  All this can be enjoyed prior to or after an amazing tropical cocktail or a refreshing local beer at the lounge bar on the property too.
Thanks to the beauty of the property, it's perfect setting among the tropical gardens dotted with colors and textures and sitting beachside, Bosque del Mar is a favorite for romantics who have decided to reach important life milestones like tying the knot!  A beach wedding on a beach called Beautiful with the reception in Bosque del Mar offers the perfect backdrop for this significant occasion.  This is where romantic getaways happen!
Bosque del Mar is looking forward to planning your perfect Costa Rica tropical getaway where the rainforest meets the sea in boutique luxury. This is a fantastic location in the popular Guanacaste region and where better than on a beach called Beautiful!  Your perfect vacation is just a few clicks away on the property`s online booking tool so book away!!