If there is one aspect of Costa Rica that stands out and shines is that the locals will make you feel Pura Vida welcome!  Whether it is into their immaculate "house-proud" homes, into their businesses and even when you arrive at the airport, the warmth irradiates like the tropical sun that sparkles off the bounty of beaches and spectacular landscapes that make Costa Rica stand out again and again.
The love of a warm welcome is especially important this week as Costa Rica re-opened it´s airports to international travelers who have decided that Costa Rica is the perfect welcome back to the "new normal" of traveling as many parts of the world begin their comeback from COVID-19.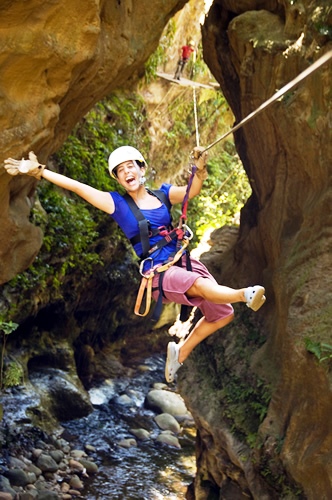 What flights did Costa Rica welcome last week?
This week over 500 passengers arrived on two flights from Europe!  Iberia and Lufthansa christened this important moment for the reactivation of the Costa Rican tourism sector.   This is a fantastic thumbs up from our European market that Costa Rica is on the vacation radar for many people.
The passengers were welcomed with a series of health and hygiene measures that have been introduced because of these exceptional times.  This means that not only visitors but also those attending them during their stay in beautiful Costa Rica can have a good level of peace of mind.  The idea is to enjoy the vacations completely and absolutely, right?
As it stands, both Iberia and Lufthansa will continue with scheduled flights for the rest of summer into Costa Rica.  A number of strict rules must be abided by including the use of masks on board, showing proof of a negative PCR-RT coronavirus test, purchasing specific travel insurance, and having completed an epidemiological questionnaire.
So we can safely and happily say, Welcome to Costa Rica!
So, the flights have started to arrive.  Let´s have a look at what airlines are landing and what airlines are planning to fly in the near future.  Whatever the arrival date, we are happy to welcome you to Costa Rica!
Lufthansa will be flying out of Frankfurt with direct flights to San Jose on Wednesdays and Saturdays on an Airbus A340-300 so not only do eager travelers have the choice of different days to fly, it will be in the comfort of this beautiful wide-body airplane too.  Wilkommen we say!
Iberia was the first airline to fly into Costa Rica in August and the welcome was memorable! What better way to say "hola" and "Bienvenidos" than a water-cannon salute to commemorate this important moment for Costa Rica and tourism. Iberia will have a weekly flight for the time being arriving on Monday evenings and it is also direct.
When does Costa Rica welcome other airlines and their travelers!
As of today, and subject to changes, there are more airlines waiting on the runways to start flying into Costa Rica which is fantastic news for enthusiastic globetrotters ready to spread their wings and come visit.
For all the keen travelers looking for a safe destination, Costa Rica has the solution: Costa Rica
Costa Rica has been recognized by the World Travel & Tourism Council as "a safe destination following review of 16 health and hygiene protocols, which were jointly developed by the public and private sector. We are committed to our tourists and eager that they can travel safely. This recognition, in addition, reinforces the international image of Costa Rica as a tourist destination, which fortunately is robust."  (Gustavo Segura, Minister of Tourism, Costa Rica, 2020).
This recognition gives holidaymakers peace of mind.  It means that they can worry about which zip line to take, which tropical beach to choose from, and which live volcano to climb knowing that Costa Rica has the seal of "Safe Travels Stamp" that is the where the bar is set for the new normal for travel.
Now, you have decided to come to Costa Rica, you have booked your ticket, chosen your Enchanting Hotels to explore the country, let's get some welcoming jargon under our travel wings!   This is easy!
Welcome is Pura Vida
Costa Rica is unique in many ways and how to welcome you is part of a two-word phrase that sums up this beautiful little country with all its fantastic quirks.
Pura Vida is synonymous with Costa Rica.  It is the expression that best sums up the vibe and essence of Costa Rica. It also just happens to be a way to say "Welcome" too so don´t be surprised to hear someone say "Pura Vida" instead of hello o "hola" when you are exploring the country and visiting the local communities.
Pura Vida translates to Pure Life in English but this literal translation doesn´t do it justice.  It is also very subject to the context it is used in as it is very fluid in its meaning.  Let´s look at some Pura Vida examples:
If you are asked how you are, you can say "Pura Vida" which means that you are well.
It can be used in a friendly farewell too "Hasta luego, Pura Vida".
If you ask someone about the quality of something. You can answer with Pura Vida which means that it is good quality.
If someone is telling you that they are going to visit a place, you can answer with Pura Vida which means you hope they enjoy themselves.
Beyond the way to use Pura Vida, in conversation whether it be a welcome or goodbye, it represents what Costa Rica is all about, its vibe, the way life is lived.  It is about the relaxed attitude the Costa Ricans have.
So, when you come to visit Costa Rica, you will know what Pura Vida means and basically you can use it to answer positively to any question that is thrown your way. Hopefully, during your stay, you will pick up on the easy-going attitude and happy-go-lucky disposition many Costa Ricans have towards life.  It can be positively contagious!