If your usual Christmas is cold and gray, and you can't go outside without wearing at least 10 layers, wouldn't it be nice instead to spend Christmas in the Caribbean with your toes deep in warm sand instead of wool socks?
Puerto Viejo, Costa Rica is already merrily decorated for Christmas on the southern Caribbean Coast as the Caribbean Costa Rica readies for its cheery Christmas celebration.
Christmas is an important holiday for Costa Rica, just like in other countries. Christmas traditions in Costa Rica include parties and celebrations, and delicious traditional Christmas foods!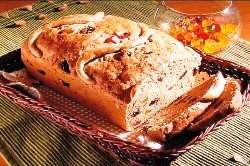 Christmas food traditions from other parts of Costa Rica, like roast turkey or pork for   Christmas dinner, can also be found on the Caribbean Coast … but you can also try fresh fish or lobster. Tamales are an essential part of Christmas holidays everywhere in Costa Rica; tamales here are made from corn meal and are filled with potatoes, rice, vegetables, garlic and onions, and shredded pork or chicken or beef, and then wrapped in banana or plantain leaves and boiled. You can wash it all down with eggnog, called rompope in Spanish, or a Caribbean "Agua de sapo" – a refreshing lemonade made with brown sugar, lime and ginger.
Special Costa Rica Caribbean cuisine for Christmas includes: Black cake (Queque negro) with rum, raisins, and condensed sweetened fruit – like a fruitcake; baked coconut cookies; Johnnycake or coconut bread; and using spices like oregano, ginger and cilantro on pork or turkey.
For your Christmas tree, you might be used to a pine, fir or spruce; but on the Costa Rica Caribbean Coast you will find that the palm and coastal almond trees growing in front of the colorfully painted houses work just fine for hanging ornaments and lights. Residents also like to put up lots of lights and decorations on the outsides of their homes to make it really festive. And if you want to wish someone Merry Christmas in Costa Rica, you say "Feliz Navidad!"
Costa Rica Caribbean Christmas
Spend your December and Christmas holidays on the Costa Rica Caribbean Coast. From now through Dec. 20, 2015, Hotel Le Caméléon by Puerto Viejo is offering the amazing discount of 50% off all room rates! The Costa Rica boutique hotel offers upscale beach accommodations in the tropical rainforest, facing one of the area's most beautiful beaches – Playa Cocles.
Hotel Le Caméléon will have a special dinner on Dec. 24 in their Le Numu Restaurant & Bar, and a New Year's Eve dinner and party in the restaurant and in the hotel's La Sula Sea Lounge Beach Club across the street. Church services in the oldest Baptist Church in the center of Puerto Viejo will have a choir singing carols on Dec. 24 and 31.
Hotel Le Caméléon provides spa services, private yoga classes, first-class restaurant, reading/lounging areas, and a lap pool and cool water Jacuzzi. It is easy to get to the southern Caribbean Coast of Costa Rica with daily flights on NatureAir and Sansa Airlines from San Jose to Limon.
Article by Shannon Farley