It is believed that the Monteverde cloud forest in Costa Rica has the highest diversity of orchids in the world. Although no inventory has ever been made, it also is thought that approximately one-third of Costa Rica's flora has been recorded in the Monteverde region. This is quite significant given that Costa Rica is considered to be one of the most biologically diverse countries in the world, having 5% of all the known species of plants and animals in only 0.03% of the Earth's surface.
You can see all of this biodiversity when you visit the Monteverde Cloud Forest Biological Reserve, one of Costa Rica's most famous private reserves.
There is still no complete data on the amount of species of plant life in the reserve, so there could be much more than the 755 species of trees recorded, or the more than 500 known species of orchids, or the 878 kinds of epiphytes that are the richest life form of flora in Monteverde. Of the orchids, 34 species were first discovered in the Monteverde Reserve.
The Monteverde Cloud Forest Biological Reserve spans six distinct ecological zones and helps to protect birds, butterflies, insects, and mammals, including all six species of wild cats in Costa Rica – jaguars, ocelots, pumas, jaguarundis, margays and oncillas. The Monteverde Cloud Forest Reserve is a favorite destination for bird watching in Costa Rica to see its more than 400 species of birds recorded, especially the elusive, jewel green and red Resplendent Quetzal and the distinctive-sounding Three-wattled bellbird.
Comprising 10,500 hectares (25,950 acres), there are nine established trails and one suspension bridge in the well-maintained 13-kilometer (8-mile) trail network of the Monteverde Reserve. One place very worth visiting is the "La Ventana" (the Window) scenic overlook, where you can stand on the Continental Divide between the Pacific and Caribbean (Atlantic) sides of Costa Rica. Visitors are also encouraged to see the suspension bridge, where you can examine a large number of epiphytes (bromeliads, orchids, ferns, mosses) and other life forms that inhabit the tree canopy of the area.
The best way to experience the Monteverde Cloud Forest Biological Reserve is on a guided tour with a naturalist; early-morning bird-watching tours also are available.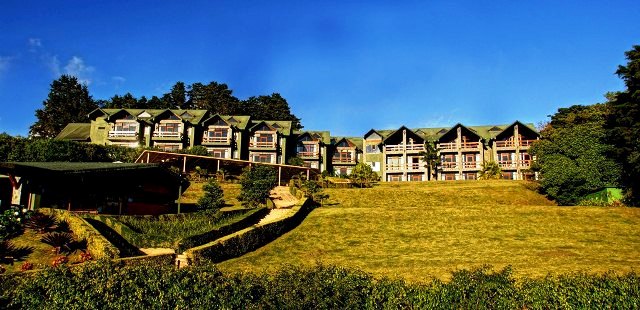 Located very near the Monteverde Reserve, luxury Hotel El Establo is a good choice for where to stay in Monteverde to visit the reserve. You can walk to the entrance, or the hotel can arrange transportation for you. El Establo also can arrange guided tours in the Monteverde Reserve.
Some notable features of El Establo Mountain Hotel include: comfortable and well-appointed rooms with magnificent views, two excellent gourmet restaurants, hiking and mountain biking trails, the hotel's own Tree Top canopy zip line tour and Night Walk tour, a spa, two heated indoor pools, and tennis, basketball and mini soccer courts. El Establo Hotel is part of the Enchanting Hotels collection in Costa Rica.
Monteverde, Costa Rica
High up in the clouds, the Monteverde region is considered one of the most extensive cloud forests in Central America. It is a special place where magnificent tall trees – adorned with orchids, bromeliads, ferns, vines and mosses – reach high into the sky.  The rare ecosystem of Monteverde is part of only 1% of the planet's global woodlands known as cloud forest – rainforest at high elevations (above 5,000 feet), where tropical warm air condenses into persistent fog, mist and dripping wet.
Located in Costa Rica's Central Highlands, Monteverde is about three hours from major destinations like San Jose, Arenal Volcano and Pacific Coast beaches of Guanacaste.
Article by Shannon Farley