Nestled along the enchanting southern Pacific coast of Costa Rica, Cristal Ballena Boutique Hotel & Spa beckons travelers with its breathtaking ocean views, lush tropical surroundings, and a promise of tranquility like no other. As part of the prestigious Enchanting Hotels Collection, this hidden gem stands as a testament to the harmony between nature, luxury, and the thrill of exploration. Whether you seek an unforgettable escape, an intimate romantic retreat, or a thrilling wildlife encounter, Hotel Cristal Ballena delivers an experience that lingers in the heart and memory. Unveiling Paradise: A coastal getaway at Cristal Ballena Boutique Hotel on Costa Rica´s south pacific coastline.

 Your Gateway to Humpback Whale Wonderland
Calling all nature enthusiasts and wildlife aficionados: the humpback whale watching season is in full swing, and Hotel Cristal Ballena is your front-row seat to this awe-inspiring spectacle. As the gentle giants of the ocean embark on their migratory journey, the coastal waters of Costa Rica become a playground for these majestic creatures. Venture out on an unforgettable boat tour to witness acrobatic breaches, tail slaps, and heartwarming moments as mother whales guide their calves through the marine wonderland. With the soothing backdrop of the Pacific Ocean and the misty mountains, this natural extravaganza will leave you in sheer awe.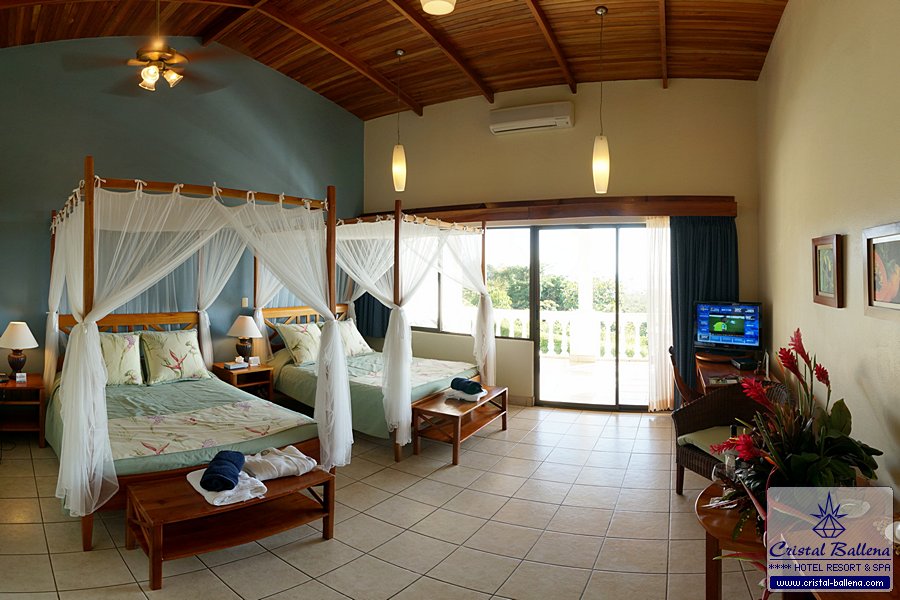 A Haven of Elegance and Comfort
Step into a world of refined luxury at Cristal Ballena, where every detail has been meticulously designed to ensure a seamless fusion of comfort and elegance. The resort boasts a range of accommodation options, each offering panoramic vistas of the Pacific Ocean or the verdant rainforest. From spacious suites to cozy bungalows, every room is a sanctuary where modern amenities blend harmoniously with the surrounding natural beauty. Wake up to the melodies of tropical birds, savor a leisurely breakfast by the pool, and feel the stresses of everyday life melt away.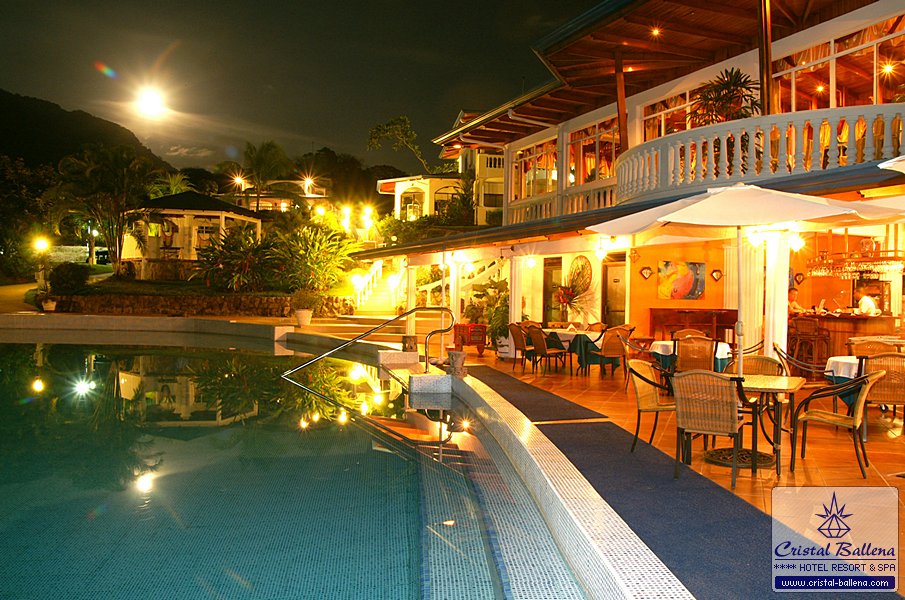 Enchanting Culinary Delights
Indulge your palate with a gastronomic journey that mirrors the diversity of Costa Rica's landscape. Cristal Ballena's restaurant showcases a tantalizing array of flavors, highlighting locally sourced ingredients and fresh seafood. As you relish delectable dishes crafted with love and creativity, the restaurant's open-air design allows you to dine against a backdrop of stunning sunsets that paint the sky with hues of gold and crimson and overlook the oversized pool that is the perfect way to refresh after a day of adventure.
As they say "We proudly feature delicious international and Costa Rican cuisine with an Austrian touch, and serve a wide variety of refreshing cocktails and beverages.". The Cristal Ballena dining experience will be a highlight of your stay!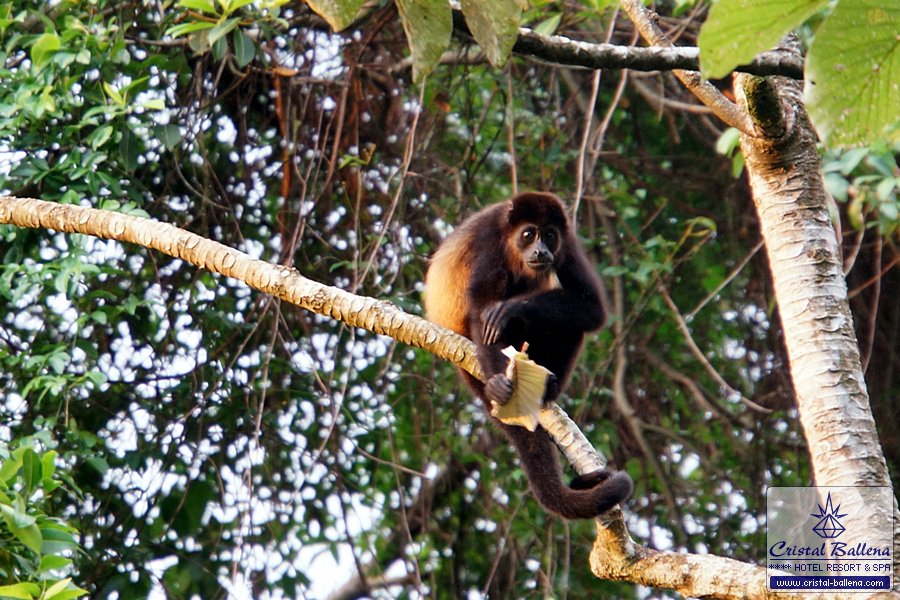 Embrace Adventure and Relaxation
At Cristal Ballena, the possibilities for adventure and relaxation are boundless. Embark on thrilling excursions such as zip-lining through the rainforest canopy, horseback riding along pristine beaches, or exploring the wonders of the Marino Ballena National Park. For those seeking ultimate relaxation, the resort's spa offers a haven of serenity with a range of rejuvenating treatments inspired by nature's bounty.
Embrace the Magic of Hotel Cristal Ballena
In the heart of Costa Rica's pristine southern Pacific coast lies a haven of luxury, nature, and unforgettable experiences – Hotel Cristal Ballena. As part of the esteemed Enchanting Hotels Collection, this retreat promises an enchanting escape where humpback whales grace the waters and where the allure of the ocean meets the allure of comfort and elegance. Discover the magic that awaits you at Hotel Cristal Ballena, a place where dreams become reality and where every moment is a treasure to be cherished.
With a world of natural wonders and luxurious comforts at your fingertips, Hotel Cristal Ballena beckons you to indulge in the ultimate coastal getaway. Book your escape today and let the symphony of the ocean serenade you into a realm of blissful serenity.