Welcome to a world beyond the ordinary, where adventure and inspiration intertwine to create an unparalleled retreat for incentive groups. Hotel Hacienda Guachipelin beckons with its remarkable offerings, inviting teams to embark on a transformative journey in the heart of Costa Rica's captivating landscapes. As we introduce you to "Beyond Ordinary: Hacienda Guachipelin's Adventure Retreat for Incentive Travel," prepare to delve into a realm where thrilling activities, team bonding, and the natural world seamlessly merge to forge lasting connections and unforgettable memories.
With a diverse range of exhilarating experiences thoughtfully tailored for groups of all sizes, Hacienda Guachipelin guarantees an awe-inspiring journey that invigorates team spirits and immerses participants in the raw splendor of Guanacaste's landscapes.  The Guachipelin Adventure Center's years of expertise shine through in the flawless execution of activities, dining experiences, and thrills designed to ignite the spark of adventure within your incentive group. 
Sitting on the slopes of the majestic Rincon de la Vieja Volcano, Hacienda Guachipelin is a scenic drive from the most prestigious hotels and resorts in Guanacaste. Pass through rural towns and farmland before making your way up the Volcano. Just an hour and a half from the Four Seasons Resort Costa Rica or the Andaz Costa Rica Resort at Papagayo Peninsula and under two hours from the Westin Reserva Conchal or W Hotel Costa Rica Reserva Conchal, this full-day exclusive tour offers a variety of exhilarating activities. This unique destination is tailor-made for incentive groups looking to experience Guanacaste through close-to-nature adventures and create lasting memories.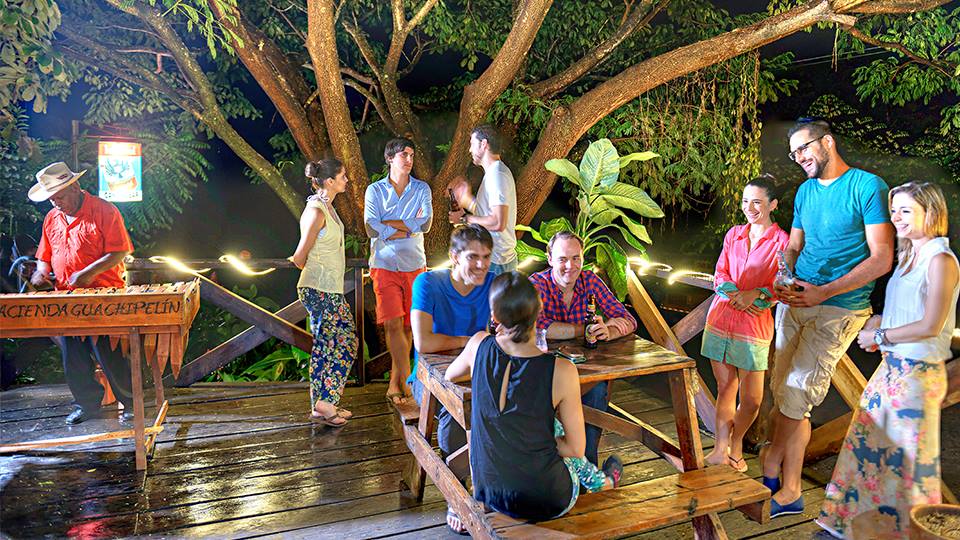 Hacienda Guachipelin and your preferred DMC
Hotel Hacienda Guachipelin's Adventure Center operates in harmonious collaboration with local Destination Management Companies (DMC) to deliver an exceptional adventure in nature opportunity that seamlessly blends thrilling activities with authentic cultural experiences.  Together, we curate an all-encompassing experience that introduces incentive groups to the heart and soul of Guanacaste, Costa Rica. 
The combination of Hacienda Guachipelin's adventure expertise and the DMC's intimate knowledge of the destination results in a thoughtfully crafted itinerary that not only meets each group's unique goals but also positively impacts the local environment and communities. Hacienda Guachipelin and your preferred DMC´s commitment to excellence ensures that your incentive group will embark on an extraordinary journey filled with adventure, camaraderie, and lasting memories.
Here are five compelling reasons why Hotel Hacienda Guachipelin is the ultimate adventure paradise for your next incentive travel group: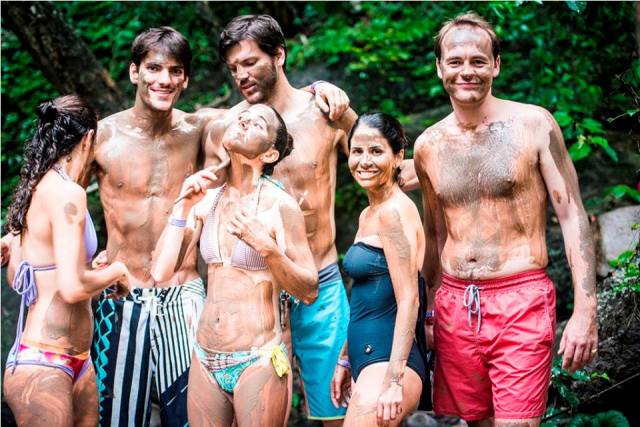 1.
Diverse Adventure Activities: 
Hacienda Guachipelin boasts an impressive array of adventure activities that cater to various interests and thrill levels. From heart-pounding zip-lining through volcanic canyon formation to white-water tubing down the Río Negro, your incentive group will find an activity that suits their tastes. Engage in horseback riding through volcanic landscapes, traverse hanging bridges for a bird's-eye view of the tropical dry forest, and embark on riveting tubing down rivers. The Adventure Center's diverse offerings ensure every member of your group can participate, fostering a sense of unity and shared accomplishment.
Here are some possibilities! 
For the ultimate thrill seekers:
The Canyon Canopy Tour is the go-to adventure: Ziplining, rappelling, rock climbing, Tarzan swing, and hanging bridges over a narrow volcanic canyon river. 
For some fun in nature:
The Rio Negro Tubing Adventure is a signature favorite: Non-stop fun on a special river tube raft down a 3-mile river with 2 and 3-level rapids and quiet pools in between. 
For the adventure all-rounders,
The One-Day Adventure Pass is a winner: Combine Rio Negro Tubing, Rock Climbing, Horseback Riding, the Canyon Canopy Tour, and a gastronomical experience, for an unforgettable day. 
For the serenity seekers
Renew and relax at the wellness center: The Simbiosis Spa brings peace and healing immersed in the tropical dry forest and on the banks of the Colorado River. Choose from a menu of luxurious treatments and restore your natural balance. 
For the Volcanic Activity Curious
Hike Las Pailas Trail while exploring the Rincon de la Vieja Volcano National Park. This unique experience takes you along a 2.5-mile walk filled with mini-geysers, steaming fumaroles, volcanic mud pits, thermal springs, pristine waterfalls, and endless bird and wildlife watching too!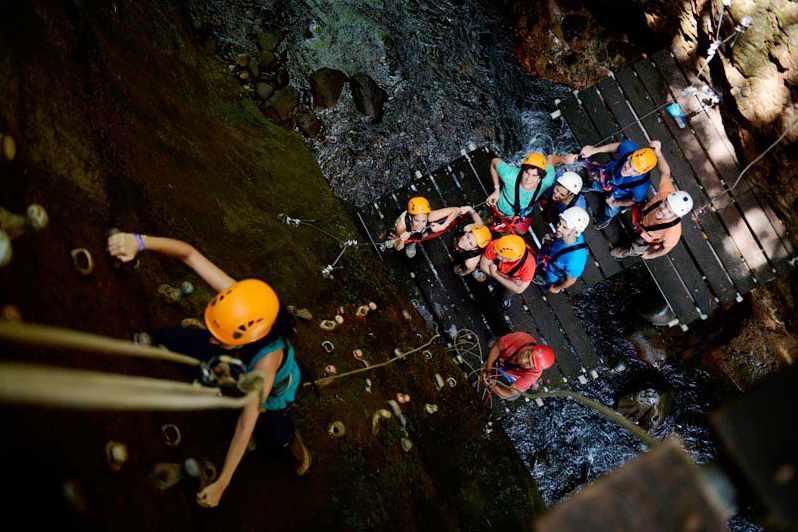 2.
Team Building through Adrenaline: 
There's no better way to strengthen bonds and forge deeper connections within your team than by conquering thrilling challenges together. At Hacienda Guachipelin, a member of the Enchanting Hotels Collection, your group can engage in adrenaline-pumping activities like rock climbing, rappelling down waterfalls, and taking on the exhilarating ziplining course. These experiences not only fuel a sense of achievement but also promote teamwork, effective communication, and mutual support—essential components for a successful and harmonious team.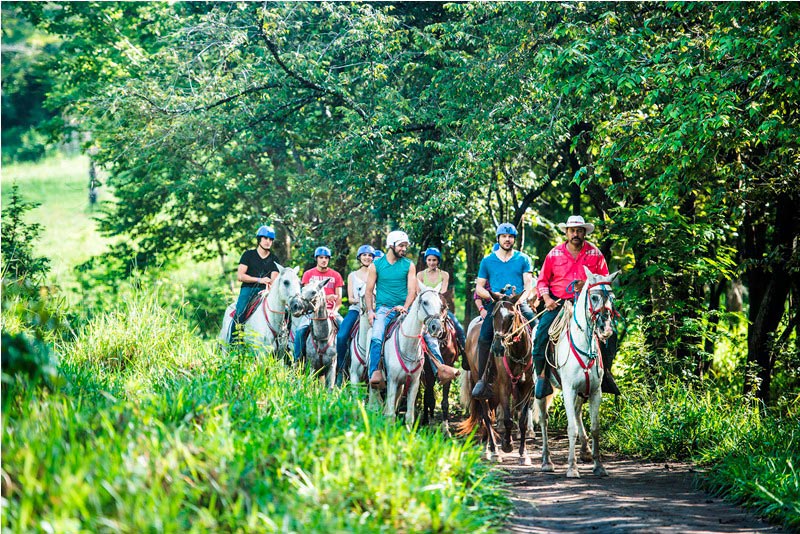 3.
Immersive Natural Surroundings: 
Costa Rica's renowned biodiversity comes to life at Hacienda Guachipelin. Set against the backdrop of the majestic Rincón de la Vieja Volcano, this adventure haven immerses your group in a captivating ecosystem filled with lush forests, relaxing hot springs, and cascading waterfalls. Exploring this stunning environment while engaging in exciting activities creates a profound sense of appreciation for nature's wonders, encouraging environmental consciousness and a shared commitment to preserving our planet.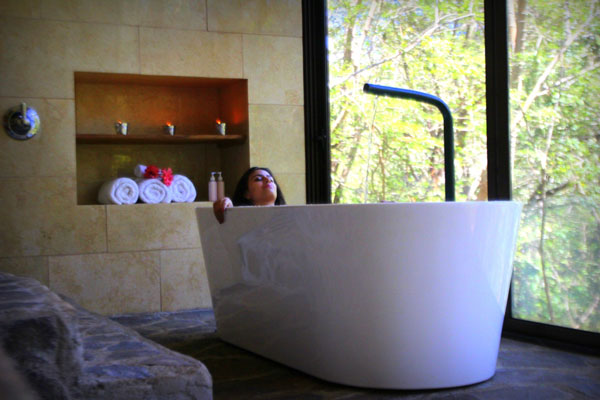 4.
Customizable Packages: 
Hacienda Guachipelin understands that every incentive group is unique. With customizable adventure packages, you have the flexibility to curate an experience that aligns perfectly with your team's preferences and objectives. Whether you're focusing on team building, leadership development, or simply rewarding your employees for their hard work, the Adventure Center's dedicated staff will collaborate with you and your DMC to design a tailor-made itinerary that fulfills your goals and exceeds your expectations. Refreshing tropical drinks and healthy snacks in the middle of the tropical forest are options that can surprise the Hacienda's guests, to traditional meal experiences at our venues, Hacienda Guachipelin is eager to comply with almost any requirement. 

5.
Extensive Experience and Capacity
With a rich history of hosting both large and small incentive groups, from various countries, since 2008, Hacienda Guachipelin boasts an extensive track record of creating unforgettable experiences for teams of all sizes. The Adventure Center's skilled team understands the intricate dynamics of group travel and specializes in crafting seamless itineraries that cater to diverse preferences and objectives. 
Hacienda Guachipelin's Adventure Center is an exceptional destination for incentive travel that seamlessly combines adventure, team building, nature, culture, and customization. By choosing this captivating Costa Rican retreat, you're not just treating your team to a remarkable getaway—you're fostering personal growth and cherished memories that will resonate long after the journey concludes. Embrace the spirit of adventure and embark on a transformative incentive travel experience at Hacienda Guachipelin.