Costa Rica is always a happy place to be. So much so that it always scores well on the World Happiness Report. While happiness is part of the Costa Rican "Pura Vida" philosophy of living a happy, relaxed life each year, particular highlights bring additional shine to the smiles. You see, from July through to October, it is Humpback Whale Season in the warm, protected waters of the Pacific Ocean, and the Enchanting Hotels Collection is present with front-row seats to enjoy the epitome of Mother Nature. So what does an Enchanting Hotel's Whale Season look like?
The Humpback Whales are such incredible giants of the seas. They inhabit both the Arctic and the Antarctic, but when winter sets in, they begin their yearly pilgrimage to the warmer, tropical waters of the world. Many make the sheltered bays and gulfs of Costa Rica their winter getaway, and they will travel hundreds of miles to get here. And their arrival and stay is a particular time for animal and nature lovers. There are Whale Festivals, Observation Tours, and much more to celebrate their presence.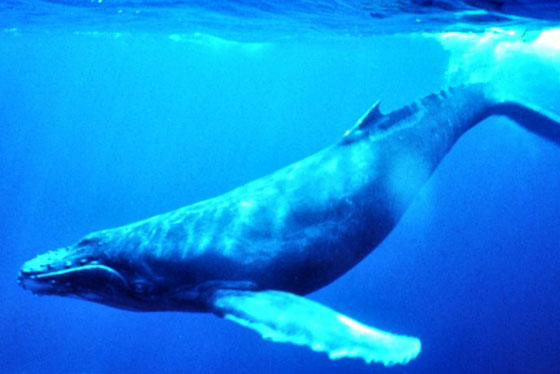 What makes Humpback Whale Season even more special for Enchanting Hotels is that many of their hotels have the best seats in the house for viewing, appreciating, and loving these beautiful animals. So, while enjoying an unforgettable stay at a boutique luxury hotel focused on sustainable tourism, guests can enjoy the best whales' views during their vacations in Costa Rica.
The Humpback Whale population has made a remarkable comeback after being nearly driven to extinction after centuries of hunting for their oil, meat, and baleen. According to the experts, the population has almost reached pre-exploitation levels. Just imagine that in the mid-50s, fewer than 500 Humpback Whales were left on this earth. Their population revival is an example of the enormous success of conservation measures.
So, when you visit Costa Rica between July and October, you will see the Southern Hemisphere Humpback Whales, and if you visit between December to March, you will see the Northern Hemisphere Humpback Whales. This means that Costa Rica has the most extended whale season in the world!!
What to do while they are here?
Humpback Whales make their way to Costa Rica along the ocean highways for several significant reasons. They come to breed, give birth to their calves, and nurture their young, teaching them the ways of the world. They need to feed well, too, in preparation for the long journey back to the poles. So, when observing these magnificent animals, be prepared to see many mother-baby moments as a mom is never far from her young. Mother Nature at her best!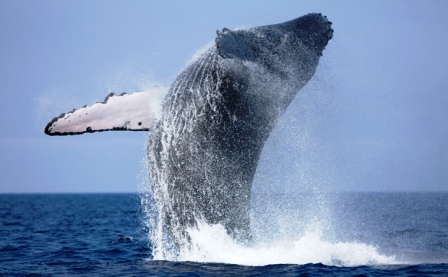 Enchanting Hotels brings you whale watching!
On the far southern Pacific coast of Costa Rica, you will find one of 4 tropical fiords, namely, Golfo Dulce. This calm body of water that borders the inward side of the Osa Peninsula (another bio-rich epicenter worthy of an article) is where Nicuesa Rainforest Lodge is located. It is also where many northern and southern humpback whales come to court, create, and cuddle.
Enchanting Deep South
Nicuesa Rainforest Lodge sits on the Golfo Dulce and is nestled into the rainforest. It is also bordered by the Piedra Blancas National Park, which is the sister to Corcovado National Park. Daily tours to spot Humpback Whales are just one of the tours in the portfolio de nature activities Nicuesa Rainforest Lodge has created for its guests.
This boutique jungle-chic resort has just 12 beautifully designed rooms with large windows and French doors that open onto a private terrace looking out into the rainforest. This means that during your stay, you can enjoy the forest's magic with its biodiversity and explore the Golfo Dulce on a kayak, SUP, or a great tour guided by the in-house naturalist expert. No animal is gone unseen under their watchful and knowledgeable eye!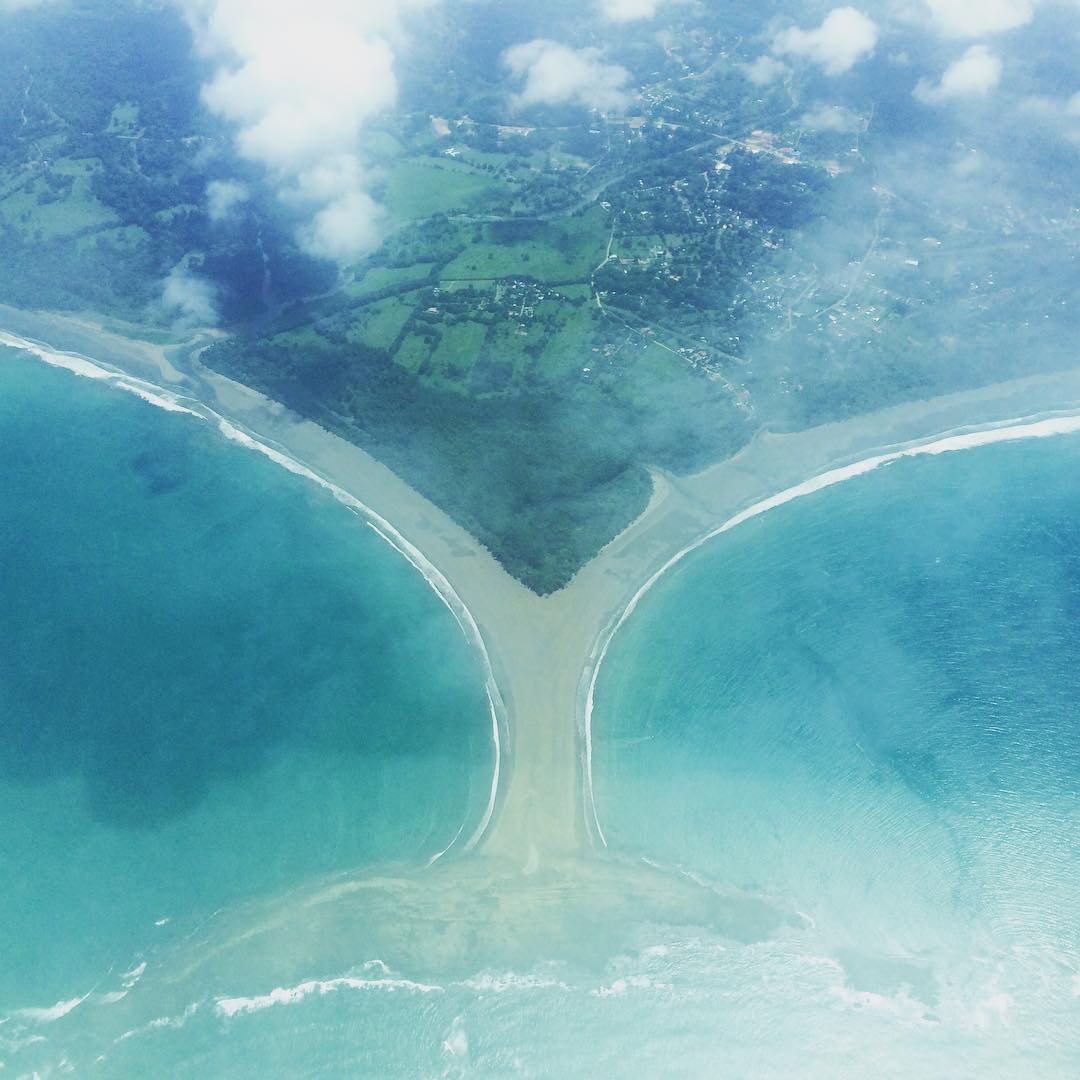 Enchanting Mid-Coast
Cristal Ballena Boutique Hotel & Spa majestically overlooks the Pacific Ocean's vastness and Marino Ballena Bay. The views are spectacular, and the sunsets even more so while enjoying the expansive pool and rooms with uninterrupted vistas of the beauty beyond.
Cristal Ballena (Ballena is Whale in Spanish) is just down the mountainside from what is one of Mother Nature's most beautiful creations. Marino Ballena Bay is one of the most popular humpback whales' sanctuaries during their extended stay in Costa Rica. The warm, protected waters are perfect for their tropical getaway and allow the new mothers to nurture their calves in the food-rich waters.
It is also home to the Whales Tail, a 1km long sandbank that extends perpendicular to the coast and at low tide connects to a rock formation, becoming a replica of a whale's tail. There has to be a message from Mother Nature there. In true Costa Rican form, this is part of the National Park, too, so the humpback whales, the beach, and the Whale's Tail are all within the protected area.
This is just a short drive away from Enchanting Hotel's Cristal Ballena too!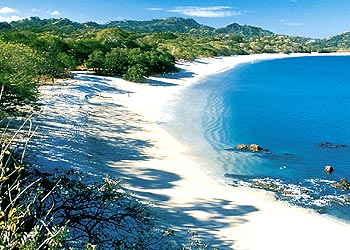 North and Enchanting
The northern province of Guanacaste, which sits on the Nicoya Peninsula, is home to 4 Enchanting Hotels and three beachside. It is also a great place to spot humpback whales traveling up and down the coast. So, when you stay at Nammbu Bungalows at Playa Carrillo, Hotel Bosque del Mar at Playa Hermosa, or Papagayo Golden Palms Oceanfront Hotel at Playa Panama, the humpback whales are not far away.
During the humpback whale seasons, during your stay at either of the Enchanting Hotels, there will be tours that can take you whale watching. While huge gentle giants of the oceans that average between 39 to 52 feet long are not hard to spot if they are in the vicinity, and the tour is full of anticipation and excitement when one or two appear, flip a fin, lift the tail, take a spurt, or even take a jump.
Enchanting Hotel's Whale Season does look very promising, especially as it sits front and center to the humpback whales. This is a special time for Costa Rica as it continues to guarantee their safety and peace while here. Let Enchanting Hotels show you the whale season in a boutique, sustainable style, as Enchanting does so well. See you soon!