Costa Rica is an amazing country. While small in size, it is a world of opportunities for living, traveling, and enjoying.   It is one of the places that are on so many people's bucket lists, radars, must-visit-before-I-die-lists, and the 10 Best Places to Visit.  This was the case pre-pandemic and continues to be a list-maker as the world slowly but surely begins its recovery.  Travel is its way back to becoming part of people´s dreams coming true and more and more eager Wanderlusters are filling up planes including the travelers of a digital-nomad style of living.  More and more of this new and ever-growing species are looking for places to set up the computer.  So, why is Costa Rica perfect for digital nomads?
Living as a digital nomad means that you see and live in amazing places, learn about the culture through immersion, and understand the true meaning of freedom while working when and wherever you want.   What are the other benefits of packing up and moving to another country to live for a while?  Here are some more according to a professional digital nomad who is living the dream with his family:
Ditch the toxic environment of office politics.
Experience new cultures & make new friends.
Learn new skills or languages.
Broaden your mind through travel experiences.
Set your own schedule and take time off when you want to
Spend winters on the beach and summers in the mountains!
Let´s see how Costa Rica is perfect for digital nomads according to this list.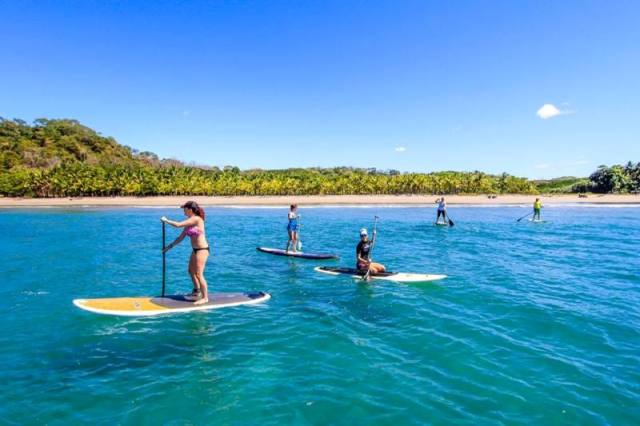 1.Digital nomad at the beach!
Costa Rica boasts both the Pacific Ocean and the Caribbean Sea, so it does beach life very well!  There are lots of small beachside towns up and down both coasts that would be a digital nomad´s dream home to work from.  A popular one is the Caribbean vibe town of Puerto Viejo with its quaint colorful Caribbean houses, unique language called Mekatelyu (made from "Make I tell you something") amazing beaches, rainforests, and of course the incredibly delicious food.
On the Pacific Ocean coast, a lot longer than the Caribbean side, there are lots of different vibes to choose from.   The northern Pacific Coast is the world-renowned Gulf of Nicoya or Guanacaste that is full of trendy, tourist hot spots including Playas del Coco, Tamarindo, or Papagayo Peninsula with amazing hotels, resorts, and rental homes to choose from.   This is where the most beautiful, white-sanded beaches, great cafes, and restaurants are and that can become great co-workplaces when you want to get out into the community and do some work.
On the far southern tip of the Nicoya Peninsula is the beautiful Santa Teresa and Montezuma that are great for surfing, yoga, the beaches and are great places for foodie-lovers.
The Central and Southern Pacific coastal regions are more "close-to-nature" experiences, rainforest-laden mountains, and give you more of an "off-the-beaten-track" feel to them when you are out of the main tourist spots like Jaco, Manuel Antonio, and Dominical.  Life here is more earthy but so beautiful.
2.Make new friends and learn a new language.
Did you know that Costa Rica consistently is one of the top of the charts in the Happiest Country in the World indexes?  One of the characteristics that make Costa Rica stand out for visitors is the friendliness of the locals all over this little country.  A welcoming smile or "social-distancing" hug is always nice to receive, and Costa Rica is big on both.
Another thing Costa Rican´s love is when tourists and foreigners try using Spanish. Worst case scenario, it will get a friendly laugh if you don´t say it correctly.  English is widely spoken in Costa Rica and many English words have been incorporated into the daily language and Costa Rican´s love to try and share their knowledge of English, whatever their level is.
Just remember the most important word in Costa Rica; Pura Vida!  It is not only the Costa Rican way of life, but it can also be used to say "hello", "goodbye", "OK", "I am well", "I understand", "all is good", and many more.
3.Great weather all year round for digital nomads.
Costa Rica is a tropical country that not only has lots of beaches, rainforests, and volcanoes, it also has great weather all year round! It is warm day and night on the coasts, but that is what we want when we live at the beach, right? Up in the mountains including the Central Valley where San Jose, the capital city is cooler but still spring-like all year round.
During part of the year, you will refresh with the afternoon rain showers that are perfect for an afternoon nap, a break from work to have a delicious, Costa Rican coffee, or watch to draw inspiration and refresh from.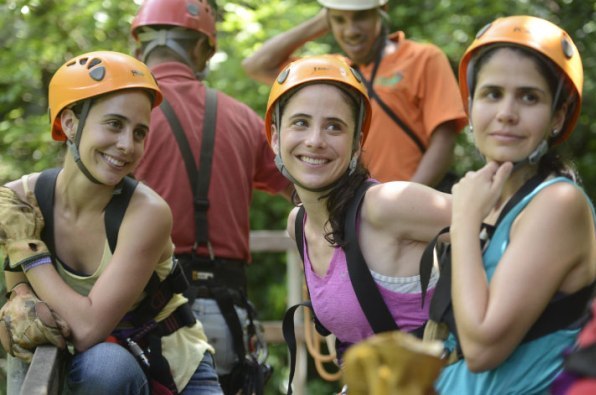 4.Internet and WIFI are pretty much everywhere.
Most places in Costa Rica have internet access and it is pretty reliable.  Most cafes, restaurants, and shops have free WIFI which is very convenient.  This means that if you want to get out of your digital nomad home or place for a change of scenery, but you have a deadline to meet, you will be able to get your job done while doing some people-watching or chatting with others while having a coffee, a green smoothie or some Gallo Pinto, the traditional Costa Rican staple dish made up of rice and beans.
5.Costa Rica is close by and easy to get to..
Costa Rica has a fantastic geographic location so not only is it easy to get to from many parts of the world, but it also works into some convenient time zones if your job is time-sensitive.  One of the perks if you right in the middle of the Americas making it perfect for digital nomads to travel to and from.
Located in Central America, Costa Rica sits within the Central Standard Time Zone with an hour or so on either side of the Pacific, Mountain, and Eastern times.  The same time difference works with the Caribbean, Mexico, and South American regions too.  Europe is about 8 hours away so meetings can be still had on the same day without a problem.
Another fantastic thing about beautiful Costa Rica is that there are lots of flights to and from both international airports, in San Jose and Liberia, Guanacaste. All the major US airlines, including United, American, Delta, Alaska, Southwest, Spirit, and JetBlue, have daily flights from their hubs and beyond.   European airlines are not far behind with Air France, KLM, Iberia, Edelweiss, Lufthansa, and British Airways offering commercial flights.
Is Costa Rica for digital nomads? Absolutely!  While you are here, stay at one of the Enchanting Hotels Collection of boutique hotels in the best places in Costa Rica. Treat yourself. You deserve it.  See you in Costa Rica.