Costa Rica is a land of plenty for many reasons. Not only is it covered in rainforests, but its coasts are also lined with beautiful beaches, there are animals galore, and the Costa Ricans are some of the happiest people in the world. It is also a country that boasts a lot of volcanoes;  live, dormant and extinct, and they attract many visitors to their craters, slopes, and surroundings every year to enjoy their views, power, and presence.  Our Enchanting Experiences Collection member, Volcano Travel Costa Rica, knows a lot about one of these volcanoes; Arenal, one of Costa Rica´s most famous. Let´s look at 8 fun facts about Arenal Volcano, Costa Rica!
Before we begin our Arenal adventure, let´s look at some interesting facts about Arenal Volcano.
1. Some interesting facts about the Arenal Volcano:
Type of Volcano: Andesitic Stratovolcano
Height: 5,358ft // 1633m
Crater Size: 460ft // 140m
Age: 7500 years old which is pretty young in volcano years
Present Status: Dormant
Other Names: Pan de Azucar, Rio Frio Volcano, Guatusos Peak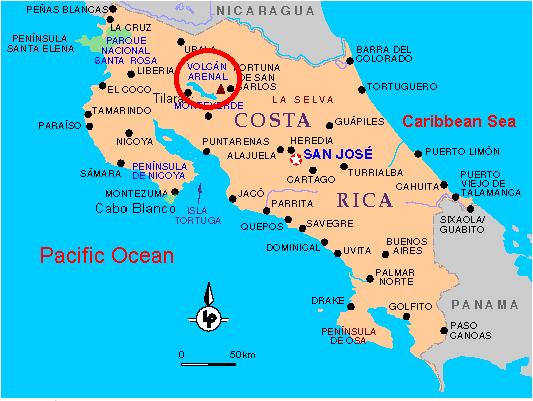 2. Where is the Arenal Volcano?
The Arenal Volcano is located in what is called the Northern Lowlands of Costa Rica. This vast area of rich farming land, rainforests, national parks, and winding rivers are embraced by the Central Volcanic Range to the south, the Guanacaste Volcanic Range to the west, the majestic Rio San Juan to the north, and the Caribbean Sea to the east.
The Arenal Volcano sits in the southwest corner of the Northern Lowlands, and while very close to both of the volcanic ranges, it actually isn´t connected to either of them. This shows that it is the youngest volcano and is unique in many ways too!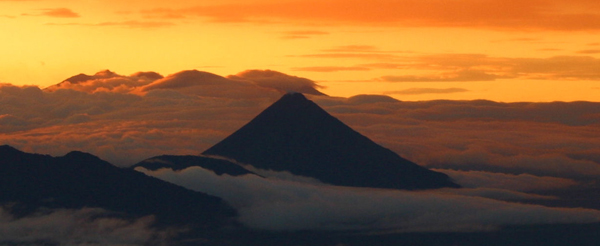 3. Why is it so popular?
The Arenal Volcano is very popular for many, many reasons! Firstly, it is beautiful thanks to its conical shape that can be admired from its base and afar. But not only is it spectacular, majestic, and imposing (in a good way!), but it also has gifted us with different activities in nature that make the visit to the area exciting and adventurous! It is also a gift to our eyes to see such an incredible landmark that is present in so many of the fun things you can do while exploring the area.
The Arenal Volcano region has developed an extensive variety of tourism activities and many hotels and lodging to choose from too. From the simple hostel to the 5-Star hotels, many of them have great views of the volcano, and many even have hot springs. There are also many great restaurants and tours to enjoy. More about that in the next section!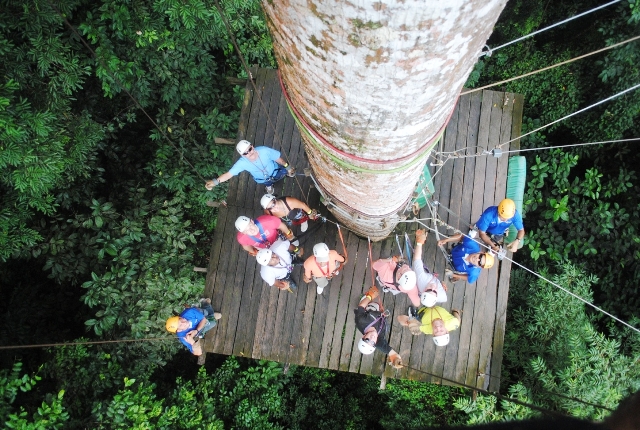 4. What can I do there?
Arenal Volcano has gained a well-deserved reputation as the world's adventure capital! So, come prepared to enjoy many activities that will include a dose of adrenaline and lots of nature. Who better than the experts like Volcano Travel to live the Arenal Volcano adventure scene at its best? It has a series of adventure activities that allow you to enjoy the Arenal Volcano and its surroundings.
For adventure seekers, try Pedal Boarding on Lake Arenal, White Water Rafting on Sarapiqui River, or taking a Safari Float down the Peñas Blancas River if you like water activities! For rainforest enthusiasts, don´t miss doing the night walk,  ziplining through its canopy, or walking over the Arenal Hanging Bridges for fantastic views of the forest and its inhabitants.
If culture is your thing, visit a working farm to learn about coffee, sugar cane, and cacao, three of Costa Rica´s most symbolic crops. This is a fun day filled with learning and tasting the different flavors of these gastronomical treats!
5. How do I get there?
Arenal Volcano can be reached from the Central Valley, where San Jose, the capital city, and the Juan Santamaria International Airport are located via San Ramon – Chachagua or via Naranjo – Zarcero – San Carlos. Both these routes are very scenic and will take you over the Central Volcanic Range through quaint, rural towns and lush, green fields.
Take note that Volcano Travel has a shuttle service between Arenal Volcano and the Central Valley, including the airport! Ask about this service when reserving your tours.
From Guanacaste, you can reach Arenal Volcano traveling via Cañas – Tilaran and around the stunning Lake Arenal or go vía Bijagua and Rio Celeste. Just before the turn-off to Cañas, you will see the sign to Upala. This will take you via Rio Celeste, another one of Costa Rica´s natural treasures!
If you were lying on the beach on the Caribbean Coast, take the turn-off after Guapiles onto Route 4, the North Atlantic Drive (Corredor Noratlátanico). This will take you through pineapple plantations and Muelle de San Carlos onto Arenal Volcano.
Volcano Travel has organized tours in the Arenal Volcano area and a fleet of vehicles that can take you to many corners of Costa Rica. They will get you from A to B in comfort and with a seasoned driver who knows the fastest way to get you there.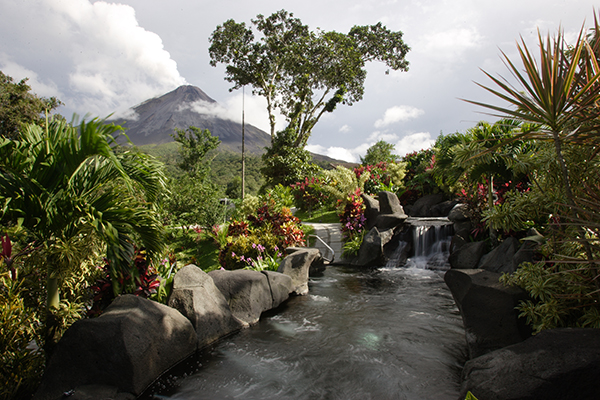 6. Thermal Springs. Are they medicinal?
Well, the experts say they definitely are, and we agree! Thermal Springs are gifted to us by the Arenal Volcano and are a must-do while in the area. They are filled with minerals that are said to be therapeutic for the mind and body.
Among other positive effects, a bath in some hot springs could achieve the following:
Activation of blood circulation
Strengthening of the immune system
Elimination of toxins
Healthier and brighter skin
Total relaxation of your body and mind
So, while visiting Arenal Volcano, take some time out to relax in the thermal springs, one of the many treasures our Sleeping Giant gives us.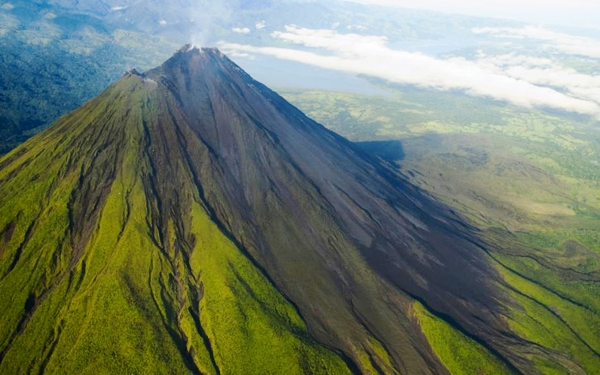 7. Is the Arenal Volcano active?
Since 2010, the Arenal Volcano has gone a bit quiet on us and stopped its constant eruptions of lava, ash, and red-hot rocks that would light up the sky like fireworks and run down the slopes like a red waterfall.  Today, it is called the sleeping giant, and we can enjoy it in quiet contemplation observing its slopes that still show the effects caused by the heat and fire. Thanks to its height and presence, it will accompany you on many of your adventures with Volcano Travel.
The Arenal Volcan´s last significant eruption was in 1968 when the town of Tabacon and Villa Nueva largely disappeared under the lava flows. From then on and up until 2010, the Arenal was very active. Due to its activity, the Arenal Volcano cannot be climbed, but you can certainly enjoy walking around its base. Volcano Travel has a walking tour that will take you over one of the large lava flows that occurred back in 1992, so you can really feel its strength!
8. Volcano Travel is your Arenal go-to for tours!
With its menu of possibilities, Volcano Travel will show you the very best of the Arenal Volcano and beyond. Cultural, leisure, nature, and adventure tours are filled with fun, learning, thrills, and impeccable service. Volcano Travel is a family-run business that knows its home like the back of its hand.  It also has a fleet of modern vehicles that will transport you to the most important tourist destinations in Costa Rica. You are in professional and knowledgeable hands with Volcano Travel Costa Rica!
So, there you have it! Fun facts about the Arenal Volcano that will help you understand why it is a must-visit during your travels to Costa Rica. Volcano Travel looks forward to being part of your adventures!