Costa Rica is a favorite destination for many reasons and continues to have a "Welcome to Costa Rica" borders policy since reopening its doors in August 2020. With its incredible beaches, rainforests galore, impressive mountain ranges, and diversity of wild and plant life, why not add some live volcanoes into the mix? All this in a little country that sits in the middle of the Americas. Let´s explore 5 fabulous volcanoes in Costa Rica and see what they have to offer!
Costa Rica has two volcanic mountain ranges that are part of the magnificent continental divide that runs down the Americas. The Costa Rican section of this divide is like a backbone as it separates the Pacific Ocean coast from the Caribbean Sea coast. It is where the countless number of pristine rivers are born too and that snake their way down onto the coasts. Some are favorites for white-water rafting!
The Guanacaste Volcanic Mountain Range runs from the northwestern corner of Costa Rica ending at the Arenal Volcano. It is full of adventure activities in nature that are part of the myriad of experiences that Guanacaste offers. Guanacaste is most well known for its white-sand beaches and thriving surf and wellness towns, but the volcanoes are also a big crowd-pleaser.
The Central Volcanic Range borders the Central Valley where the four major cities of Costa Rica can be found, including, San Jose, the country´s capital. This means during your stay in this bustling valley, you can escape to the mountains and check out the volcanoes on a number of day trips full of beautiful views and big craters!
So, let´s start our road trip exploring 5 fabulous volcanoes in Costa Rica!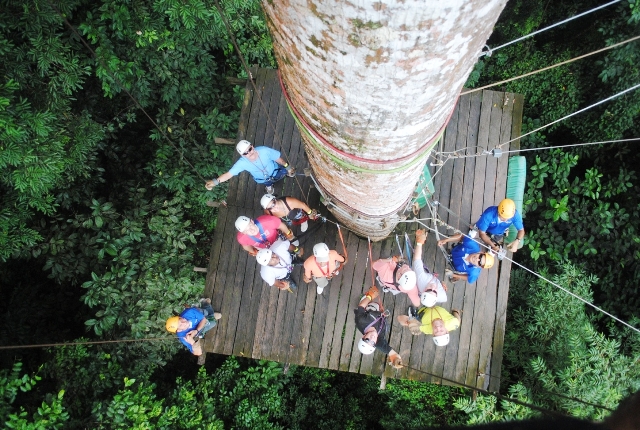 1. Arenal Volcano
Maybe Costa Rica´s leading landmark, an icon that represents Costa Rica perfectly. The Arenal Volcano is a stand-alone cone-shaped volcano that sits at the very end of the Guanacaste Volcanic Range. It is also Costa Rica´s youngest live volcano and wow, has it made its presence felt.
While it presently is asleep, not long ago, it was firing out red-hot rocks and lava all day long giving its spectators a nightly firework display. Today, it continues to have a hypnotic effect thanks to its beauty and significant presence. This sleeping giant is a constant companion during your stay in the Arenal area.
Arenal Volcano is the centerpiece of a world of adventure and activities in nature. White water rafting, hiking, canyoning, river floats, ziplining, and walking over suspension bridges in the rainforest are just some of the experiences you can live in Arenal. It is also a hub for avid birdwatchers and of course, a multitude of animals make their home in this natural wonderland.
Arenal Volcano is also the reason why the area is full of hot springs that could well be the favorite activity for visitors. Mineral-rich, warm to hot, and very inviting, the hot springs are everywhere and a must-do during your visit.
Recommendation: Stay at the Tilajari Hotel during your time in Arenal. This member of the Enchanting Hotels Costa Rica collection will make your stay memorable!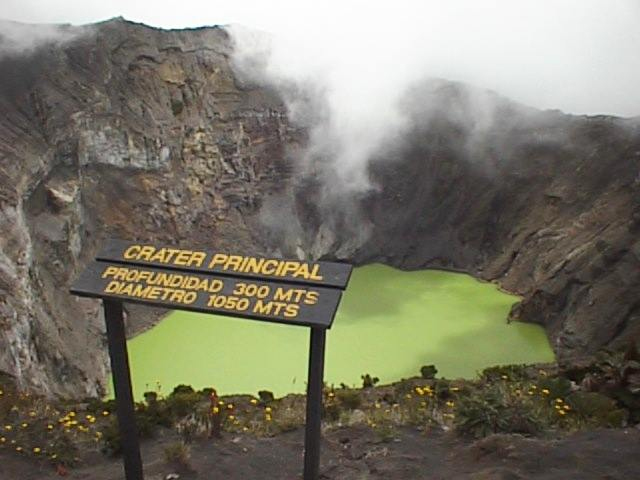 2. Irazu Volcano
A day trip to the Irazu Volcano from San Jose or the Central Valley is full of colors and beautiful landscapes. Located on the far eastern edge of the Central Valley, the Irazu Volcano is Costa Rica´s highest, reaching an impressive 11260 feet. On a clear day, you can see both the Pacific and the Caribbean coasts.
The Irazu Volcano has a moon-like feel to it as you walk towards the crater edge. You can actually look down into the crater. To reach this impressive volcano, you will pass through the city of Cartago and up into the rich agricultural farming land that covers the Irazu Volcano´s slopes.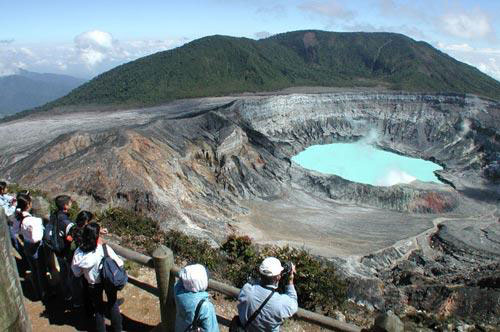 3. Poas Volcano
The Poas Volcano is also located in the Central Valley and is a day trip away. This active volcano is very impressive and has one of the largest craters of any volcano in the world. It has also just undergone a period of activity that meant the national park it sits within was closed for a long while to visitors.
It is now reopened and receives countless visitors daily and with strict safety protocols in place. The viewing decks allow you to see right down into the majestic crater that stretches nearly a mile wide. This is an impressive volcano that on a clear day can be viewed in all its glory.
The drive up to the Poas Volcano is also very beautiful. This is coffee country so enjoy the scenes of many coffee plantations, strawberry fields, quaint rural towns, and fantastic views down into the Central Valley below.
Recommendation: Stay at the Xandari Resort and Spa that is nestled into the slopes of the Poas Volcano. This will be an artistic stay as the hotel is filled with art, unique architecture, and sculptures combined with the amazing views of the sunsets and the Central Valley below.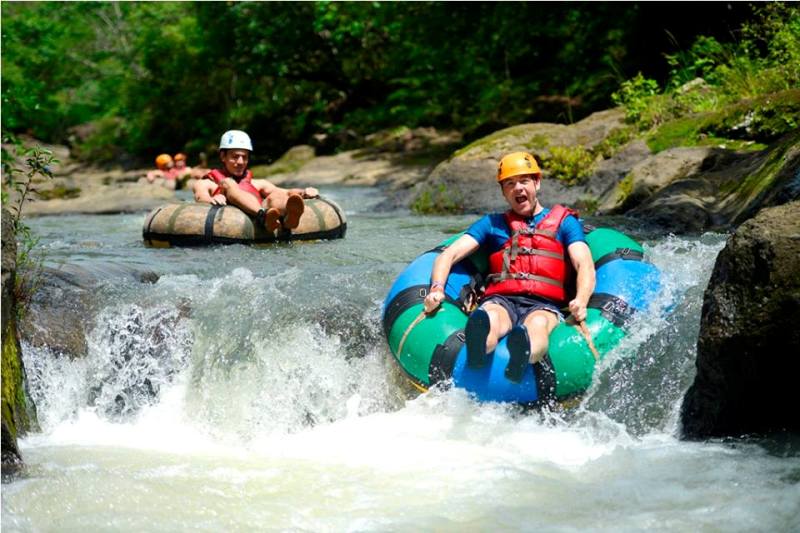 4. Rincon de la Vieja Volcano
Rincon de la Vieja Volcano is in the Guanacaste Volcanic Range and is where all the adventure and action are! Its slopes are filled with adrenaline-rush experiences that range from ziplining to tubing down a narrow river. It also offers relaxing thermal springs that are a welcoming time to relax after rappelling or horseback riding through the Guanacaste mountains.
This very popular volcano can be visited and where you explore the fumaroles, boiling mud pools, and waterfalls. This active volcano likes to remind us of its presence once in a while but continues to be a favorite destination for many adventurers.
Rincon de la Vieja Volcano can be visited from the beaches of Guanacaste very easily. So, if you are staying at Bosque del Mar at Hermosa Beach or Naambu Bungalows at Carrillo Beach you can get to the volcano and spend a day of adventure on the slopes of the volcano.
If you want to experience the Rincon de la Vieja Volcano in more depth, stay for a few nights at Hacienda Guachipelín. This fantastic mountain hotel not only is a wonderful place to stay, but it is also the epicenter of adventure with ziplining, mud baths, thermal springs, rappelling, canyoning, tubing, and horse riding in its menu of adventure activities.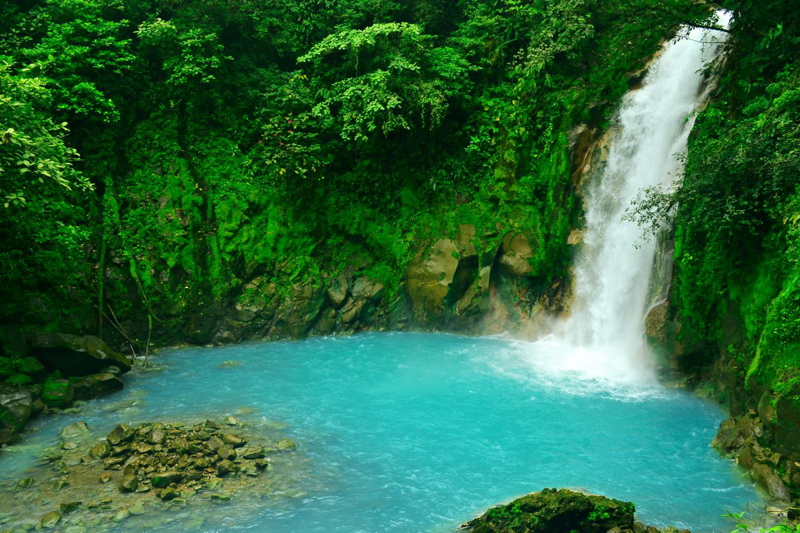 5. Tenorio Volcano
Last but definitely not least is the lesser-known Tenorio Volcano. With this fabulous volcano, it is more about the amazing blue river that is born on its slopes rather than the actual volcano itself.
Tenorio Volcano can be seen in the distance as you walk the trail that borders the Rio Celeste or Blue River. This beautiful blue optical illusion is from the sun´s rays hitting the mineral-rich riverbed creating this amazing turquoise-blue river.
So, our road trip around Costa Rica to show you 5 fabulous volcanoes has come to an end. Enchanting Hotels of Costa Rica is located by a number of them and can help you see the others so come and explore our 5 fabulous volcanoes and stay at the best, luxury boutique hotels in Costa Rica. See you soon!