The collection of hotels that are members of the Enchanting Hotels are located in the most beautiful and popular corners of Costa Rica. This means that traveling to stay at any of them may include a planned ride to shorten the distance. While Costa Rica is a small country and everywhere is accessible, time restrictions, the love of flying, or just because a plane ride can be an effective solution to getting to your destination. So, where can you fly to the Enchanting Hotels of Costa Rica? Let´s say the sky is the limit, so let´s get going, as we have a flight to catch!
Costa Rica has four international airports. Two services all the major airlines that have scheduled commercial flights into this beautiful corner of the world. They also service numerous private and charter flights too. The other two international airports offer commercial, domestic, and charter flights.
The Guanacaste International Airport is located on the Nicoya Peninsula and is the gateway to Guanacaste's beautiful white sand beaches, national parks, and tourist centers. The Juan Santamaria International Airport is located in the Central Valley. It is the place to fly to if San Jose, the capital of Costa Rica, is at the beginning or end of your journey around Costa Rica.
The Tobias Bolaños International Airport is located in Pavas, San Jose. It is about 11km from the Juan Santamaria International Airport. Domestic airlines like Aerobell Airlines fly to Nosara, Tortuguero, Puerto Jimenez, Drake Bay, Tambor, and Bocas del Toro in Panama. The Limon International Airport is on the Caribbean coast of Costa Rica and is south of Limon. SANSA is the only airline with commercial flights in and out of this airport.
How can I fly around Costa Rica?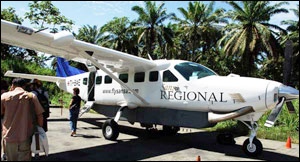 Costa Rica has several domestic airlines that have flights to different destinations around the country. Here are a few airlines that offer a range of possibilities to explore Costa Rica from the air, whether a commercial or chartered flight in a plane or a helicopter.
This airline has the most significant number of flights within Costa Rica. Its central hub is at the domestic Terminal at the Juan Santamaria International Airport, and its fleet comprises Cessna Grand Caravans. They have an online reservation system on their website.
Website: www.flysansa.com
Telephone: +(506) 2290-4100
Email: reservations@flysansa.com
This airline has a few domestic flights, including Quepos (Manuel Antonio), Tambor (Santa Teresa), and Bocas del Toro (Panama). Its fleet includes Cessna Caravans, a Daher Kodiak 100 Turbo-Prob, and a Beechcraft King Air F-90 for executive flights. Costa Rica Green Airways hub is at the domestic Terminal of the Juan Santamaria International Airport.
Website: https://costaricagreenair.com/
Telephone: +(506) 4070-0771 // +1-888-8288471
Email: customercare@costaricagreenair.com
This airline has domestic flights to Nosara, Tortuguero, Puerto Jimenez, Drake Bay, Tambor, and Bocas del Toro in Panama. Its hub is at the Tobias Bolaños International Airport in San Jose, and its fleet includes the Cessna Gran Caravan, Beechcraft King Air, and the Stationair Cessna 206. It also has helicopters, including a Bell 206 and a Robinson R44.
Website: https://aerobell.airkiosk.com/aerobell/website-new/
Telephone: +(506) 4000-2030
Email: reservations@aerobell.com
This air service offers helicopter and airplane charter flights all over Costa Rica. Its hub is from the domestic Terminal at the Juan Santamaria International Airport. Its fleet varies, including the Embraer 505 – Phenom 300, Cessna Caravan, King Air E90, Cessna 206G, and the Piper Seneca V, all with A/C.
Website: https://www.flyhelijet.com/
Telephone: (+506) 4070-0555
Toll-Free USA & Canada:
+1-888-7227-5837
UK: +44-1519-455167
Email: sales@flyhelijet.com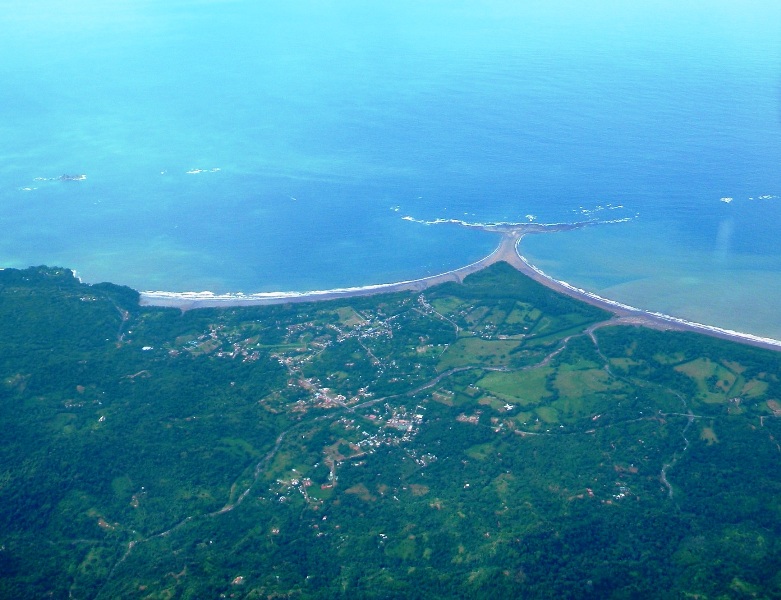 Where can I fly to in Costa Rica?
Costa Rica has a network of regional airports that serve their local areas. This means that if flying is your preferred form of transport to reach your destination, you will most likely be able to get there or very close to where you want to go. This is good news for flight enthusiasts and means you should get to where you want to go in good time.
The network of regional airports that receive commercial and private flights opens up new opportunities for travelers. These include:
Drake Bay: Servicing the Osa Peninsula, including Corcovado National Park
Golfito: Servicing southern Costa Rica and the Golfo Dulce
La Fortuna: The airport to explore the Arenal Volcano and the Northern Lowlands
Liberia: This is the Guanacaste International Airport servicing the Nicoya Peninsula
Nosara: Wonderful for the southern section of the Nicoya Peninsula, including Samara.
Puerto Jimenez: On the Osa Peninsula and perfect for the Golfo Dulce
Limon: This is an international airport servicing the Caribbean coast, including Puerto Viejo
Quepos: Servicing the Central Pacific coast, including Manuel Antonio, Jaco, and Marino Ballena
Tamarindo: Servicing Tamarindo, Conchal, Flamingo, Pinilla
Tambor: The airport for the southern section of the Nicoya Peninsula, including Montezuma and Santa Teresa
Tortuguero: It´s by plane or boat to get to Tortuguero, the northern Caribbean outpost.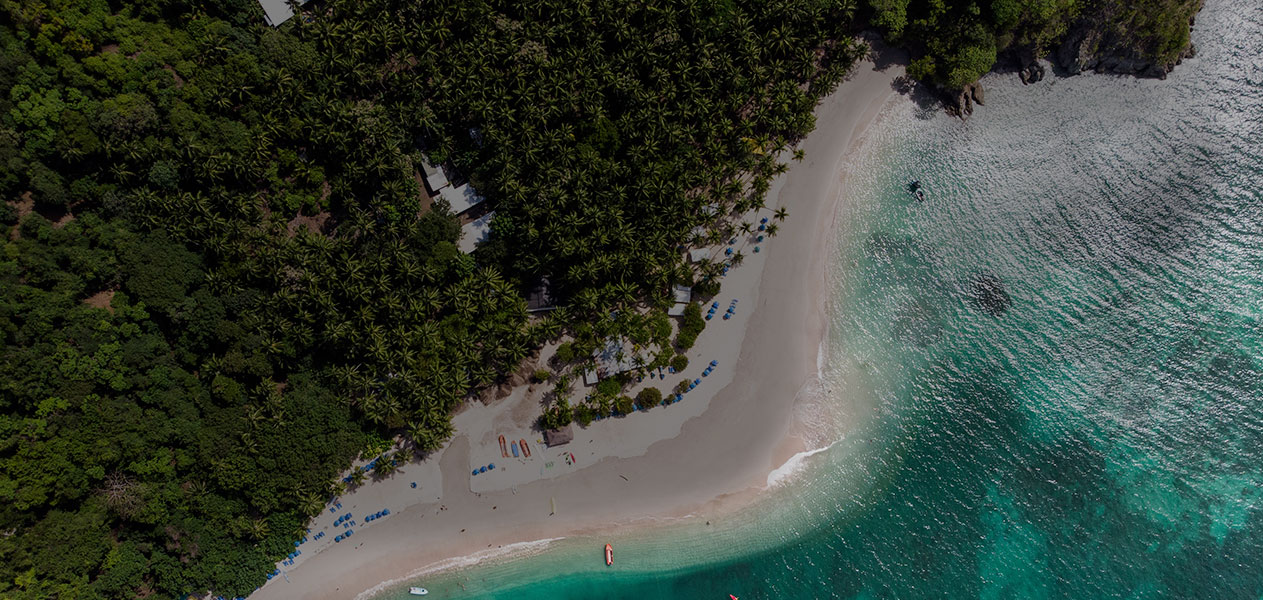 How can I get to the Enchanting Hotels on a plane?
Many Enchanting Hotels have a regional or international airport close by, so getting to your boutique, the sustainable, enchanting hotel, is all the easier.
This flight is very scenic, and an excellent way to understand the unique water canal environment Tortuguero is based around. From the Tortuguero Airport to Manatus, it is just a short boat ride away, making the transfer in and out nearly as exciting as the destination.
This involves a plane ride to the far southern Pacific Ocean coastline and a boat ride on the Golfo Dulce to reach this jungle-chic hotel. The airplane ride down the coastline is spectacular and is the perfect way to prepare you for your stay at Nicuesa to live the Nicuesa Experience.
The airport is just 25 minutes away from both hotels. If you are traveling within Costa Rica, departure and arrival will be from the Domestic Terminal.
La Fortuna Airport, which services the Arenal Volcano area and much of Costa Rica´s northern lowlands, is under 20 minutes from Tilajari.  The far northern lowlands of Costa Rica doesn´t have an airport, but La Fortuna Airport is the closest to get you to Hacienda Caño Negro. It will take 1 hour 45 minutes.
An hour's transfer along the coastal road will take you to the southern end of Costa Rica´s Caribbean coast to Puerto Viejo. Le Cameléon Boutique Hotel sits on Cocles Beach and goes by the slogan "Every day is a new day," which exemplifies that staying at this gorgeous hotel is refreshing and relaxing.
Quepos Airport to Cristal Ballena Boutique Hotel
This is a beautiful trip down the scenic coastal road. This transfer will take about an hour to the mountaintop hotel of Cristal Ballena, which overlooks the Marino Ballena National Park. This is humpback whale country!
The Guanacaste Airport services all the Enchanting Hotels on the Nicoya Peninsula. Hacienda Guachipelin is on the slopes of the Rincon de la Vieja Volcano, while Rancho Humo Estancia is by the Palo Verde Wetlands. Bosque del Mar and Nammbu are the beachside boutique hotels on Hermosa Beach and Carrillo Beach, respectively.
Enjoy Costa Rica from above! The sky is the limit and there is an airport nearby to an Enchanting Hotel! See you in the air!