Nicuesa Rainforest Lodge, an Enchanting Hotel, offers a variety of packages for guests to choose from, including the Rainforest Multisport Escapade Package. This package is a great way to experience all that Nicuesa Rainforest Lodge has to offer. The package includes a variety of activities that will allow guests to explore the rainforest and the surrounding waters. The package also includes a guided tour of the rainforest, which is a great way to learn about the wildlife and the plants that call the rainforest home. Let´s see what the Rainforest Multisport Escapade on the Golfo Dulce is all about! 
Only accessible by boat, this secluded jungle-chic lodge makes the perfect place to escape the hustle and bustle of everyday life. The lodge is surrounded by lush rainforests and beautiful beaches, and it offers a variety of activities and amenities for guests to enjoy. These unique characteristics make it a perfect place to put your sports cap on and experience nature in different and exciting ways!
The Golfo Dulce is Nicuesa´s front garden and it is a unique body of water that offers countless adventure and sports activities to enjoy. It is a big part of the Nicuesa Multisport Adventure Package, and its front and center position is well deserved. 
Let´s understand a bit about this sheltered gulf that thanks to its calm conditions is called the Sweet Gulf!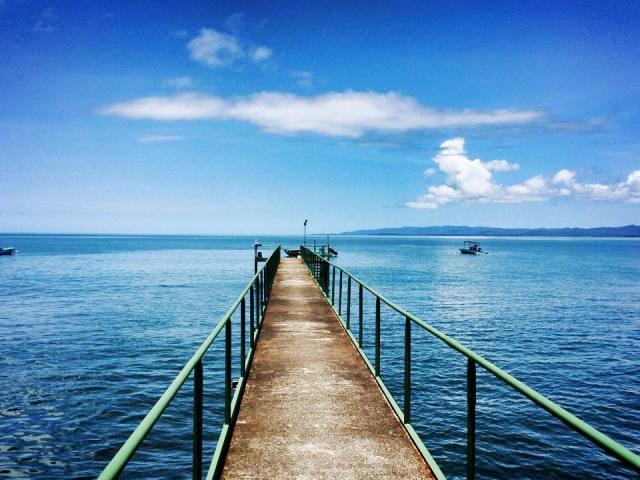 The Nicuesa Wharf stretches out into the Golfo Dulce and a world of adventure! 
What is special about the water in Golfo Dulce?
Golfo Dulce boasts remarkable characteristics that set it apart. This pristine tropical fjord is known for its tranquil, warm waters that showcase vibrant hues of blue and green. Unlike many coastal areas, the absence of strong currents and waves creates a calm and safe environment for various water activities.
Where is Golfo Dulce located?
Golfo Dulce is located on the southern Pacific coast of Costa Rica. It stretches approximately 27 miles from the Osa Peninsula to the mouth of the Piedras Blancas River. This secluded gulf is surrounded by lush rainforest and is accessible from nearby towns such as Puerto Jimenez and Golfito.
Fun Fact! You will drive to or fly into Puerto Jimenez or Golfito and Nicuesa will then boat you to the lodge. It is a 30-minute, scenic boat ride on the Golfo Dulce! A fantastic way to begin your adventure.
What is the depth of Golfo Dulce?
Golfo Dulce reaches impressive depths, with the maximum depth estimated to be around 700 feet (213 meters). This depth contributes to the richness of marine life found in the gulf, making it an enticing destination for divers and snorkelers.
Fun Fact:  The Golfo Dulce is actually one of only 4 Tropical Fiords in the world! Unlike the most common fiords, the Golfo Dulce wasn´t carved from a glacier, but rather created by tectonic plate movement. This is a reason why it is so deep, so bio-rich.
How wide is Golfo Dulce?
The width of Golfo Dulce varies throughout its length, ranging from approximately 8 miles (13 kilometers) at its widest point to narrower sections closer to the Osa Peninsula. This width allows for expansive views of the surrounding rainforest and creates a sense of tranquility in this pristine coastal paradise.
So, now we know a bit more about the Golfo Dulce, let´s see what fun-filled activities you can enjoy on it or in it during your stay at Nicuesa Rainforest Lodge!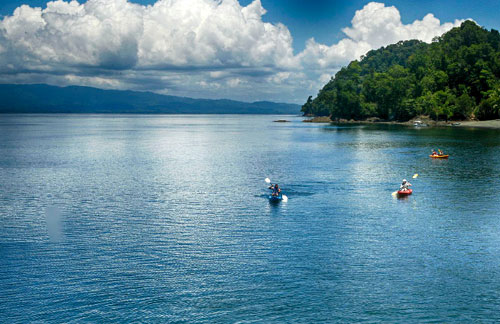 Kayaking in the mangrove forest is just one of the many Golfo Dulce adventures
Water Sports and Activities
Nicuesa Rainforest Lodge is a great place to enjoy a variety of water sports and activities. The lodge has its own private dock, and guests can go swimming, snorkeling, diving, and fishing in the surrounding waters. Several hiking trails lead to secluded beaches, where guests can relax and enjoy the peace and quiet. Here are some of the water-based activities and adventures in the Golfo Dulce you can enjoy during your stay at Nicuesa!
Water Activities in Golfo Dulce:
Golfo Dulce offers an array of exhilarating water activities to indulge in during your stay at Nicuesa Rainforest Lodge. Here are some popular options:
Kayaking:
Embark on a kayaking adventure through Golfo Dulce's serene waters. Navigate through mangrove channels, marvel at the diverse bird species, and immerse yourself in the sights and sounds of the rainforest.
Snorkeling
Discover the mesmerizing underwater world of Golfo Dulce by snorkeling. Dive beneath the surface to encounter vibrant coral reefs teeming with tropical fish, rays, and even the occasional sea turtle.
Sport Fishing:
For fishing enthusiasts, Golfo Dulce is a haven. Join a fishing excursion to test your skills and try your luck at catching marlin, sailfish, roosterfish, and other species that inhabit these abundant waters.
Stand-up Paddleboarding (SUP):
Experience the unique beauty of Golfo Dulce while stand-up paddleboarding. Glide along the calm waters, surrounded by the rainforest's green canopy, and relish the tranquility of this captivating natural setting.
Whale and Dolphin Watching:
Golfo Dulce is renowned for its exceptional whale and dolphin-watching opportunities. Take a boat tour to witness the majestic humpback whales during their annual migration (July to November) or encounter playful dolphins year-round.
The Golfo Dulce is surrounded by rainforest and the Nicuesa Multisport Adventure Package includes exploring this forest that is filled with sights, sounds, aromas, and textures. It is also home to many animals of all shapes and sizes! Let´s explore the rainforest.

Nicuesa Rainforest Lodge is surrounded by rainforest! 
Rainforest Sports and Activities
In addition to water sports, Nicuesa Rainforest Lodge also offers a variety of rainforest activities for guests to enjoy. Several hiking trails lead through the rainforest, where guests can see a variety of wildlife, including monkeys, sloths, and toucans. The lodge also offers guided tours of the rainforest, as well as night walks to see nocturnal animals.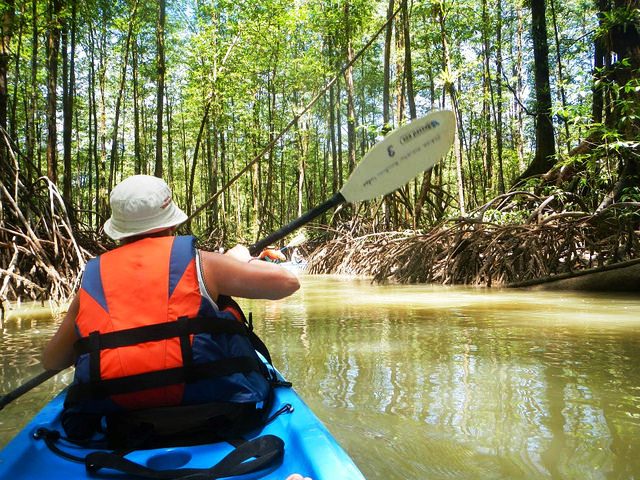 What does the Nicuesa Rainforest Multisport Escape Package include?
The Rainforest Multisport Escapade Package
This adventure and fun-filled package that combines the very best of the Costa Rican rainforest and the Golfo Dulce is a favorite for many guests at Nicuesa Rainforest Lodge.
Each day you can choose from the following guided activities:
Kayak Tour of Golfo Dulce

Rio Esquinas Mangrove Jungle River Tour

In-shore Fishing (approx 2 hours)
Rainforest Hiking Tours

Waterfall Hiking Tours

Botanical Garden Tour
Golfo Dulce Boat and Snorkeling Tour

Paddle Board Tour of GolfoDulce
 The Rainforest Multi-Sport Escapade Package Includes:
Lodging in a private Cabin or Mango Guest House

3 Delicious Meals Daily

Unlimited Self-Guided Hiking on Lodge Preserve Trails

 

Unlimited Self-Guided Kayaking, Paddle Boarding, Snorkeling, and Fishing

Boat Pickup and Drop off from the Town of Arrival/Departure (Puerto Jimenez/Golfito)

Taxes are Included.
Nicuesa Rainforest Lodge on Golfo Dulce is a remarkable destination that combines the allure of a tropical rainforest with the wonders of a pristine coastal paradise. Whether you seek thrilling water activities or a peaceful retreat surrounded by nature, Nicuesa Rainforest Lodge offers an unforgettable experience. Plan your visit to Nicuesa Rainforest Lodge and book your Rainforest Multisport Escapade and immerse yourself in the beauty of Golfo Dulce, where captivating adventures await.