One of the many reasons, people from all over the world travel to Costa Rica is to see hundreds of birds that live permanently or migrate to and through Costa Rica. Whether the birds are flying south or north, bird lovers can observe these colorful creatures in many places in Costa Rica. One of the best places to spot and enjoy birds is Golfo Dulce. Nicuesa Rainforest Lodge sits right on its shores so where better to enjoy wildlife and birdlife than in this Enchanting Hotel?  The Golfo Dulce is a birdwatcher's hotspot and Nicuesa Rainforest Lodge is the best eco-lodge to stay at too!
Nicuesa Rainforest Lodge in Golfo Dulce is the ultimate destination for birdwatchers looking for a unique and unforgettable experience in the heart of the Costa Rican rainforest.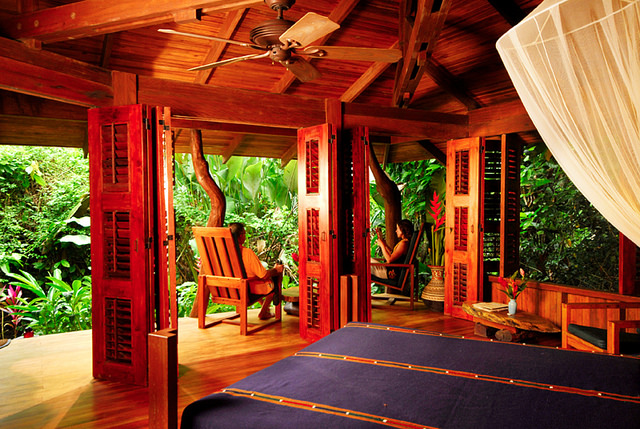 Why is Nicuesa Rainforest Lodge the perfect place for birdwatchers?
Location
Nestled in the heart of the Golfo Dulce rainforest, Nicuesa Rainforest Lodge is surrounded by lush tropical forests, pristine beaches, and a wide variety of bird species. The lodge is situated within the Piedras Blancas National Park, which is home to over 375 bird species, including the rare scarlet macaw, Golden naped woodpecker, Golden-hooded tanager, Red-legged honeycreeper and Red-capped Manakin
Expert guides
Nicuesa Rainforest Lodge offers expert birdwatching guides who are knowledgeable about the area and can help you identify and observe the unique and rare bird species that inhabit the region. They are passionate about birds and can help you gain a deeper understanding of the birds' behaviors, habitats, and conservation efforts.
Birdwatching tours
Nicuesa Rainforest Lodge offers guided birdwatching tours that cater to all skill levels, from novice to expert. These tours are designed to take you to the best birdwatching spots, ensuring you have the best opportunity to observe and photograph the birds.
Comfortable lodging
Nicuesa Rainforest Lodge offers comfortable and eco-friendly cabins and suites that blend seamlessly into the natural surroundings. You can enjoy the sounds of the rainforest from the comfort of your room and wake up to the sounds of birds chirping.
Sustainable practices
Nicuesa Rainforest Lodge is committed to sustainable tourism practices and is dedicated to protecting the environment and the wildlife that calls the rainforest home. By staying at the lodge, you support conservation efforts, sustainable tourism practices, and the protection and safety of many birds that live or visit the lodge´s gardens and reserves.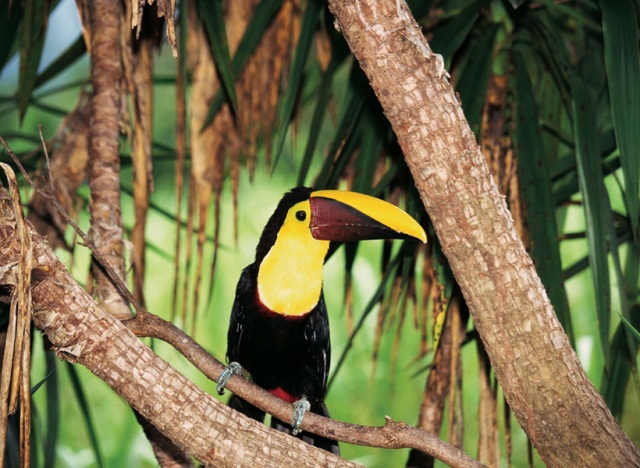 As one recent guest commented:
Playa Nicuesa and the tours we went on offered great birding experiences – I saw 61 species of birds while staying there, 28 of which were new to my life list, and most of those were on the Playa Nicuesa grounds itself.
Good news for avid bird watchers. Thanks to Nicuesa Rainforest Lodge´s privileged location on the shores of the Golfo Dulce and surrounded by tropical forest that extends into the neighboring Piedras Blancas National Park, many residents and migratory birds call it home.  According to the experts, the Osa Peninsula is home to more than 465 resident and Neotropical migratory bird species.
According to Osa Birds Research and Conservation,
"Here you will find the largest population of wild Scarlet Macaws in all of Mesoamerica, the endangered and Osa endemic Black-cheeked Ant-Tanager, and the endangered Yellow-billed Cotinga; a mangrove associated species endemic to southern Costa Rica and northern Panama.".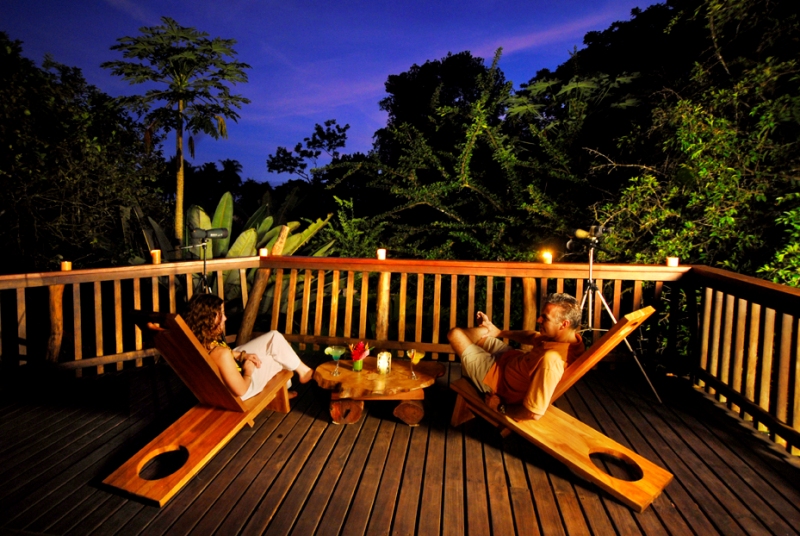 The Golfo Dulce shores are filled with lush tropical lowland forests.
Why does Golfo Dulce have so much birdlife?
The Golfo Dulce and Osa Peninsula provide several bird-friendly ecosystems including lowland tropical forests, mangroves, marshes, and beaches so different birds have different habitats.  So, while exploring the forests, rivers, and coastal areas of this bio-rich region, you will have the opportunity to see many species of birds that live in them.
The Osa Peninsula, located on the southern Pacific coast of Costa Rica, is home to several protected areas, including the Corcovado National Park and the Piedras Blancas National Park. These areas are teeming with birdlife, including several endemic species like the black-cheeked ant tanager and the black-hooded antshrike. Other bird species found on the Osa Peninsula and the Golfo Dulce include the Golden-naped woodpecker and Fiery-billed Aracari y Baird's Trogon which are also endemic to this bio-rich region of Costa Rica and the world.
The Golfo Dulce, a tropical fjord located between the Osa Peninsula and the mainland, is another great spot for birdwatching. It is home to several species of water birds like herons, egrets, ibises, and shorebirds. The mangrove forests along the coast of Golfo Dulce are also a great spot to see a variety of bird species, including the mangrove hummingbird and the mangrove vireo.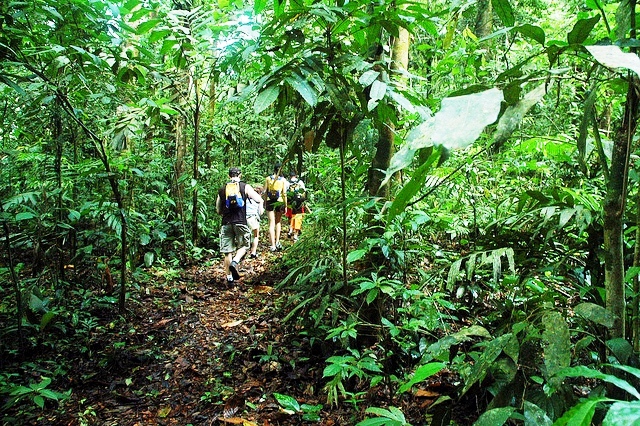 Take a hike in the rainforest and do some bird watching! 
Birdwatching at Nicuesa Rainforest Lodge
 Nicuesa Rainforest Lodge offers several adventure experiences that will allow you to do some wonderful birdwatching. Whether you are kayaking through the mangrove forest, hiking through the lowland tropical forests that surround Nicuesa, or exploring the Golfo Dulce on a SUP or a boat, birds can be seen flying, nesting, resting, or courting and they can be heard singing, cooing, squawking or chirping.
The resident naturalist guide has a passion for birds and wildlife in general. They have a special capacity for spotting even the shiest of animals so come prepared to enjoy wildlife viewing during your stay. Some of the bird species that you may observe during your stay include:
       

Gartered trogon

       

Slaty-tailed trogon

       

Yellow-throated toucan

       

Green kingfisher

       

Orange-collared manakin

       

Purple-crowned fairy

       

White-necked Jacobin

       

Long-billed hermit

       

Band-tailed barbthroat
Nicuesa Rainforest Lodge invites avid, professional, and amateur bird watchers and enthusiasts to enjoy this region inhabited by hundreds of birds while enjoying the comforts of this chic-jungle lodge on the shores of Golfo Dulce. Birdwatching in the Golfo Dulce is a dream come true for bird lovers and we invite you to fall in love with Nicuesa Rainforest Lodge too!