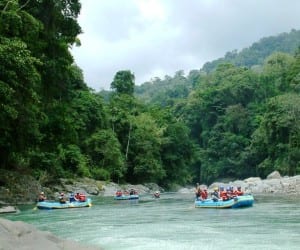 For its sheer beauty and phenomenal whitewater rapids, the Pacuare River of Costa Rica is one of the world's top whitewater river rafting adventures. The Pacuare thunders down a long gorge and canyon through primary and secondary rainforest of the Talamanca Mountains on Costa Rica's Caribbean slope. You have the feeling of being completely isolated in a lost world when rafting down the river. Waterfalls pour in from high rock walls, brightly colored toucans and electric blue Morpho butterflies fly by, and sometimes the chirping cicadas are so loud you can't hear anything else.
The whitewater is just as spectacular. The section of the Pacuare River most commonly run for commercial rafting trips is class 3-4. The 18-mile one-day run has 52 rapids; few rivers in the world can offer you so many.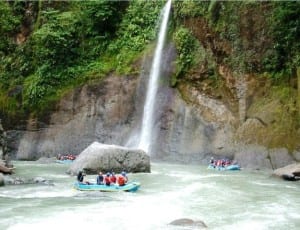 In the famous Pacuare River Gorge – five miles of some of the best whitewater in Costa Rica – you will pass by the dramatic 150-foot Huacas waterfall, maneuver around boulders bigger than houses, and rocket down exploding rapids. One of the most memorable experiences on the Pacuare is floating out of the raft in the deep jade green water of the steep-walled ravine called Dos Montañas, just after the last class 4 rapid.
The Pacuare River is a perfect blend of wilderness and excitement for a Costa Rica one-day adventure tour. When staying on Costa Rica's Caribbean Coast at Hotel Le Caméléon ("The Chameleon") by Puerto Viejo, you can easily enjoy a one-day Pacuare River rafting tour and many other Caribbean adventure tours. The upscale boutique hotel is located at the beautiful golden sand beach of Playa Cocles, where the hotel has a private beach club. Le Caméléon is an Enchanting Hotel of Costa Rica.
Article by Shannon Farley
Related articles