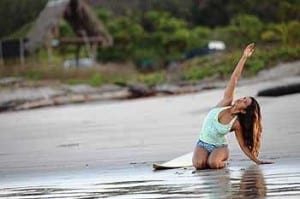 Costa Rica summer is yoga season at Pranamar Oceanfront Villas & Yoga Retreat on Santa Teresa Beach. Pranamar is offering 14 exceptional yoga retreats between February and June 2014.
Whether you are looking to deepen your yoga practice, or try yoga for the first time, a yoga retreat is an excellent opportunity for both. Retreats also add in fun activities like surfing or stand-up paddling.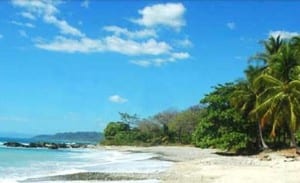 Santa Teresa has been named one of the top 10 beaches in Central America and is an idyllic yoga setting at the southern tip of Costa Rica's Nicoya Peninsula. Host Pranamar Villas welcomes retreat-goers with elaborate oceanfront villas and bungalows in lush tropical gardens, a gorgeous river-theme swimming pool, and gourmet organic cuisine in the Buddha Eyes Restaurant.
See the selection of yoga retreats listed below, and visit Pranamar's website for more information.
Costa Rica Yoga Retreats at Pranamar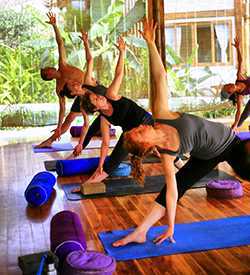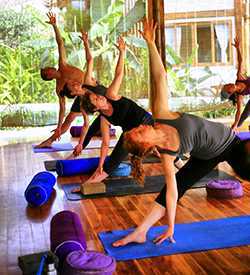 Women's Quest Adventures: Feb. 2-8 and May 4-10, 2014: Surf and yoga adventure retreat; yoga classes taught by Pranamar Villas yoga instructor, Nancy Goodfellow.
Vajra Sol Yoga Adventures: Feb. 16-22, Mar. 16-22, Mar. 30 – Apr. 5, Apr. 6-12, Jun. 22-28, 2014: Yoga retreat with surfing or stand-up paddling (SUP).
Yoga and Visioning Retreat: Feb. 22 to Mar. 1, 2014: Yoga, meditation and visioning retreat led by Chantal Russell.
TrueFlow Yoga Vacation in Costa Rica: Mar. 3-8, 2014: Yoga retreat led by Brynn Rybacek.
Soul Arch Yoga Retreat: Mar. 9-15, 2014: Yoga retreat and community philanthropic project.
Yoga Toes Retreat: Mar. 23-30, 2014: Yoga retreat led by MC Yogi and Amanda Giacomini with meditation, dharma talks, restorative yoga, storytelling and music.
Costa Rica Yoga Retreat with Colleen O'Brien-McFall & Kate Mak: Apr. 12-19, 2014: Yoga retreat in nature's beauty at Pranamar Villas.
Yoga Retreat in Costa Rica with Cathy Daley: Apr. 29 to May 4, 2014: Retreat with daily yoga and meditation sessions.
Article by Shannon Farley
Related articles