Costa Rica's Southern Caribbean Coast has everything could want for a destination wedding and honeymoon.
Imagine your dream wedding exchanging vows with your beloved in a stunning beachside ceremony overlooking the turquoise Caribbean Sea, or under the canopy of a tropical garden with the ocean close by. Picture a romantic honeymoon walking on pristine beaches at sunset, torch-lit tropical gardens and balmy evenings, days full of adventure, personalized service, and Caribbean culture and warmth.

Costa Rica continues to be one of the most popular locations for destination weddings and honeymoons for couples from North America, due to its affordability, warm tropical weather, natural scenic beauty, excellent services, and ease of travel. According to wedding industry statistics, out of the 2 million people in the United States who get married each year,
about 25% of those opt for a destination wedding in another country.
"And it is continuing to grow, especially with the current Millennial Generation that has traveled extensively," commented Larissa Banting of Weddings Costa Rica . "This is a generation looking for unique, authentic experiences. The Costa Rica Caribbean Coast is a perfect location because it is a place where people can go and 'wow' their friends and family since it is so unique."
The southern Caribbean Coast of Costa Rica features vibrant seaside towns, some of the prettiest beaches in the country, lush jungle, crystal-clear Caribbean Sea and amazing surfing waves. The relaxed lifestyle of beach towns like Puerto Viejo, Costa Rica have a unique blend of native Latino, Afro-Caribbean and Bribri indigenous cultures mixed with a widely-varied international population. Puerto Viejo has a great selection of international restaurants and delicious traditional Caribbean cuisine. The area also is known for excellent yoga studios.
"For me, the Caribbean is my favorite location," noted Banting. "It's still off the beaten path. The area is teeming with life with the ocean right there, and the backdrop is the mountains always green with jungle. It offers really authentic experiences and is a very magical spot."

Banting founded her wedding planning company Weddings Costa Rica in 2003 from her personal experience planning her own wedding in Costa Rica. Weddings Costa Rica has helped more than 600 couples enjoy destination weddings in Costa Rica.
Banting said the best time for weddings and honeymoons in the Caribbean Costa Rica is from September to November during the Caribbean summer season. One of her favorite places to hold destination weddings is at the upscale Hotel Le Caméléon on Playa Cocles, a little south of Puerto Viejo.
"You have this very excellent boutique hotel with all of these unique features in a really unique setting. The lovely thing about Le Caméléon is that it offers all the comforts," said Banting.

Hotel Le Caméléon is an Enchanting Hotel of Costa Rica presenting luxury beach accommodations in the tropical forest of Puerto Viejo. The hotel's 23 rooms border the pool surrounded by lush tropical gardens, across the street from Le Caméléon's beach club, La Sula Sea Lounge. Le Numu Restaurant & Bar serves creative international dishes in a contemporary, chic ambience.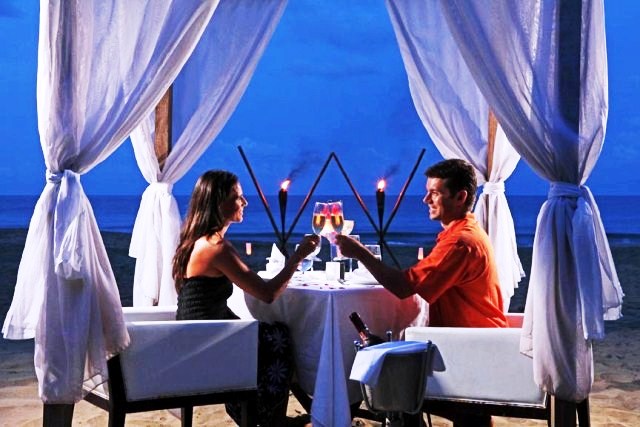 For honeymoons, there is a lot to do and see in the Caribbean, including the Cahuita National Park with its amazing coral reef snorkeling, the Gandoca-Manzanillo Wildlife Refuge, Sloth Sanctuary, chocolate tours, zip-lines, whitewater rafting,
and great beaches for surfing and swimming. Whether you want a honeymoon of lying in the sun watching parrots and toucans fly overhead and soaking your feet in the warm Caribbean Sea; or hope to try new adventures, Hotel Le Caméléon can arrange the honeymoon of your dreams.
How to get to Puerto Viejo, Costa Rica
Daily 30-minute flights on Nature Air or Sansa Airlines between San Jose and Limon; then drive less than an hour to Puerto Viejo and Playa Cocles. Driving from San Jose to Puerto Viejo takes approximately 4.5 hours.
Article by Shannon Farley
Related articles