It may not be your typical winter wonderland, yet Christmas in Costa Rica is definitely fun and festive. The holidays seem happier under bright sun and blue skies!
Article by Shannon Farley
As chilly winter weather frosts the United States, Canada and Europe, you are not alone if you are dreaming about a sunny tropical holiday.
Escape the winter blues and come to warm summer in Guanacaste for Christmas in Costa Rica. It may not be your traditional winter wonderland, but the blue skies, warm sunshine and tropical breezes make it easy to be festive.
Dozens of daily flights to Costa Rica from the U.S., Canada and Europe make traveling to Guanacaste simpler than Christmas shopping for your in-laws.
Jingle your bells at Hotel Hacienda Guachipelin by Rincon de la Vieja Volcano. Set on a 137-year-old traditional Guanacaste ranch next to the Rincon de la Vieja National Park, Hacienda Guachipelin is a top place to experience Costa Rica's famous nature. The award-winning hotel is surrounded by tropical forest, waterfalls, rivers, hot springs, and exotic wildlife.
Hacienda Guachipelin's adventure park offers the largest variety of things to do in Guanacaste all in one location. There aren't any sleigh rides, but you can horseback ride to your heart's content through forest and pastures to waterfalls and volcanic hot springs. And you can fly through the air like Santa's reindeer on the canopy zip line tour. Besides that, you have mountain biking, hiking, river tubing, waterfall rappelling, an archaeological tour, butterfly garden, frog habitat and Serpentarium.
You'll be cozy and comfortable in ranch-style accommodations perfect for individuals, couples, and families. See their special offers here.
So when your co-workers ask what are you doing for the holidays, make them all Grinch-green with envy when you say you'll have Christmas in Costa Rica!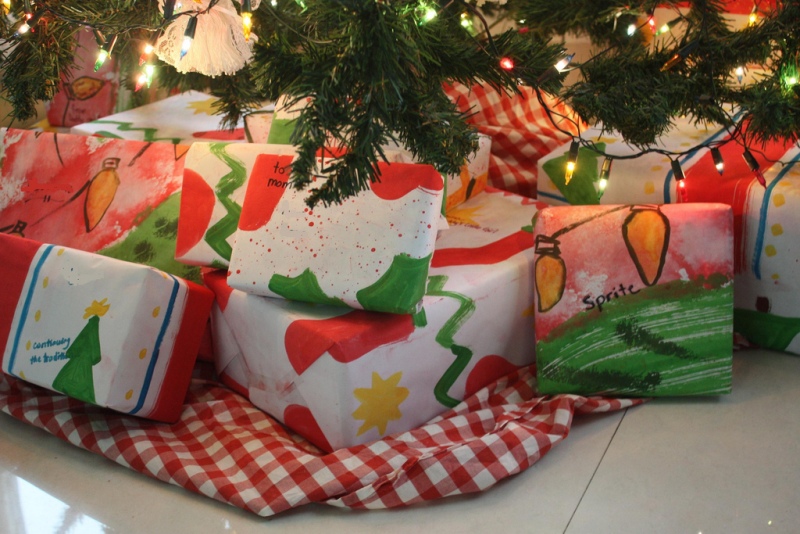 What is Christmas in Costa Rica like?
Christmas in Costa Rica is a vibrant time of Christmas parades, festivals, concerts, family gatherings, and elaborate decorations and lights on houses and businesses.
Rainy season has ended, replaced with dry cool winds, sunny days, and clear and starry nights. Students start their long "summer vacation" from December through February, workers receive their legally-required annual Christmas bonuses, and everybody is ready to celebrate!
Like the rest of Latin America, tamales are a time-honored Christmas tradition. Costa Rican tamales are made from corn meal filled with rice, potatoes and other vegetables, and shredded pork or chicken, and then wrapped in banana or plantain leaves and boiled.
Christmas trees can be fresh-scented real cypress trees, artificial trees, or even decorated palm trees.
Nativity scenes, often life-size, are an essential part of Costa Rican families' celebrations. Friends and family get invited over to show off the detailed creations.
Costa Rica's Christmas celebration begins on Christmas Eve, or "Noche Bueno," when people visit family and friends for feasts of roast pork, tamales and other traditional dishes. Eggnog with rum is drunk while family members exchange presents before midnight.
The New Year kicks off Costa Rica's summer festival season from January to April. Known for their gregarious, fun-loving style, Costa Ricans' enthusiasm for these fun cultural events is contagious.
Spend Christmas in Costa Rica and join in the festivities!