The Tortuguero coast in Costa Rica is a 22-mile-long, desolate, volcanic black sand beach littered with driftwood and tree logs tossed up on shore from the untamed ocean. It is a wild place – like the imaginary jungle coast in Maurice Sendak's "Where the Wild Things Are." There is nothing but beach and low, swampy jungle for miles and miles. You can't swim here because of rough surf, strong currents and sharks that will eat you – adding to the isolation.
Known as Costa Rica's "little Amazon" for its completely wild and dense tropical lowland rainforest, and serpentine maze of canals and lagoons, Tortuguero on the northern Caribbean Coast is a special and widely varied ecosystem. If you enjoy nature, Tortuguero is an un-missable destination on a Costa Rica vacation.
Tortuguero is famous for being the Western Hemisphere's most important nesting site for the endangered Green sea turtle, and a major nesting site for the critically endangered Hawksbill and Leatherback sea turtles. According to scientific records, the turtles have been recorded coming here since at least 1592 to nest and hatch their young in Tortuguero's extreme solitude.
The name "Tortuguero" means "turtle catcher" in Spanish, and the turtle population came perilously close to extinction in the 1960s from hunting. Renowned sea turtle expert and ecologist, Dr. Archie Carr, founded the Caribbean Conservation Corporation, now known as the Sea Turtle Conservancy, in 1959 to study and protect the sea turtles. Soon after, in 1970, Costa Rica created the Tortuguero National Park to preserve more than 46,900 acres
(19,000 hectares), along with the 22 miles of nesting beach, making it one of the largest remaining lowland wet tropical forests in the country.
The giant Leatherback sea turtles come ashore to nest from March to July; Hawksbill turtles nest from May to November, and the Green sea turtles arrive en masse by the thousands to nest from July to October. Sixty days or so later, the turtle eggs hatch and thousands of tiny four-inch-long sea turtle babies emerge all together and race to the sea. Visitors to the area go on guided tours to see the turtles since no one is allowed unaccompanied on the beaches after 6:00 p.m. to prevent poaching.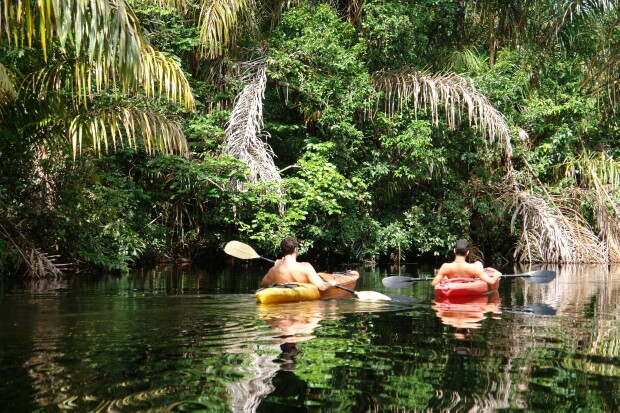 To see the rest of Tortuguero National Park, the best way is by boat or kayak along its canals through the labyrinth of islets, which are home to more than 50 species of amphibians, 100 kinds of reptiles, 300 types of birds and 60 species of mammals. If you are exceptionally lucky, you may even spot an endangered West Indian Manatee that populates these waters.
Travel to Tortuguero
Valle Dorado Tours in Costa Rica offers a 3-day, 2-night Tortuguero vacation package, as well as custom travel itineraries to Tortuguero. Due to the remoteness of the area, most lodges and tour packages include all meals, transportation to and from San Jose, and tours. Top Costa Rica travel agency Valle Dorado Tours works with three of the best lodges in the area:
Getting to Tortuguero:
The only way to travel to Tortuguero is either by land and then boat (usually via one of the lodges), or by air to the small airstrip near Tortuguero Village. Only Nature Air flies to Tortuguero from San Jose.
Article by Shannon Farley
Related articles