Article by Shannon Farley
Santa Teresa may be known for its beaches and surfing, but there are plenty of other things to do that will fill your vacation with fun. On your next visit to this renowned Costa Rica beach destination, check out these tours and activities in Santa Teresa.
Horseback riding
See the other side of Santa Teresa – one of rolling green hills and pastoral landscapes – on a horseback riding tour through Ario Ranch. The family owned and operated ranch protects 4,700 acres of coastal foothills, rivers and beaches, including the Caletas-Ario National Wildlife Refuge, which has an important sea turtle nesting habitat. The tour is suitable for both first-timers and experienced riders, ages 10 and older.
Hiking in Cabo Blanco Absolute Nature Reserve
The beautiful Cabo Blanco Nature Reserve has a special place in Costa Rican history. It was the first nature conservation area created in the country, in 1963. Located at the very tip of the Nicoya Peninsula, between the villages of Cabuya and Mal Pais, Cabo Blanco is also an important seabird sanctuary.
Two trails for hiking – a loop that takes about two hours, and a long trail of 5.5 hours – meander through dry tropical forest and humid tropical forest. The reserve is rich in nature. There are approximately 150 species of trees, 240 kinds of birds and a wide variety of other animals like white-tailed deer, anteaters, howler and white-faced capuchin monkeys, coatis, armadillos, fox and coyotes. Cabo Blanco is open Wednesday to Sunday from 8:00 a.m. to 4:00 p.m.
Canopy Zip Line Tour
Next to the Cabo Blanco Nature Reserve, the Mal Pais Canopy Tour is one of the most thrilling tours in the area. You'll fly along steel cable zip lines through the forest, along a creek and across a canyon between 11 platforms. There are great views of the Pacific Ocean and coastline. The tour is open daily between 8:00 a.m. and 5:00 p.m.; no experience is required.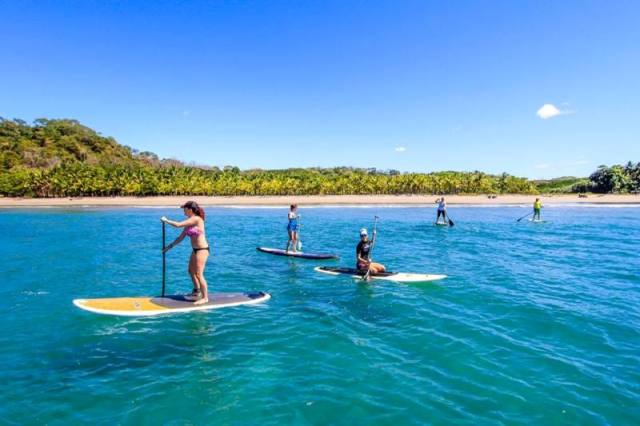 Stand-up Paddleboarding
Enjoy the ocean and coastline views from the perspective of a stand-up paddleboard. Tour leaders teach the skills you need while on the beach. Then you'll take to the water, paddling along the coast. It's a fun tour out on the sea in the fresh air.
Fishing
Santa Teresa offers many different fishing tours – spear fishing, inshore trolling or casting, or open water fishing. You can go from a half day to a full day. Tours include all fishing equipment, and generally also provide snacks and beverages.
Montezuma Waterfalls
Visiting the waterfalls in the nearby beach village of Montezuma is a fun day trip from Santa Teresa; it's a 40-minute drive. Three cascades along the Montezuma River are the most well known. The lowest tier is also the tallest at 79 feet (24 m) and has a large pool at the bottom where you can swim. You can take a guided tour to the area or go on your own. Montezuma is also known for its bohemian, artsy community and locally made handicrafts you can buy.