Del Mar Surfing Academy in Costa Rica has a new and exciting teen group trip that combines the best of its surfing training on the Central Pacific Coast with a Caribbean jungle adventure in Tortuguero.
Del Mar Surfing Academy is one of the top surf schools in Costa Rica for teens (ages 13 to 19), and for families. Based in surfing hotspot Costa Rica, at Hermosa Beach on the Central Pacific Coast, Del Mar Surfing Academy promotes healthy and active lifestyles via the sport of surfing. They offer 7-night and 14-night surf camps on one of the prettiest tropical beaches in Costa Rica with warm water, world-class waves and a friendly, fun and safe atmosphere. Camps are perfect for beginners or advanced surfers; everyone can experience the joy of surfing.
The newest student group trip is one-week-long (7 nights and 8 days), combining 5 days in Hermosa Beach surfing and training, and 2 days of adventure in Tortuguero on the Caribbean Coast. The trip is exclusively for teens and teachers.
The week begins at Hermosa Beach, where students will surf and train daily, plus enjoy a thrilling canopy zip line tour. Accommodation, by double or triple occupancy, for 5 nights is at Terraza del Pacifico Hotel. Then the group will travel across Costa Rica's central divide of volcanoes and mountains to the Caribbean Coast on the other side of the country to the steamy, watery jungle of Tortuguero. Accommodation for 2 nights will be at Mawamba Lodge.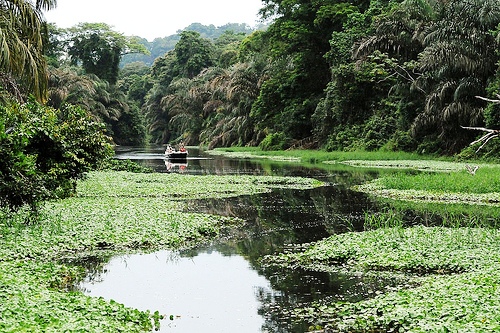 Tortuguero is famous for its very special ecosystem of marshy islands, beaches, canals and lagoons that is habitat for a multitude of animal and plant life. The name "Tortuguero" means "turtle catcher" in Spanish and the Tortuguero National Park's main attraction are its nesting beaches for Green Sea Turtles, Leatherback and Hawksbill Sea Turtles. The area is home to more than 50 species of amphibians, 100 kinds of reptiles, 300 types of birds and 60 species of mammals. If you are exceptionally lucky, you may even spot an endangered West Indian Manatee.
While in Tortuguero, you'll explore the labyrinth canals of the National Park by river boat, hike trails in the jungle around the lodge, visit the Village of Tortuguero, and enjoy a night walk on the beach to spot turtles.
Del Mar Surfing Academy's trip includes all meals, all transportation inside Costa Rica (from and return to San Jose), all surf lessons, a full-time host/chaperone, and all tours in both Hermosa and Tortuguero.
Space is still available for teen camps in August and September, and there are more camps later in the year too.
Have the time of your life in Costa Rica on a vacation you'll talk about for years, with Del Mar Surfing Academy!
By Shannon
Related articles