It is a gigantic journey.
A one-way trip can last upwards of 5,000 miles. Imagine walking from a bit north of Anchorage, Alaska, all the way to San Jose, Costa Rica, and that's the distance we're talking about. Or, think of swimming from Antarctica to Costa Rica. Now imagine not resting nearly at all, and not eating, during the entire journey!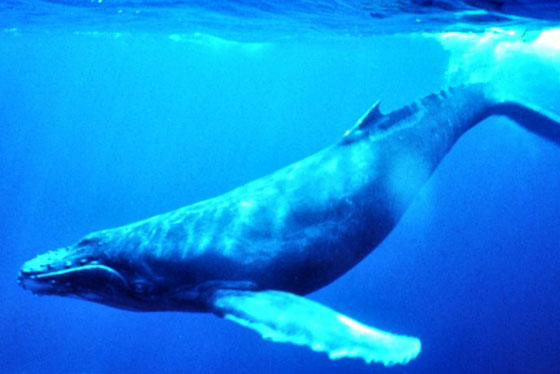 This is the annual migration of the Pacific humpback whales – one of the most remarkable journeys by any creature on the planet. The cetaceans travel between 3,000 and 5,000 miles – twice in a year! – making them one of the farthest-migrating animals on Earth.
Northern Hemisphere humpbacks spend the northern summers off the coast of Alaska and British Columbia where they feed constantly on krill and small fish in the rich arctic waters. Southern Hemisphere whales do the same in the Antarctic Ocean during that summer season. The whales eat up to a ton of food per day, building up their thick fat layer called "blubber."
As winter closes in and the seas turn to ice, humpback whales start their long migration to warmer waters to breed and give birth. The northern-based whales head south to Mexico, Hawaii and Central America, spending December to March in warm, shallow waters. The Hawaiian Islands are the largest calving grounds, especially in the tropical seas around Maui which are designated as the Humpback Whale Sanctuary. The southern, Antarctic-based humpbacks usually winter off the Great Barrier Reef of Australia from June to November.
In Costa Rica, we are blessed with visits by migrating humpback whales from
both the northern and southern hemispheres! The great whales come to our warm, protected waters from December to April (from Alaska) and again between August and the end of November (from Antarctica). Main places to see the gentle giants are the Ballena National Marine Park just south of Dominical, which is named for the whales that migrate there every year. Further south, off the Osa Peninsula, humpbacks may be seen in Drake Bay near the Cano Island Biological Reserve and in the Golfo Dulce off the shores of Puerto Jimenez.
Humpback whales are an endangered species with international government-protected status. On the edge of extinction, their numbers were decimated by 90% from over-hunting until a whaling freeze in 1966 has helped the world population partially recover to about 65,000-75,000 whales worldwide (and growing at about 3% per year). Some countries – mainly Japan – still hunt humpbacks and other whales, but are under strong international pressure to stop.
Weighing between 60,000 and 80,000 pounds, humpback whales grow to be about 52 feet long (16m) – the 7th largest of the whales. Like all baleen whales, females are slightly larger than males. They live a long life to about 45-50 years old. Babies (or "calves") are born after an 11-12 month gestation period, which explains why some years when the whales are visiting tropical waters they are breeding and other years they are giving birth. While in the warm waters, the adult whales don't eat and instead live off that very thick layer of blubber (fat) that they developed all summer; the young calves feed on their mothers' rich milk. Mothers and calves stay together for a year or longer, and maintain strong bonds; humpback whales reach maturity at about 15 years old.
It's easy to spot humpback whales since they live
at the ocean's surface, both in the open ocean and in shallow coastline waters. They swim slowly and are the acrobats of the sea, which makes them perfect stars for whale-watching tours. Some common actions you might see when spotting the whales include "spy hopping," when the whales pop their heads above the surface to take a look around, or fin slapping, fluke flipping and the spectacular "breaching" when they leap completely out of the water. Humpbacks also are the noisiest and most creative of the whales when it comes to their "songs," or prolonged sounds they make. They have long, varied, complex and beautiful songs that include clear sequences of squeaks, grunts, and other sounds. Only males have been recorded singing, and they seem to sing the complex songs only in warm waters. The website www.whalesong.net has recorded humpback whales singing off the coast of Maui and broadcasts free from their webpage (I've been listening while writing!).
Whales' graceful, playful and highly intelligent natur
e has always fascinated humans. You too can experience their captivating beauty on a sensational three-day and two-night Whale Watching Tour in Costa Rica with Team CRT. The tour will take you from San Jose to the Pacific's Costa Ballena, south of Dominical, where you will stay at the fabulous Cristal Ballena Resort & Spa. You'll enjoy a full day at sea in the Ballena National Marine Park on a whale and dolphin watching tour, plus other optional half-day tours, before returning to San Jose.
Besides humpback whales, other marine life that visit the Ballena National Marine Park off Costa Rica's Southern Pacific Coast include pilot whales, beaked whales and huge resident populations of dolphins – bottlenose, spinner, spotted and common dolphins.
By Shannon Farley
Related articles