The end of the year in southern Costa Rica is time for one of the country's biggest indigenous cultural events. This is when the native Boruca community celebrates their traditional "Fiesta de los Diablitos", or the Festival of Little Devils. The four-day annual event happens from Dec. 30 to Jan. 2 in the village of Boruca on the tribe's indigenous reservation in the Talamanca Mountains, 25 km inland from Palmar Norte near the town of Buenos Aires.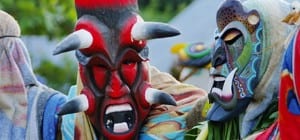 The people of Boruca keep their rich ancestral traditions alive, expressed through their language, legends, dance and crafts. The Borucas are particularly famous for their colorful, hand-carved masks made from lightweight balsa wood. These masks play an important part in the Fiesta de los Diablitos, which celebrates the Borucas' victory over the Spanish conquistadors.
Using the traditional balsa wood masks of devil faces, and elaborate costumes made from cloth sacks and banana leaves, the village men dress up as ancestral spirits. One man takes the role of a mock bull, representing the evil Spanish intruders. Only Boruca men who have carved their own mask may participate. Women have an important yet less visible part in the festival's organization making food and drink to sustain the male participants.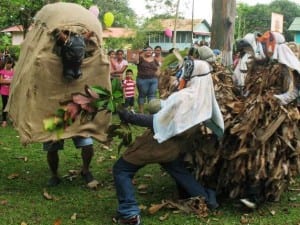 During the four-day festival, the bull and the diablitos perform a long, ritual dance with pretend fighting around a bonfire, known as the Dance of the Diablitos. The participants drink lots of home-made "chicha", an alcoholic beverage made from fermented corn that is drunk from a hollowed-out gourd. On the last day, the diablitos triumph over the Spanish – just as they did historically. The bull is "killed" – the costume is burned on the large bonfire in the middle of the village and much celebration follows.
A fantastic collection of images from the Fiesta de los Diablitos can be found on this Facebook page by travel writer and photographer, James Kaiser.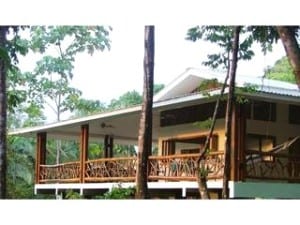 Attending the Fiesta de los Diablitos in Boruca is an easy day trip from Portasol Rainforest & Oceanview Living. The sustainable residential and vacation lodging community is located between Manuel Antonio and Dominical on the Central Pacific Coast. The indigenous village of Boruca is a little over 90 minutes away.
Rent a luxury vacation home or tropical bungalow at Portasol Rainforest and Oceanview Living. The sustainable residential community has vacation rentals and properties for sale. Its 1,300 acres offer private trails in the jungle, rivers and waterfalls with natural pools, comfortable lodging, and spa services.
Article by Shannon Farley
Related articles