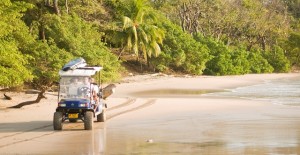 Nosara, Costa Rica, is a fascinating, eclectic beach community. Remotely located on the Pacific Coast of the Nicoya Peninsula, Nosara has become a haven for local and international residents who sought to "get away from it all."
Many came to surf the wild side-by-side beaches of Playa Pelada and Playa Guiones, two of Costa Rica's top surfing beaches. Others came seeking a healthier lifestyle of yoga, sunshine, clean air and organic markets.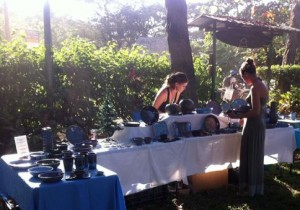 Art groups in Nosara are now promoting the Costa Rica beach community as a cultural center. The Nosara Artisans group, which was founded by resident ceramic artists Kristen Brousseau and Emma Kinsey, hold Saturday afternoon art fairs once a month. Upcoming 2014 art fairs will be held on Jan. 25, Feb. 22 and Mar. 29 at the Gilded Iguana Hotel and Restaurant in Guiones. The group recently held their second annual Holiday Art Fair that benefited the Nosara Animal Care shelter.
A new art group, called Arte Nosara, is currently being organized by Nosara resident Paul Da Costa, to host art and photography exhibitions, musical concerts and dances. The first expo is planned for January 2014.
One of the finest Nosara hotels is L'acqua Viva Resort & Spa, a luxury boutique hotel by Playa Guiones. The hotel's name means "live water," which is a key element in the hotel's exotic Bali-style architecture. Art is a central theme at L'acqua Viva Resort & Spa; all around the hotel are art masterpieces from around the world that belong to a private collection. The best way to reach Nosara and Playa Guiones is to take a domestic flight from San Jose or Liberia to the Nosara domestic airport.
Article by Shannon Farley
Related articles