Dazzling white sandy beaches backed by tropical rainforest, shimmering tropical-warm blue-green water, fresh ocean breezes, and a diverse array of wildlife – Manuel Antonio is one of Costa Rica's most popular beach destinations. Conveniently located on Costa Rica's Central Pacific Coast, here you can experience nearly all of the country's enchanting attractions in one place. There is little that the Quepos/Manuel Antonio area does not offer tourists, from top beaches to lush rainforest, abundant wildlife, wild rivers, mangrove estuaries and the famous Manuel Antonio National Park.
The pristine sparkling waters of the Pacific Ocean along this stretch of Costa Rica coastline make for an enormous "playground" of nature and adventure activities. So too do the big, wild rivers of the nearby Savegre and Naranjo, and the mysterious tangled mangrove waterways of the Damas Island Estuary.
Water activities in Manuel Antonio lead the way for the top things to do in the Manuel Antonio area. Here's our top 10 list for water adventures to enjoy during your stay in the Manuel Antonio area.
River and Estuary Adventures
Whitewater Rafting
Costa Rica offers some of the world's best whitewater rafting on beautiful, wild rivers that flow through spectacular tropical wilderness. In the Manuel Antonio area, the Naranjo River and Savegre River both fit this bill perfectly. The Savegre River features class 2-3 rapids surrounded by lush vegetation and is perfect for beginners and families. Outfitter H2O Adventures even offers a river tubing adventure on a class 1-2 section of the Savegre River. The Naranjo River is bigger and bolder, with fun and exciting class 3-4 rapids; the El Chorro section is a solid class 4 run through a tight gorge. H2O Adventures, a franchise of the famous company Rios Tropicales in Costa Rica, is one of the best whitewater rafting companies in Quepos/Manuel Antonio.
Mangrove Estuary Kayaking
The Damas Island Estuary, just 15 minutes from Manuel Antonio, is a completely different world where the ocean's salt water meets the fresh waters of the Damas River, creating a tidal lagoon and forest of interlacing aerial roots of mangrove trees. In easy sit-on-top ocean kayaks, H2O Adventures will take you paddling through the calm labyrinth waterways of the estuary, and learn the importance of this delicate ecosystem. Here, live a wealth of animal and bird life, such as mangrove wrens, swallows, shore birds, and crocodiles. On the banks of the estuary, you'll see "Sally light foot" crabs, and possibly boa constrictors tangled in the aerial roots, and silky anteaters and white-faced monkeys in the upper branches.
Ocean Adventures
Catamaran Sailing & Snorkeling
Delight in seeing dolphins, sea turtles, manta rays, sea birds, and maybe even a passing migrating humpback whale while you cruise along the Manuel Antonio Marine Preserve on a sleek and comfortable sailing catamaran. Planet Dolphin is the longest-running operator of catamaran tours in Manuel Antonio. They offer two tours daily, one in the morning and one in the afternoon, on three different catamarans ranging in size from 37 feet to 70 feet-long. All boats are equipped with U.S. Coast Guard-approved life preservers, marine radio, stereo system, snorkel equipment, and are led by a bilingual Captain with a naturalist guide. After touring the coastline, you will anchor in a protected cove within the pristine Biesanz Bay for snorkeling. Planet Dolphin provides all you need to enjoy the underwater experience of swimming with large schools of colorful tropical fish. You'll also be served lunch of fresh fruits, grilled fish brochettes, pasta salad, and drinks.
Jet Ski Tour
Cruise out on the ocean on individual wave runners along the Manuel Antonio National Park coastline. You'll ride around small islands and spot marine life up close. Jungle Coast Jet Ski Tours uses easy-to-use Yamaha and Honda wave runners on their 2-hour tour. You can jump off and swim at any time and even do a bit of snorkeling.
Scuba Diving & Snorkeling
The underwater world off of Manuel Antonio is full of volcanic formations and a multitude of colorful tropical fish – perfect for exploring while scuba diving. Quepos/Manuel Antonio is home to the only 5-star PADI scuba diving center on Costa Rica's Central Pacific Coast. Oceans Unlimited offers guided dive and snorkeling trips, PADI dive courses, introductory resort courses and Nitrox. Whether you are a certified diver or this is your first time, Oceans Unlimited professional instructors and dive crew are fully certified, and ready to show you the best of Costa Rica's world under the sea.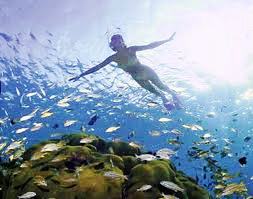 There are many opportunities for snorkeling in Manuel Antonio. Whether you take a tour, or simply slip on a mask and float right off the National Park's beaches, you're bound to see plenty of tropical fish, rock formations, crustaceans, mollusks and the like. Many other tours, like the catamaran sailing, Jet Ski and scuba diving, include snorkeling. Or Oceans Unlimited offers guided snorkeling trips.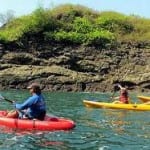 Sea Kayaking
Enjoy a scenic paddling tour of the Manuel Antonio coastline. From a vantage point only possible in sea kayaks, you can experience up close Manuel Antonio's impressive cliffs and rock formations. Outfitter H2O Adventures uses easy sit-on-top ocean kayaks that fit one or two persons. Guides are bilingual and are trained in water and ocean safety.
Sailing
This tour on the beautiful sailboat, "Perla Azul" (Blue Pearl), takes you through the serene, crystal-clear waters of Quepos and Manuel Antonio along the coastline. Hear the snap of the sails and sheets as the wind propels the craft skimming over the ocean's surface. The nice thing about sailing is no motor noises that may frighten off marine animals you want to observe. Morning tours look for marine life, and the afternoon tours include watching Manuel Antonio's spectacular sunsets.
Sportfishing
The beauty and excitement of a day out on the open blue Pacific is hard to beat. Quepos/Manuel Antonio is one of Costa Rica's hot spots for world class sportfishing. Catch marlin, sailfish, Mahi Mahi (Dorado), Wahoo, tuna and roosterfish year round. Tropical Waters Sport Fishing offers half-day, three-quarter, and full-day charters, as well as customized multi-day trips, for both offshore and inshore fishing. Offshore fishing is normally done 20 to 40 miles out in blue water. Tropical Waters always uses circle hooks for "Catch and Release" fishing.
Surfing
Manuel Antonio's waves cater more to beginner and moderate surfers; however, with a good swell, the local breaks can be fun for all levels of surfers. Rent boards and take surf lessons with Manuel Antonio Surf School, a fully insured surf school with bilingual instructors who are trained in water safety, first aid, and the International Surfing Association.
Parasailing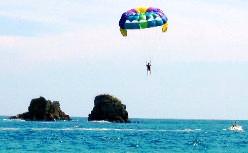 While parasailing is technically an aerial adventure, this popular Manuel Antonio activity takes off from the beach while being towed by a boat and flies you over the ocean. You'll get a bird's-eye view of the stunning Manuel Antonio coastline from 600 feet up in the air above the blue Pacific. On the Aguas Azules tour, you can fly alone or in tandem with one or two other persons. Aguas Azules is fully licensed and insured with an impeccable safety record. Their website says parasailing is so easy, that anyone from age 3 to 80 can do it.
Where to stay in the Manuel Antonio area
Portasol, a sustainable community located near Manuel Antonio along the Central Pacific Coast of Costa Rica, offers impressive properties in the rainforest with ocean views. Portasol is a fantastic vacation home rental option for visitors to the Manuel Antonio area. Three spectacular vacation homes are available for rent, along with bungalows built on high stilts that simulate tree houses with decorative wrap-around verandas. Enjoy private trails through the jungle to rivers and waterfalls with natural pools.
Looking to own your own piece of paradise in Costa Rica? Portasol offers for sale scenic mountain lots, ranging in size from 2 to 10 acres, equipped with electricity, water, gravel roads and at least one building site.
By Shannon Farley
Related articles