In the coolest travel destination for 2016, you can plan a cool vacation knowing these top things to do in Monteverde, Costa Rica.
Monteverde is famous for its cloud forests, nature and wildlife, adrenaline-inducing zip lines and suspension bridges, and its fabulous local coffee, ice cream and cheeses. So, pack your bags and get ready for an amazing adventure in the cloud forest on vacation in Monteverde.
10 Top things to do in Monteverde, Costa Rica
Canopy zip line tours
Monteverde boasts some of the longest, highest and scariest zip lines through the forest tree canopy. If you're an adrenaline thrill-seeker, this adventure is for you. Try the Tree Top Canopy Tour at El Establo Hotel; or the zip lines at Selvatura Adventure Park or Sky Trek Monteverde by the Santa Elena Reserve.
Night Walk tour
It's exciting, and a little spooky, to walk around in the forest at night with all of its hidden critters. This is the time when nocturnal animals wake up, hunt and do their thing. You'll encounter (from safe distances) snakes, spiders (like hole-dwelling tarantulas), porcupines, agoutis, opossums, tree frogs and other animals. El Establo Hotel offers a thrilling Night Walk in the Cloud Forest Tour.
Monteverde Cloud Forest Biological Reserve
The Monteverde Cloud Forest Biological Reserve is one of Costa Rica's most famous private reserves. Spanning six distinct ecological zones, the reserve's 10,500 hectares (25,950 acres) protects abundant wildlife. It is a favorite destination for bird watching in Costa Rica to see the more than 400 bird species found here. The best way to go is on a guided hike with a naturalist who has expert eyes and knowledge.
Suspension and Hanging Bridges
Scientists didn't know this until they started climbing rainforest trees four decades ago, but about 90% of all rainforest life is found in the upper level of the forest canopy, where the sunlight is more powerful in the treetops and more species can grow. There, plants flourish and animals climb to soaring elevations to hunt for fruits and nuts. Now you can explore the amazing wonders of the forest canopy on suspension and hanging bridges. Best in the area are Sky Walk and Selvatura's Treetop Walkway.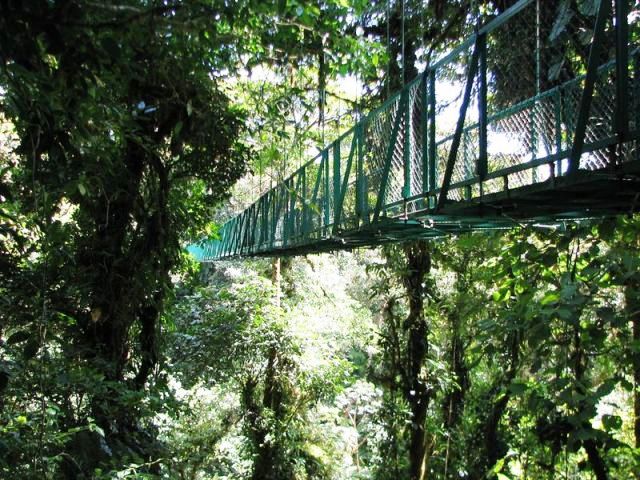 Monteverde Orchid Garden
Exquisite, delicate orchids are the largest and most diverse family of flowering plants on Earth, and are abundant in tropical Costa Rica. The Monteverde cloud forest in Costa Rica is said to have the highest diversity of orchids in the world. You can see close to 500 varieties of orchids in the Monteverde Orchid Garden, including the smallest orchid in the world at just over 2 millimeters (0.08 inch) in size.
Santa Elena Cloud Forest Reserve
The Santa Elena Reserve is particularly special for its abundance of epiphytes, which make up 29% of the flora with 878 species, and are the richest plant life form in Monteverde. This private reserve of 765 acres (310 hectares) of cloud forest is a prime example of community cooperation for conservation. See if you can catch sight of the elusive green and red Resplendent Quetzal here.
The Children's Eternal Rainforest straddles the Continental Divide, covering 55,600 acres (22,500 hectares) of primary and secondary forest. The private reserve surrounds the Monteverde Cloud Forest Reserve for added conservation, and offers great hiking trails.
Coffee tours
Costa Rica is known all over the world for its rich coffee. Now you can get the insider story on how that fantastic coffee is produced, and charm your friends back home with cool facts. Monteverde has a local fair trade cooperative that supplies coffee connoisseurs around the globe with the finest coffee.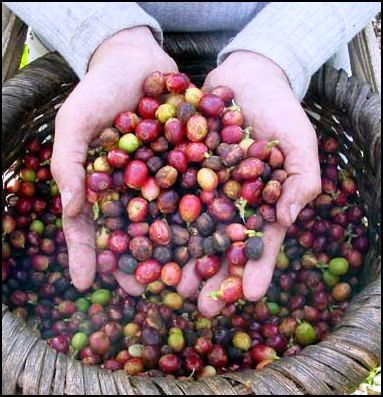 Monteverde Cheese Factory
Monteverde's famous Cheese Factory dates back to 1953, when the group of American Quakers came to the area, founded the town, and began farming dairy cattle. On this tour – full of free samples, of course – you'll learn about the production of Monteverde's renowned dairy products: cheeses, yogurt, ice cream, sour cream, milk and butter.
Wildlife and nature exhibits
Various wildlife parks in Monteverde give you an in-depth experience with some of the region's interesting animals. If you are into nature and wildlife, you'll want to visit the Monteverde Frog Pond, Bat Jungle, and the Monteverde Butterfly Garden.
Monteverde, Costa Rica
High up in the clouds of Costa Rica, the Monteverde region is considered one of the best preserved cloud forests in Central America. Cloud forest is rainforest at high elevations (above 5,000 feet), where tropical warm air condenses into persistent fog, mist and constant dripping moisture.
Where to stay in Monteverde, Costa Rica
Make your trip to the world-famous Monteverde cloud forest unforgettable with a stay at El Establo Mountain Hotel, one of the most luxurious hotels in the region. Comfortable and well-appointed rooms feature private balconies and patios with magnificent views across the Monteverde forest to the Nicoya Gulf. Additional amenities include two excellent gourmet restaurants, a spa, two heated indoor pools, and tennis, basketball and mini soccer courts. El Establo Hotel is part of the Enchanting Hotels collection in Costa Rica.
Article by Shannon Farley
Related articles