Beautifully and uniquely designed, cabins and guest rooms at Nicuesa Lodge will impress you beyond words. Discover the magic of staying in the jungle at Nicuesa Lodge.
Article by Shannon Farley
When booking a hotel, most people want to know what the rooms are like before they make their reservation.
At Nicuesa Lodge, comfortable and spacious accommodations are tucked in the rainforest steps from the calm, warm-water gulf of Golfo Dulce. Combined with friendly hospitality, breathtaking scenery and the wonderful tropical climate, it's a magical place.
Playa Nicuesa Rainforest Lodge holds the highest-level rating of the Sustainable Tourism Certification (CST) program in Costa Rica, in addition to the prestigious TripAdvisor GreenLeaders Platinum status, and has received the Ecological Blue Flag Award more than eight years in a row for one of the cleanest beaches in Costa Rica. Construction of the ecolodge was done with beautiful tropical hardwoods taken from naturally fallen or sustainably farmed trees, and recycled materials like roof tiles made from recycled plastic banana bags.
This was no easy feat given the lodge's remote location on a rainforest reserve and private beach on the gulf of Golfo Dulce in Costa Rica's Osa Peninsula region. All construction materials had to be brought in by barge. Designed in harmony with the natural environment, the result is a spectacular jungle lodge that will impress you beyond words.
Overall, there are three one-bedroom cabins, one cabin suite, one two-bedroom cabin, four rooms in the two-story Mango Guest House, and a two-story three-bedroom house. All are separate from the main lodge and have private entrances. The way all buildings are positioned maximizes natural ventilation of cool air from the mountains and fresh sea breezes flowing through the structures. You are immersed in nature but coddled in comfort.
Biodegradable and organic luxury bath amenities by Costa Rican company Raw Botanicals are used in the lodge and all rooms. Included in lodge rates are all meals, boat transfers, taxes, unlimited self-guided hikes in the reserve, use of kayaks, paddleboards, snorkeling and fishing equipment.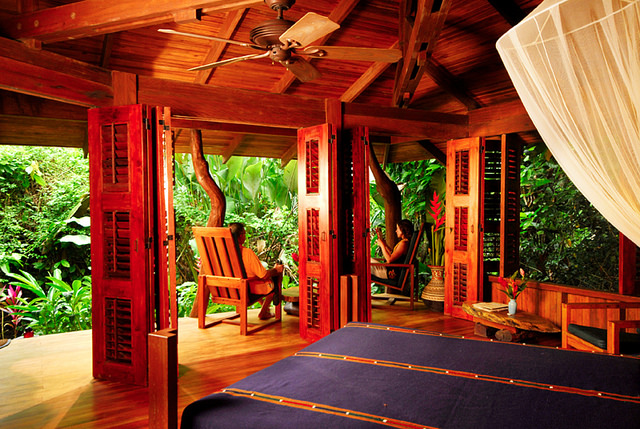 One-bedroom Cabins
The one-bedroom cabins are very private, tucked into rainforest. Raised above the humid ground on stilts, they feature beautiful hardwood floors, a wrap-around terrace and wooden louvered doors that you can open completely for panoramic views, or close for more privacy and at night. Cabins have one queen bed canopied with mosquito netting, or you can request two twin beds. Amenities include a ceiling fan, closet with a security safe, a large plastic box with a lid to keep things dry, flashlight, and an oversize umbrella. Uniquely designed, the bathrooms have an open-air garden shower surrounded by high walls, while the sink and toilet area are under roof.
Cabin Suite
Behind the main lodge building, and very private, the Cabin Suite offers accessible features like a paved path and ramp to the entrance. It has all the amenities of the other cabins but is much larger with a sliding partition that can create two bedrooms when closed, or one big bedroom with a sitting area when open.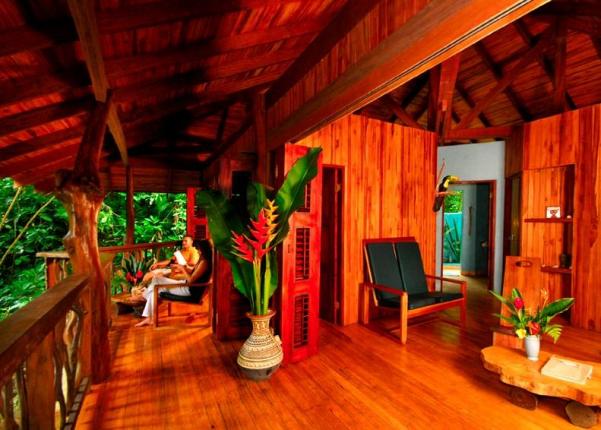 Two-bedroom Cabin
This cabin sits on the edge of the rainforest steps from the main lodge and is a good choice for families with younger children. It has two separate bedrooms connected by a sitting area that can be converted to a third bedroom. There is one shared bathroom with the signature open-air shower and all the other amenities of the single cabins.
Mango Guest House Rooms
Near the main lodge, the two-story Mango Guest House has two private rooms upstairs and two downstairs. Each room has a private entrance, bathroom with an open-air shower, private deck or balcony, ceiling fans, a queen-sized bed or two twin beds, and louvered doors and windows that wrap around the room providing panoramic views. It is built by an immense, old mango tree that attracts lots of wildlife. For groups, you can reserve the entire Mango Guest House.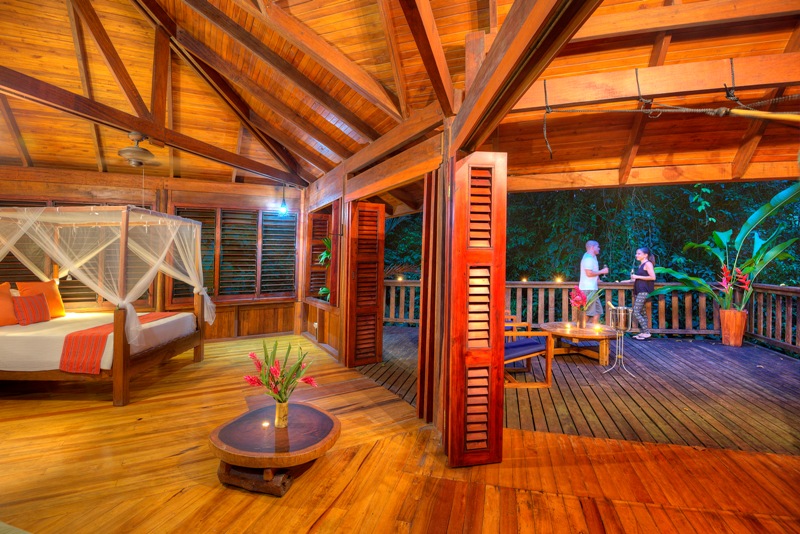 Jaguar House
This three-bedroom, two-story house by the beach is a good fit for larger families or friends traveling together. The first floor has a living room, kitchen, a bedroom, and a large full bath with an open-air shower. The loft-like second story features a master bedroom, second small bedroom, full bath, and a huge open deck looking out to the forest.