Costa Rica is the darling of the international news media lately. The popular tropical vacation destination is being featured in everything from news articles to cute commercials to now a Hollywood blockbuster film.
Costa Rica's famous stunning landscapes of rainforest and gorgeous tropical beaches, along with the country's culture and relaxed enjoyment of life, feature prominently in the new romantic feature film "After Words," starring Academy Award Winner, Marcia Gay Harden (Fifty Shades of Grey, Pollock, Mystic River), and Goya Award Winner and Platino Award Winner, Oscar Jaenada (Cantinflas, Pirates of the Caribbean: On Stranger Tides).
Level 33 Entertainment is releasing the new feature film made in Costa Rica at an exclusive screening in New York City on Friday, Aug. 21, 2015. "After Words" will be released worldwide thereafter.
Costa Rica's lush rainforest and beaches provide the romantic backdrop to the story.  "After Words" was filmed on location in Costa Rica in July 2012 on the Pacific Coast at Portasol Rainforest & Ocean View Living eco-community south of Manuel Antonio, in Quepos and Manuel Antonio National Park, and the Tarcoles River; and on the Caribbean Coast at Puerto Viejo and Tortuguero.
This will be Portasol Rainforest & Ocean View Living's first Hollywood feature film premiere.
"I'm really excited that this movie is finally coming out! We had a great time with the film crew on the day they were here. It will be so nice to see the film," commented Guillermo Piedra Gonzalez, Portasol General Director. "The film is really positive about Costa Rica. As a matter of fact, it ties in with the Costa Rican Tourism Board's campaign of 'Save the Americans', all about working too much and not enjoying life," Piedra added.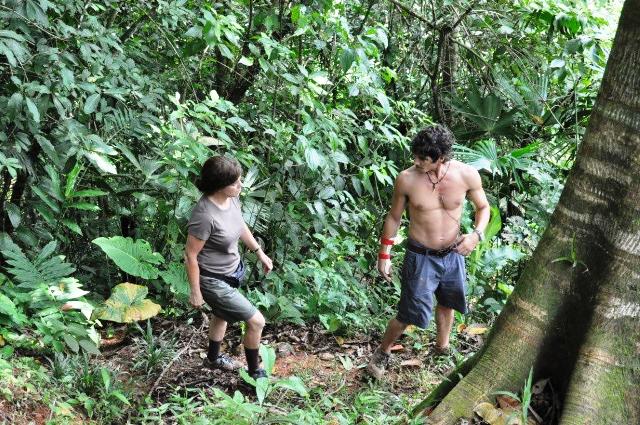 Written by Joel Silverman and produced and directed by Juan Feldman, the romantic drama stars Marcia Gay Harden as "Jane," a highly introverted librarian who loses her job due to budget cuts and spirals downward into depression. Jane contemplates suicide and decides to see something beautiful before she dies – beautiful, tropical Costa Rica. Once in Costa Rica, she meets a charismatic young tour guide named Juan (played by Oscar Jaenada), who makes his living off the many single female tourists who come on vacation. Together, they embark on an adventure around the many sights of Costa Rica, and eventually fall in love. Jane comes to appreciate the profound meaning of the essential Costa Rican saying, "Pura Vida" ("Pure Life"), which may change her plans to "end it all" in paradise.
At Portasol, the film crew spent one day filming key scenes – a love scene at one of Portasol's waterfalls, hiking in the jungle and lunch at a restaurant. Portasol's pool area was transformed into the mini-restaurant; and Portasol's manager, Alex Chinchilla, got to play the role of waiter. A "Behind the Scenes" short film of the experience was professionally made by Armando García of ICO Productions in Costa Rica.
Piedra said that director Juan Feldman and writer Joel Silverman chose Portasol for its wild tropical rainforest, waterfalls and proximity to Manuel Antonio National Park. Besides being the perfect location, another reason was the property's excellent internet connection. "The film crew was uploading the scenes they were shooting directly from their cameras to computers on site and to their server in the USA to have multiple back-ups of the filming," explained Piedra.

How was it to meet and play host to Hollywood movie stars? Said Piedra: "Oscar was really focused on his work. Marcia was really nice and outgoing, down-to-earth and fun. She went into our kitchen when our cooks were making their lunch, and started talking to the ladies about their recipes. She said she would like to come back to Costa Rica with her kids. We welcome her back anytime!"

Once released into the theaters, "After Words" also will be available on demand via iTunes, Amazon, CinemaNow, Blockbuster, Comcast, DirecTV, Dish, Google Play, iNDemand, PlayStation, Vubiquity, VUDU, and Xbox.
New York Film Critic Online, Harvey Karten, in his movie review for Shockya.com summed up the movie and Costa Rica nicely: "Hip travelers know that the best place to go on vacation is to Costa Rica."
About Portasol Rainforest & Ocean View Living
Visit the Costa Rica vacation destination that movie stars prefer – the unique, sustainable eco-development of Portasol Rainforest & Ocean View Living.
Set on 1,335 acres of pure rainforest on Costa Rica's Central Pacific Coast, Portasol's location is ideal – near national parks, uncrowded tropical beaches, top whitewater rafting rivers and wildlife-rich jungle. Looking to invest in real estate in Costa Rica or enjoy a Costa Rica vacation rental for your holiday? Portasol offers it all – Costa Rica vacation accommodation and Costa Rica properties for sale.
Article by Shannon Farley
Related articles