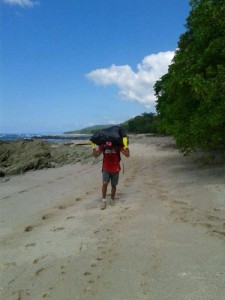 I've been reading about ocean pollution, and the facts are really quite shocking. Apparently, it was once a common practice to "get rid of trash" by dumping it into the ocean, and there was even a positive catchphrase: "The solution to pollution is dilution."
People assumed that the oceans were so vast and deep that the trash would simply be swallowed up and we'd never see it again. How very wrong. All of that trash – pesticides, herbicides, chemical fertilizers, detergents, oil, sewage, plastic bottles, plastic bags, and other solids – dumped into the ocean from land or by ships is consumed by or ensnares marine mammals, birds or fish with often fatal results, endangering the entire ocean ecosystem. It swirls around in thousand-mile-wide swaths of decomposing plastic and garbage. One in the North Pacific, known as the Pacific Trash Vortex, or North Pacific Garbage Patch, is estimated to be the size of Texas and thought to contain 100 million tons of plastic. A new, massive patch was discovered in the Atlantic Ocean in early 2010. So far, five trash gyres have been found in the world.
Walk down the beaches of Santa Teresa, Costa Rica, however, and what you won't see along the white sand is trash. The Pacific beaches of Santa Teresa – Mal Pais, Playa Carmen, Playa Santa Teresa and Playa Hermosa – on Costa Rica's southern Nicoya Peninsula hold the honored Ecological Blue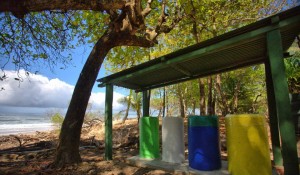 Flag status for having near-perfect ocean water quality, potable water quality, coastal sanitation areas, treated waste and run-off water, garbage containers and very little litter.
Businesses on these four beaches have taken it upon themselves to keep the beaches clean. Since 2011, they have worked together to pay for two workers to clean each beach every week, all year long. They pick up trash brought in on the Pacific tides, or washed out from nearby rivers or that is left behind by beach-goers. The rubbish is collected in extra-large garden-size trash bags, separated between garbage and recycling, and brought to a municipal trash collection spot.
The business owners take turns in rotation to pay for the two workers and the cleanup costs. "We started in 2011 with only five or six sponsors, and now we are up to 50-60 sponsors," said program coordinator Roberto de la Ossa. "The more business owners there are, the easier it is for everyone to maintain the program."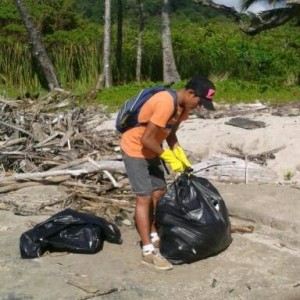 De la Ossa, who is general manager at sponsor Hotel Tropico Latino, said he works with a small team of business owners to run the program. In turn, they work with the Environmental Committee of Santa Teresa, which coordinates the Blue Flag program.
"We're trying to promote consciousness in the area," de la Ossa explained. "We are blessed that we have very clean water here – 75% of the criteria of the Blue Flag Program is that we have clean water. We're still in time to conserve the environment here. If we tackle these issues now and put programs in place, the new generations coming up will be better equipped to handle these issues and we can grow sustainably."
In 2011, beach cleanup efforts collected approximately 5,200 kilos of trash, and that was starting mid-year, de la Ossa said. In 2012, they cleaned up an incredible 10,515 kilos of garbage during the year. The program hopes to grow with more business sponsors in 2014.
"Never doubt that a small group of thoughtful, committed citizens can change the world; indeed, it's the only thing that ever has" – Margaret Mead
Hotel Tropico Latino
Hotel Tropico Latino is a small, intimate and welcoming beachfront hotel in Costa Rica in the Playa Carmen-Playa Santa Teresa area of the southern Nicoya Peninsula. The charming hotel offers a variety of accommodations spread throughout natural organic gardens. Hotel Tropico Latino is an ideal Costa Rica beach vacation destination for couples, families, surfers, yoga retreats, and well-being and health retreats.
Article by Shannon Farley
Related articles