Costa Rica's amazing natural attractions make it an incomparable vacation destination. You're in paradise here in the tropics with lush rainforest, active volcanoes, spectacular mountain ranges and valleys, and endless beaches on both Pacific and Caribbean coasts.
Domestic flights are the perfect option for travelers who want to visit as many places in Costa Rica as possible in a short amount of time. Plus, you get a beautiful aerial view of the landscape. Costa Rica is a rugged country of peaks and valleys, big rivers and lakes, with the Central American "Cordillera Central" range of mountains and volcanoes running down the center from north to south like a long spine. Domestic flights will save you the many hours and effort that it takes to get anywhere using ground transportation.
With more than 70 daily flights to 15 destinations, domestic flights will eliminate long drive times and let you enjoy more vacation. Fly on modern, safe and comfortable aircraft that give you panoramic views of Costa Rica's exceptional beauty. Many of the regional airports have car rental services available, so you can get a vehicle for local driving upon arrival.
Costa Rica has two national airlines – Sansa Regional and Nature Air– and a half-dozen or so charter air companies.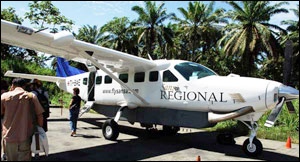 Sansa Regional's flights conveniently leave from the Juan Santamaria International Airport. The newly renovated Sansa terminal is next door to the international terminal, which makes connecting from your international flight to your domestic flight a piece of cake. You even get a free taxi ride using the official orange airport taxis (Taxis Unidos) between the two terminals, according to Sansa's website. Sansa Regional flies to 8 destinations in Costa Rica several times a day. Adult tickets range in price from $40 to $114 on one-way fares; they offer special fares for children. Sansa Regional offers new Cessna Grand Caravan aircraft (7 years) with leather seats and air conditioning, and is a "carbon neutral" airline, according to their website.
Sansa Regional is part of the international Grupo TACA airline. As a TACA affiliate, Sansa offers a Frequent-Flier Mileage program that applies to TACA and also Star Alliance flights which includes United Airlines. You can use frequent-flier miles from these international airlines to redeem award flights on Sansa Regional, and you gain 700 miles per round-trip flight on Sansa that can apply to international flights. After 10 flights on Sansa, they give you a free flight!
Nature Air flies to 15 destinations inside Costa Rica, and to Bocas del Toro in Panama and Managua in Nicaragua. Flights depart from San Jose's Pavas International Airport, which is approximately 40 minutes from the Juan Santamaria International Airport. Adult tickets range in price from $40 to $133 on one-way fares; they have special rates for children. Nature Air offers vacation packages and deals, plus regular discount fares advertised on their website. You can buy a one-week Nature Air Pass for $309 that lets you fly as many places as you want within Costa Rica, when you want, for 7 days. That's a good deal to hop around the country on vacation!
Nature Air uses DeHaviland Twin Otter and Cessna Grand Caravan aircraft with large picture windows for better scenic viewing. The award-winning airline is also carbon neutral, according to their official information.
If you have enough persons in your group, generally 6 or more, it may be more cost-effective to charter your own plane. Try Paradise Air, Alfa Romeo Air, or Aero Bell; Nature Air and Sansa Regional airlines also offer charter flights.
It is important to note that Costa Rica's domestic airlines have luggage restrictions of between 15-40 pounds (7-18 kg) per passenger, depending on the airline and the flight.
Fly from place to place on a domestic flight, enjoy scenic boat transfers, drive yourself with a car rental, or relax with a private transfer or shuttle service. No matter which transportation option you prefer for your travels in Costa Rica, Valle Dorado Tours has the experience to handle all of your transportation and Costa Rica vacation needs. A combination of transportation options is the most common traveler's choice – each one is an opportunity to experience Costa Rica's gorgeous scenery in unique ways.
More than 20 years of experience on-the-ground in the Costa Rica travel business, and personal inspections by their professional team of all tours, hotels, destinations, transportation, etc., ensures that Valle Dorado Tours offers you custom-made Costa Rica vacations. Check out their extensive menu of one-day tours, destination tour packages, theme tour packages, and custom tour packages all over Costa Rica. Their expert travel staff can help you arrange your Costa Rica vacation from start to finish.
By Shannon Farley
Related articles