Considering a tropical wedding destination? We've found the perfect spot – Pranamar Oceanfront Villas in sunny Santa Teresa Beach, Costa Rica.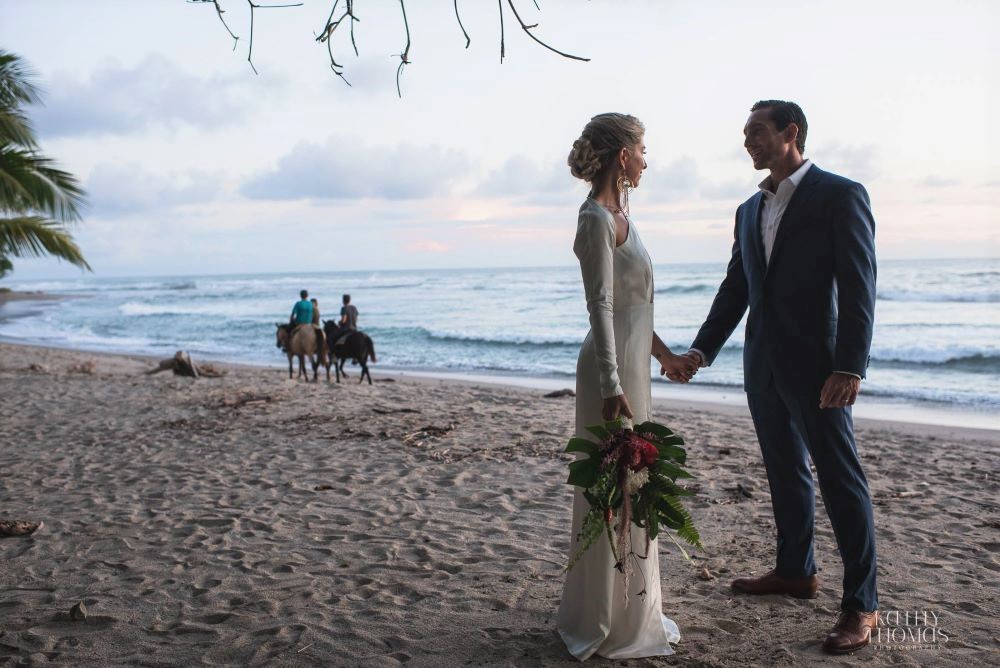 Article by Shannon Farley
Picture it. Lush green jungle with bright splashes of tropical flowers. A crimson sun dips in the fiery orange and pink sky into the violet-blue sea. Coconut palms flutter in a soft breeze. There you are with your beloved on the soft sand exchanging promises of love and commitment, rings and kisses.
Costa Rica positively exudes romance with its fabulous beaches and rainforest. Luxury accommodations, friendly personalized service, and affordable prices all combine to make Costa Rica one of the world's top locations for tropical weddings and honeymoons.
Thanks to it being a popular international tourism destination, flights to Costa Rica are easy and often nonstop from major cities in the U.S., Canada, Western Europe, and South America.
Many couples combine their tropical wedding and honeymoon destination into one big party with family and friends. Others opt for simple private elopement ceremonies. Whatever your wedding wishes, Costa Rica is a beautiful place to get your marriage off to a great start. Marriages legally conducted in Costa Rica are valid worldwide. To make it easier with paperwork, oftentimes couples will legally marry in their own country and have their spiritual and personal ceremony in Costa Rica.
Santa Teresa is the perfect backdrop for a romantic wedding in Costa Rica. The wide, white-sand beaches, lush vegetation, and spectacular sunsets set an amazing stage for your magical moment. Then, picture a romantic honeymoon walking on a paradise beach under a breathtaking sunset sky, torch-lit tropical gardens and balmy evenings, intimate candlelight dinners, days full of adventure and relaxation, luxury lodging and personalized service.
All of this is possible at Pranamar Oceanfront Villas & Yoga Retreat in Santa Teresa. The beachfront luxury hotel creates an extraordinarily beautiful setting for your Costa Rica beach wedding. Their experienced staff will help you make your wedding day and honeymoon the one you've dreamed about.
(Note: All photos are courtesy of Kathy Thomas Photography.)