For Valentine's Day, your honeymoon or a romantic holiday, Costa Rica offers the ultimate in romance. Combine beach and rainforest for your romantic holiday at Playa Nicuesa Rainforest Lodge.
Article by Shannon Farley
When you want a little "just you and me" time with your love, treat yourself to a romantic holiday in beautiful Costa Rica.
For Valentine's Day, your Costa Rica honeymoon or any other time you want a romantic getaway, there's no better destination than Playa Nicuesa Rainforest Lodge in the sensuous tropics of the gulf of Golfo Dulce in southern Costa Rica.
You and your partner will find magic and romance amid bright tropical flowers and green leafy jungle, starry nights, sun-drenched beaches and warm, turquoise ocean. This marvelous, untouched paradise is less traveled than many other areas of Costa Rica, which means it's still uncrowded. Its breathtaking beauty includes secluded beaches, tranquil coves, lush rainforest and waterfalls. You'll be in good company with exotic wildlife like monkeys, toucans, Scarlet Macaws and dolphins.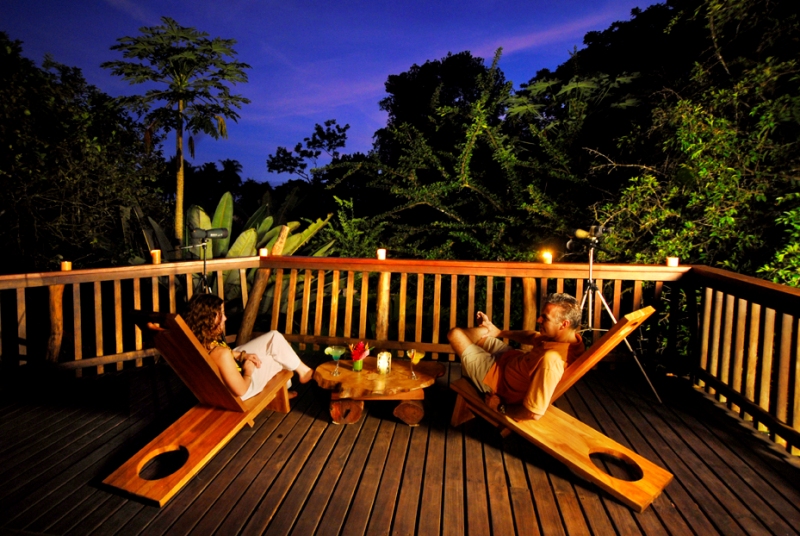 It's the kind of place where you can relax in pure nature and breathe in fresh air. Tranquil gulf waters are ideal for swimming, snorkeling, paddle boarding, kayaking and fishing – all of which are included in your stay. Unlimited self-guided hikes on lodge rainforest trails are also included, as are three delicious meals daily and boat transportation to/from the lodge.
Jungle-chic accommodations in private cabins and guest rooms spoil you in simple luxury. You can take daily yoga classes or enjoy an aromatherapy massage in the privacy of your cabin or on a shaded beachfront platform. Enjoy dining family-style in the company of other guests or a private, candlelit table for two.
"Waking up early with the howling monkeys and the birds, taking a superb yoga lesson on a deck facing the sea, sharing meals with like-minded people, enjoying walks, kayaking, reading in a hammock: it's a perfect place! The manager and his friendly and professional staff are always here to inform, explain, help. The lodge is ecofriendly (rewarded!) and a sustainability tour shows all the refined methods used in that place. A fabulous getaway!" wrote one guest on TripAdvisor.
If being eco-friendly is important to you, Playa Nicuesa Rainforest Lodge holds the highest level of sustainability in the Costa Rican Tourism Board's national program and is a prestigious TripAdvisor GreenLeaders Platinum member.
Playa Nicuesa Rainforest Lodge offers a Costa Rica honeymoon package that can be used for any romantic holiday.
So, book your flight and let thoughts of moonlit jungle, canopied beds, outdoor showers, brilliant sunshine and tropical seas lead you to your romantic holiday in Costa Rica.
Where is Playa Nicuesa Rainforest Lodge?
Half the adventure of visiting Nicuesa Lodge is getting there. To go, you either fly or drive to the southern gulf towns of Puerto Jimenez or Golfito, where you will be picked up by one of the lodge's boats and ferried across the Golfo Dulce.
When to Go?
Valentine's Day is a great time to visit right in the middle of Costa Rica's summer, or "dry", season that lasts to May. Even when Costa Rica's rainy season starts, most days are hot and sunny with rain showers in the late afternoon or at night. March to July are the hottest months. August and September are the rainiest. The lodge closes from Oct. 1 to Nov. 15 every year for maintenance.