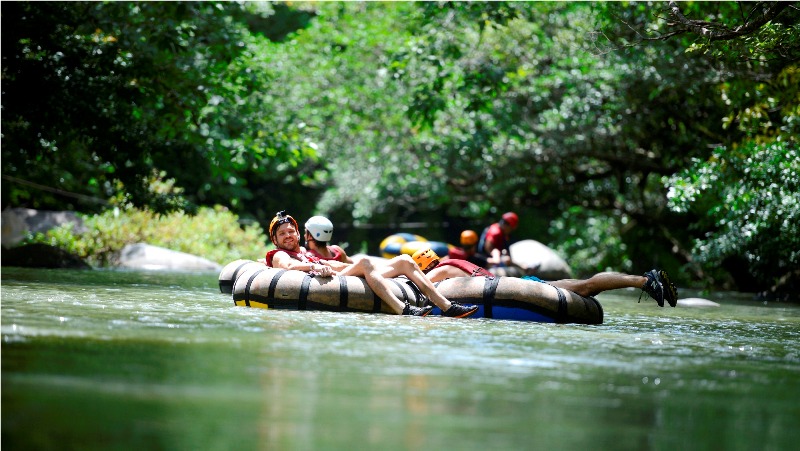 Article by Shannon Farley
It's hot out there!
Costa Rica summer is in full swing and under the sizzling sun in Guanacaste, a great way to cool off is on a water adventure at Hacienda Guachipelin.
From river tubing to waterfall rappelling and swimming in refreshing waterfall pools, Hacienda Guachipelin has plenty of fun water activities to enjoy on your Costa Rica vacation.
After your adventure, you can relax in the mineral rich, volcanic hot springs of Rio Negro, or enjoy luxury spa services at the Simbiosis Spa beside the bubbling Colorado River. The hotel's swimming pool, filled with natural spring water, is another cool place to hang out.
Here's a preview of the fun water adventures available at Hacienda Guachipelin, a top hotel at the Rincon de la Vieja Volcano. Time to enjoy Costa Rica summer!
River Tubing
You'll enjoy non-stop excitement riding the watery rollercoaster of the Rio Negro (Black River) on the river tubing adventure. In your individual inner tube raft, you'll splash down 5 km (3 miles) of small rapids and quiet pools in this crystal-clear river.
Special river tube rafts are designed with handles and protective bottoms, and you will wear rafting helmets and lifejackets. Guides ensure your safety along the trip. The Rio Negro Tubing Adventure is included in Hacienda Guachipelin's One Day Adventure Pass.
Waterfall Canyoning
Rappelling down a gushing waterfall is a great way to cool off on a hot day. The Waterfall Canyoning tour at Hacienda Guachipelin involves guided rappels and rock climbing and a "Tarzan swing" through the cascading 115-foot (35-meter) Victoria Waterfall. It's an adrenaline rush!
Experienced guides assist you with professional equipment and safety gear.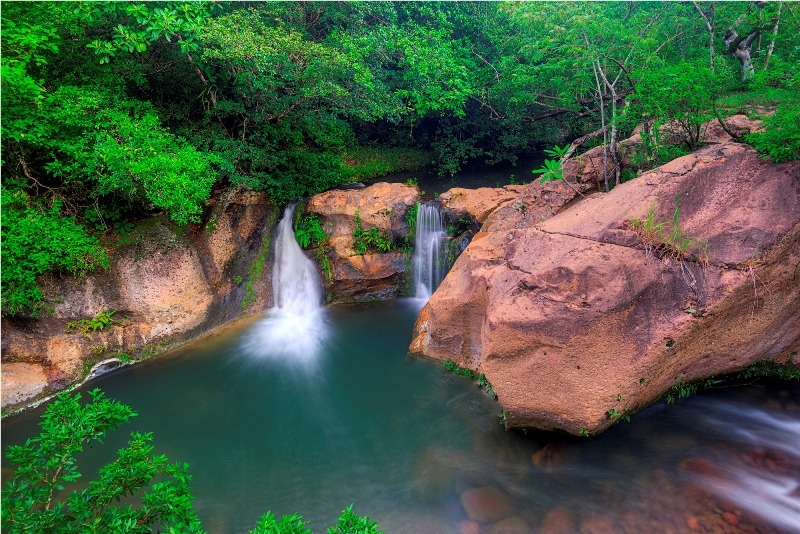 Swim in Waterfall Pools
There's nothing quite so emblematic of visiting the tropics – and, for sure, Costa Rica – as swimming in a beautiful jade green or turquoise-colored pool at the base of a waterfall amid lush tropical plants.
Hacienda Guachipelin offers hiking and horseback riding tours to four tropical waterfalls located on the hotel's ranch or nearby at the Rincon de la Vieja National Park.
The Oropendula Waterfall plunges an impressive 82 feet (25 meters) to a sparkling turquoise pool in the lush canyon of the Rio Blanco (White River) by the national park entrance.
The Chorreras Waterfalls – located on Hacienda Guachipelin's ranch – feature two side-by-side cascades spilling into a picturesque, sky-blue, mineral water pool.
The stunning Victoria Waterfall, also located on the ranch, is where the waterfall canyoning tour takes place and where the tubing adventure begins.
The Cangreja Waterfall takes a bit of hiking – 3 miles (5 km) – into the Rincon de la Vieja National Park to reach but is worth it when you see its beauty. A 130-foot (40-meter) white ribbon of water spills out of the green forest into a clear blue pool. The powder blue color is created by dissolved copper minerals from the Rincon de la Vieja Volcano. This hiking tour includes a picnic lunch; and you'll have great wildlife viewing along the trail.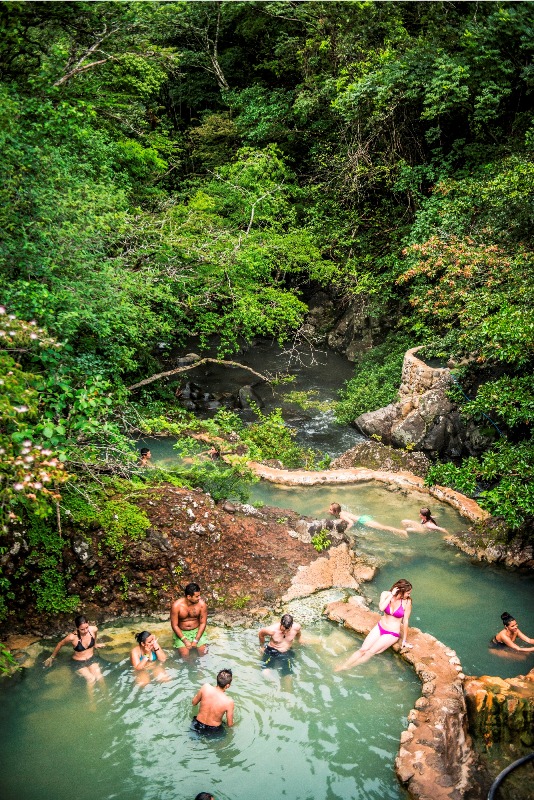 Hot Springs
Soaking in the hot springs at Hacienda Guachipelin is one of the most popular things to do by the Rincon de la Vieja Volcano. Beautiful and relaxing in a natural setting, the volcanic hot springs at Rio Negro flow through 10 man-made pools surrounded by thick tropical forest. A visit to the Rio Negro Hot Springs is included in both the One Day Adventure Pass and the One Day Nature Pass combo tours.
At the Simbiosis Spa by the Colorado River, there are three outdoor soaking pools of thermo-mineral water flowing straight from volcanic springs.
For tour and hotel reservations, contact Hacienda Guachipelin.