When traveling around Costa Rica, there's nothing better after a big day of hiking, rafting, zip lining or other adventuring, than slipping gently into steamy thermal springs so hot they make you tingle all over. Decadent, sultry, igneous water laps your tired muscles into spaghetti-like relaxation. Finer still to have a frosty tropical fruit drink in hand. Lay your head back, steam rising all around you, and the cares of the world melt away.
Costa Rica's hot springs are a popular vacation attraction for tourists from all over. Flowing freely from the country's plentiful volcanoes, the main hot springs destinations while on your Costa Rica vacation are Arenal Volcano, Rincón de la Vieja Volcano and Tenorio Volcano. Valle Dorado Tours in Costa Rica can arrange tours and packages to visit the country's amazing hot springs.
Present day Costa Rica, on the Central American isthmus, is the result of complex volcanic activity that geologists estimate happened between about 40 million years ago and the past 3 million years when Costa Rica and its neighbors of Nicaragua and Panama were a volcanic archipelago rising from the sea. Sitting on the Pacific Ring of Fire, an area of the world infamous for its profuse volcanic activity, Costa Rica claims more than 200 volcanic formations, about half of which show signs of volcanic activity. Six are considered "very active."
Most of Costa Rica's active volcanoes have been designated as national parks or protected areas and are known for their unspoiled and unique beauty. Enormous craters, sulfurous lakes, fumaroles, occasional eruptions, and thermal springs add up to make exciting holiday or one-day tour destinations.
Thermal springs are created when rainwater enters fissures on the Earth's surface and gets heated by magma from the Earth's core that is flowing through volcanic veins. The heated waters come back to the surface bringing along minerals taken from inside the Earth. These mineral-rich and relaxing thermal waters have rejuvenating and therapeutic properties treasured for centuries by people all over the world.
Hot Springs at Arenal Volcano
Arenal Volcano in the northern central highlands of Costa Rica is one of the country's most visited hot springs locations. Being one of the country's most active volcanoes, Arenal produces a plethora of thermal springs, most with scenic views of the majestic volcano.
The Arenal Volcano was formed about 7,000 years ago from the now-extinct adjacent Chato Volcano. It was at first inactive, which is why its 1968 major eruption took the local community by surprise, leaving destruction in its wake. Arenal Volcano is still active and had been putting on a near-daily show of contained eruptions up until the past year or so when it "went back to sleep". Nowadays its volcanic activity is mostly recognizable by its many luxurious hot mineral springs.
Perfect for your Costa Rica vacation or one-day tour, many of the area's hotels have developed their own hot springs – The Springs Resort & Spa, Arenal Kioro Hotel, Tabacon Grand Spa Thermal Resort, Los Lagos Resort & Spa, Baldi Hot Springs Hotel & Spa, Arenal Paraiso Resort & Spa, and Hotel Silencio del Campo. Other public hot springs facilities in the area include Eco-Termales Hot Springs, Titoku Hot Springs, and Los Laureles Hot Springs. Some springs feature hot and cold pools, some are romantic and tucked into lush jungle gardens, while others have waterslides and swim-up bars.
Hot Springs at Rincón de la Vieja Volcano
Up in Costa Rica's northern Guanacaste plains, the Rincón de la Vieja Volcano is a massive 600,000-year-old geological wonder bridging the Continental Divide with nine volcanic cones, including the dormant Santa Maria Volcano. The rim of the most active crater is 5,925 feet (1,806 meters) high with near-vertical sides denuded of vegetation. The 15-kilometer-wide (9 miles) caldera makes the volcano the largest in the northwest. No less than 32 rivers flow down its sides, creating countless thermal springs, fumaroles, steam vents, bubbling volcanic mud pits, and waterfalls.
Most of the main thermal springs are located within the Rincón de la Vieja National Park, which covers 34,800 acres (14,080 hectares) just 15.5 miles (25 km) northeast of the city of Liberia. Near the Santa María park entrance there are rustic hot springs and a cold water river. By the Las Pailas park entrance, Hotel Hacienda Guachipelin has developed three hot springs locations – Sulphur Springs ("Azufrales"), Rio Negro and Rio Colorado. The fantastic ecotourism lodge is a thrilling center for adventure and nature lovers, and provides tours to all three springs via horseback or by vehicle.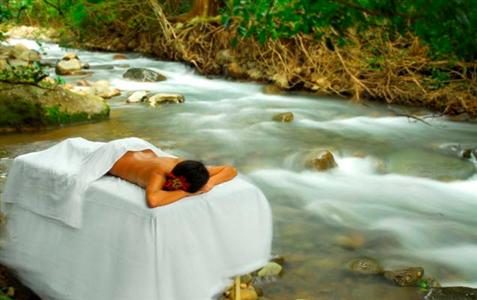 Surrounded by tropical dry forest, the Rio Negro flows through seven man-made thermal water pools filled with crystal-clear soothing mineral waters. Heated volcanic mud is available to smooth over your body like a spa "masque," and after it dries, wash it off with cold river water before jumping back in the hot pools. On a section of the Rio Colorado located on their ranch, Hacienda Guachipelín has built the Symbiosis Spa, complete with a natural sauna, volcanic mud pots and three thermal water pools.
Hot Springs at Tenorio Volcano
Southeast of Volcano Rincón de la Vieja, in the northern highlands heading back toward Volcano and Lake Arenal, the Tenorio Volcano National Park is home to one of Costa Rica's natural wonders. The breathtaking Rio Celeste (Sky Blue River) is colored a brilliant pastel blue by volcanic minerals. Rio Celeste's many attractions include natural hot springs, fumaroles where scalding volcanic gases are occasionally expelled, the tranquil and cool Blue Lagoon of deep sky-blue, and an impressive nearly 100-foot (30 m) waterfall spilling into a picturesque turquoise pool.
The Tenorio Volcano at 6,286 feet high (1,916 m) with multiple craters, and neighboring Montezuma Volcano with twin craters, are both considered active but dormant with no eruptions in recent history, according to the Costa Rica National Park Service. The Tenorio Volcano National Park protects 31,794 acres (12,860 hectares) of primary cloud forest and rainforest which abounds with rivers and waterfalls, thermal hot springs and an immense diversity of life.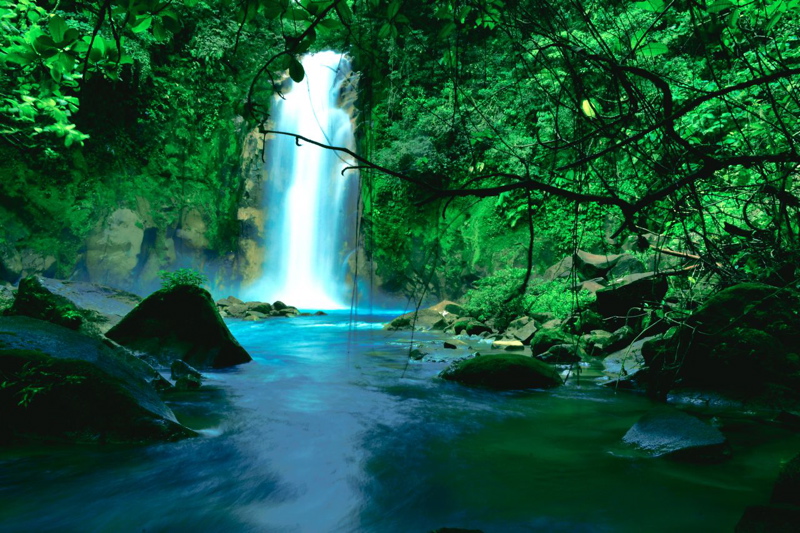 Soaking in Rio Celeste's natural hot springs, and swimming in the waterfall pool and in the Blue Lagoon are popular activities; however, visitors should be wary of the hot water and boiling mud pits, and use caution while exploring the river's banks.
Getting to Rio Celeste involves a moderately challenging hour-long hike through the forest from the Tenorio Volcano National Park entrance near Guatuso, which is about an hour's drive from La Fortuna near Arenal Volcano, and 2 hours from Liberia. Make your Costa Rica vacation easy and stay only 5 minutes away from the park entrance at Rio Celeste Hideaway, a luxury boutique hotel set in the secluded rainforest adjacent to the national park.
Visiting Costa Rica's Hot Springs
Valle Dorado Tours knows the best hotels at all of Costa Rica's hot springs destinations, along with the leading one-day tours in Costa Rica. More than 20 years of experience on-the-ground in the Costa Rica travel business, and personal inspections by their professional team of all tours, hotels, destinations, etc., ensures that Valle Dorado Tours offers you custom-made vacations. Check out their extensive menu of one-day tours, destination tour packages, thematic tour packages, and custom tour packages all over Costa Rica. Their expert travel staff can help you arrange your Costa Rica vacation from start to finish.
By Shannon Farley
Related articles