From awe-inspiring nature to the joy of slowing down, discovering magic and finding gratitude, a visit to Santa Teresa, Costa Rica just might alter your life forever!
Costa Rica is a place to breathe deeply, get in tune with nature, lose yourself in the fun of adventure, and let yourself totally and completely relax from the stresses of daily life. Costa Rica might be small, but it sure won't feel like it with so many different landscapes and microclimates, and amazing sights to discover in out-of-the-way places.
The beach communities of Santa Teresa, Costa Rica are some of those out-of-the-way places. The relaxed free-spirit vibe there will charm you. The breathtaking beaches and rainforest will inspire you. And if you don't start immediately planning to relocate here permanently, at the very least, a visit will change your life for the better.
12 Ways Visiting Santa Teresa, Costa Rica Could Change Your Life
You'll change your relationship with nature. In Santa Teresa, nature is center stage and everywhere. Walk down amazingly beautiful beaches where it's just you and the sand, surf, sky and serenity. Encounter the mighty power of Mother Nature in a gushing thunderstorm. Experience the delicate fragility of life in an orchid. And you'll never see green the same way again after being in the rainforest.
See the merits of a slower pace of life. In lesser-traveled places like Santa Teresa, you will find happiness in a simpler way of life. Learn to embrace the relaxed "pura vida" lifestyle of Costa Rica, slow down and remember life is to be enjoyed. Realize there is much to be missed when rushing.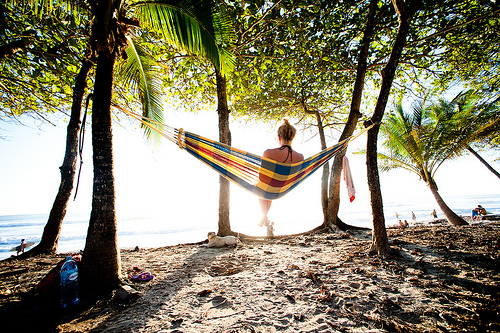 Tap into your animal instinct. Go wild discovering the incredible animals of Costa Rica – some of the most colorful and exotic wildlife on Earth – and feel the connection in all life.
Stimulate all of your senses. From the sweet perfume of an ylang-ylang tree at dusk to the tang of cilantro, tomato and lemon on the freshest seafood, there are some seriously amazing smells, tastes, sights and sounds in Costa Rica that will make your senses come alive.
Discover the magic in the start of the day. Life gets going early in Costa Rica, where the sun generally rises between 5:15 and 5:45 a.m. all year long. Everything about how the day starts in this magical place is worth waking up to: the freshness of the air, the smell of the salty sea, the sounds of birds and howler monkeys.
Find gratitude in a sunset. When it comes time for Santa Teresa's spectacular sunsets over the Pacific Ocean, everyone seems to gather at the beach to enjoy the cool breezes, while watching the surfers and making plans for the evening. This is the time of day to be grateful and aware of the vastness of the universe around us.
Delight in new colors and flavors in Costa Rican food. From traditional Costa Rican dishes to tropical fusion cuisine, taste the difference of freshness and let your meals feed your soul.
Challenge yourself with new adventures. From surfing to zip lining, waterfall swimming to stand-up paddling, there are so many things to do in Santa Teresa, Costa Rica that you'll always have more to try.
Be awed. Towering waterfalls, trees as tall as skyscrapers, ocean so blue it doesn't seem real, insects that gleam like brilliantly hued jewels, birds that sound like croaking frogs (toucans). Costa Rica will awe you.
Be welcomed. Feel the bliss of warm smiles, cheery greetings and friendly welcomes wherever you go in Santa Teresa. Costa Ricans (Ticos) are some of the friendliest and happiest people you will encounter.
Re-energize yourself. In Santa Teresa, you can enjoy a beachfront yoga class, or a quiet meditation under a palm tree by the sea, and reconnect with what's important to you.
Extend your comfort zone. Eat with your hands. Sip fresh juice directly from a coconut. Get dirty on a good day exploring. Wander barefoot and feel the sand beneath your feet. Let your hair be brushed by the wind. It's time to let go.
Visit Santa Teresa, Costa Rica and its beautiful beaches backed by lush green rainforest, with all the comforts and simple relaxation you could want at Hotel Tropico Latino. The beachfront hotel in Santa Teresa is offering a special promotion of up to 40% off room rates through October 2016.
Article by Shannon Farley
Related articles