It is not always easy to find a country the size of Costa Rica that has so many landscapes to adventure into and explore to your hearts delight.  It may be small and compact but you will find mountains, rainforests, live volcanoes, amazing beaches, unspoiled rivers and it just happens to be one of the most biodiverse places in the world.  No wonder adventure lovers love Costa Rica!
Ecolirios Boutique Hotel and Spa is a treasured member of the exclusive collection of Enchanting Hotels.  Made up of award-winning boutique hotels, Ecolirios is one of 13 sustainable eco-luxury experiences that excel in extraordinary comfort, the protection of the environment and the well-being of the local community.
Ecolirios is located on the Caribbean lowlands of beautiful Costa Rica and offers it`s guests a unique stay immersed in the surrounding rainforest with the mountainous backdrop.   With nature and diverse landscapes, Ecolirios is where you can combine the epitome of relaxation with bursts of adventure, all in the welcoming arms of mother nature.  Let's see what you can do while staying at Ecolirios!
Adventure on the River
Thanks to the majestic mountain range that runs down the middle of Costa Rica and divides the Caribbean side from the Pacific side of Costa Rica, many rivers start their journey to either sea high up in this range.  Some of these rivers have become world-class rivers for the ultimate adrenaline rush with an oar; white water rafting.
Ecolirios is conveniently located close to a number of these fantastic white water rafting river opportunities so get ready for some exhilarating fun.  One of these is the Pacuare River which is considered one of the best rivers in the world for white water rafting. Not only is it an absolute day of adventure,  it is also very beautiful. You will wind your way through lush rainforest, canyons and 19 miles of Class III-IV rapids. This is where team-work is the name of the game!
This is a full one-day tour with breakfast and lunch included so where you return to Ecolirios in the late afternoon, treat yourself to a relaxing spa treatment that will help you to come back down from the high that white water rafting takes you to.  This is one of Costa Rica`s adventure specialties so treat yourself to some local fun!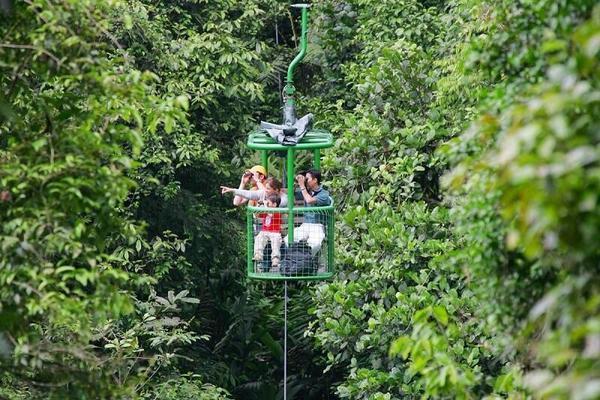 Adventure in the Air
The Central Mountain Range also holds another treasure but this time you will be in the canopy of the rainforest and walking through it rather than enjoying it from the river.  This is where you immerse yourself into the rainforest experience in one of Costa Rica`s most beautiful National Parks; Braulio Carrillo.
At this eco-adventure park, you will have the opportunity to take an aerial tram up through the rainforest canopy.  You will have birds-eye views of the rich biodiversity of this vibrant ecosystem and will have ample photo ops. Then…you can make your way down the mountainside on the zip lining thrill ride that gives you a whole different rainforest experience!
This park surrounded by lush rainforest also boasts a butterfly garden and you can also do some hiking overhanging bridges while exploring the forest floor.  This is a great day of fun and just a short distance from Ecolirios Boutique Lodge so you be back in the luxury of your delicately appointed room with a view to rest before delighting in the culinary experience at the restaurant.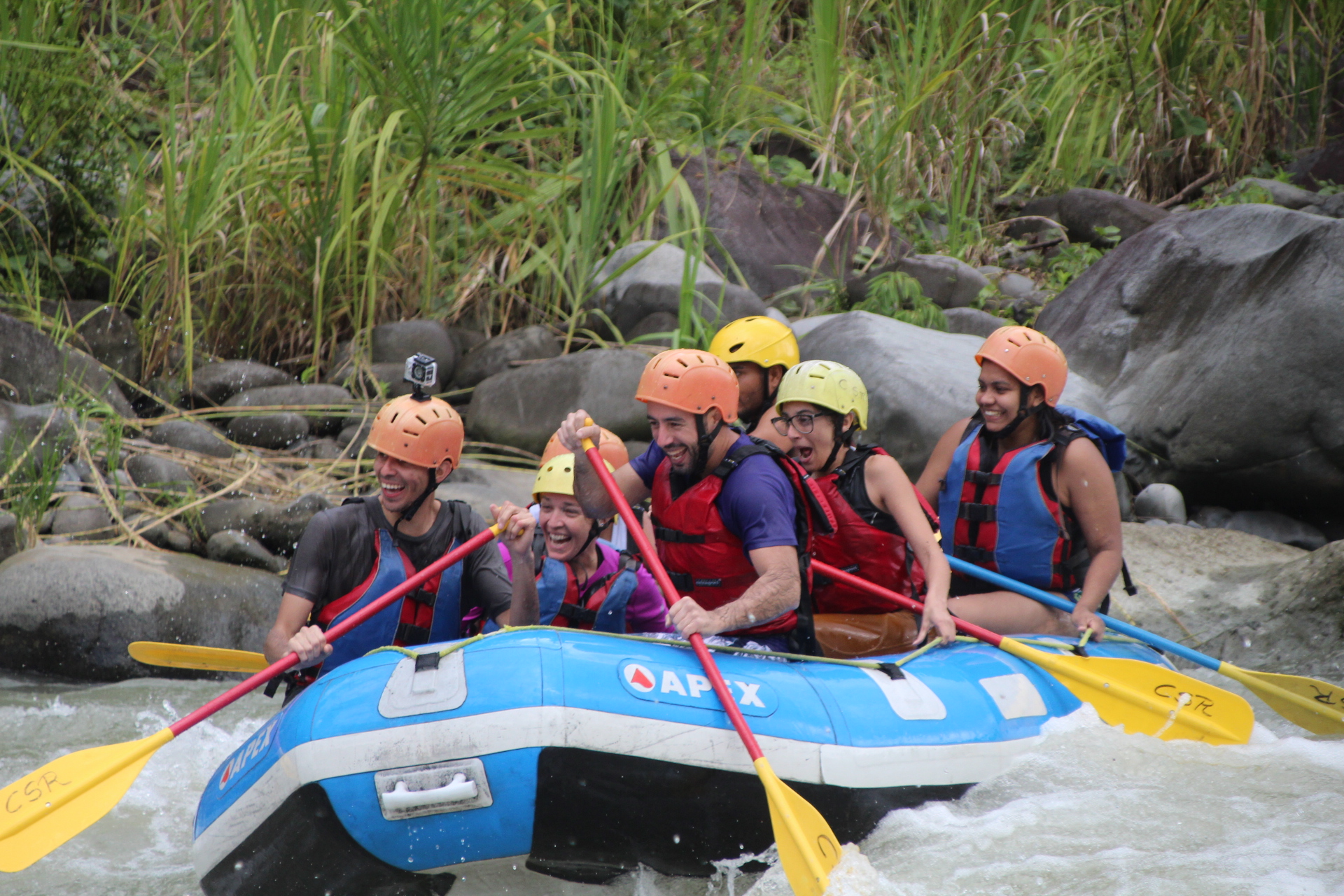 Adventure on the water!
Food of the Gods Adventure!
The cacao bean from which chocolate is made has been part of Costa Rica history and indigenous culture for centuries.  Did you know that the trees Latin name, Theobroma Cacao means "food of the gods"? So, let's see what culinary adventures with cacao is close by Ecolirios for you to enjoy.
This fabulous tour will take you to a chocolate farm managed by a group of adventurous local women who will show you all about the eco-tourism initiative that takes you into the world of cacao growing and the artisanal process of converting this fruit into chocolate.
This is a mixture of natural beauty and cultural flavors that will take you through the lush rainforest, over hanging bridges and into the ancestral customs of transforming this hanging fruit into chocolate delights.  Doesn`t that sound delicious!
 If you would prefer to stay on the beautiful Ecolirios Boutique Hotel and Spa, you will have the pleasure of being able to take a leisurely walk through the property`s natural reserve that is just steps away from the serenity of your luxury suite. This means that you can still put on those walking shoes and explore the rainforest on your terms and at your rhythm.
See you soon at Ecolirios.  This is a unique experience and getaway which combines the tranquility of Caribbean lowlands with the best adventure activities nearby. This is Costa Rica at its best!