It's time to disconnect to reconnect and reclaim your life on a digital detox vacation in Costa Rica at Nicuesa Lodge.
Article by Shannon Farley
By the very definition that this is a blog means that you are reading this article online. You're probably using a smartphone – or, at the very least, your phone is within an arm's reach.
Warning: you could be in need of a digital detox vacation.
It's no secret that we are spending more time than ever on our digital devices. While being globally connected is great, all of this screen time affects us, experts say.
A July 2018 article in Forbes Magazine tells us: "According to Pew Research Center, as smartphones and other mobile devices have become more widespread, 26% of American adults now report that they go online 'almost constantly,' up from 21% in 2015. And a report published by the Center for the Digital Future at USC Annenberg says the average American spends a whopping 23.6 hours online each week."
The media and a host of academic studies even use the term "digital addition" related to the increase. The problem is widespread. An app recently launched in the UK rewards users for NOT going on their phones.
"This digital lifestyle has made it difficult for us to stay focused, with the human attention span shortening from 12 seconds to eight seconds in more than a decade…. Humans now have less of an attention span than a goldfish (nine seconds average)," a recent report states.
Psychotherapist Nancy Colier writes in her book, The Power of Off: The Mindful Way to Stay Sane in a Virtual World: "People (are) walking around in kind of a chronic state of anxiety … a state of being 'twired': tired and also wired."
In response, travel and digital detox vacations are being touted as a way for people to reclaim their lives away from their devices.
"Travel presents an opportunity for people to put their fast-paced 'connected' world behind them and build true, deep connections that you just can't get from a Facebook feed or Instagram Live videos," the July Forbes Magazine article reads.
The trend is growing for travelers to spend at least part of their vacation digitally disconnected. They seek out hotels without televisions and limited or no Wi-Fi, and spend their time instead engaging in fun outdoor activities, enjoying long conversations over great meals, and deeply relaxing.
Take a Digital Detox Vacation in Costa Rica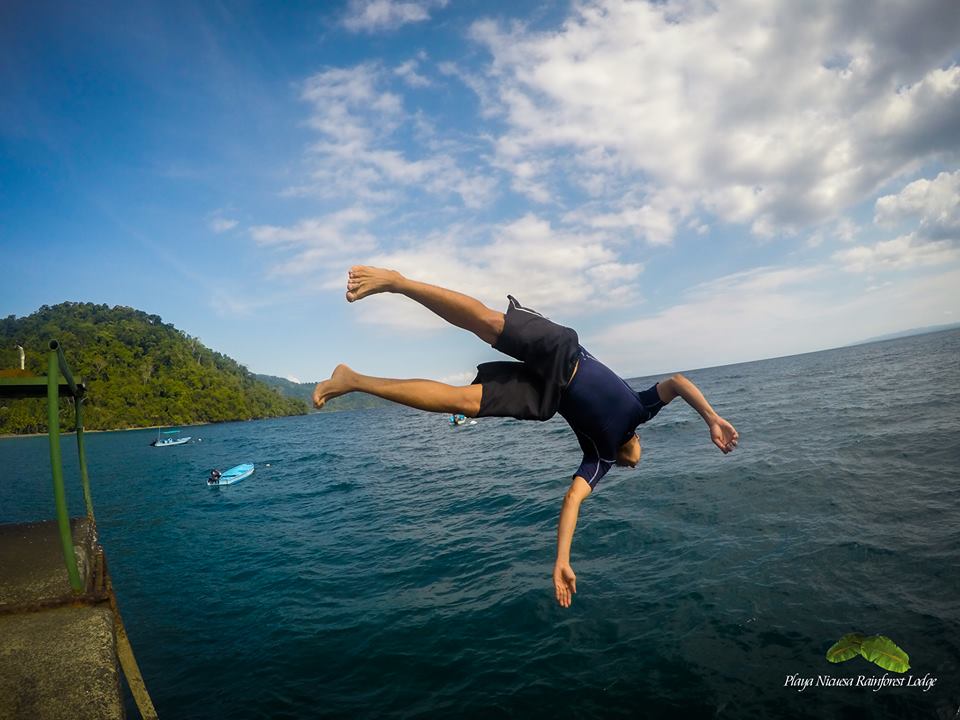 Escape from technology in the Costa Rican wilderness. Tucked away in an incredible corner of the Costa Rican rainforest on the tranquil Pacific gulf of Golfo Dulce is the award-winning sustainable hotel, Playa Nicuesa Rainforest Lodge.
It takes a 50-minute local flight (or a five-hour drive) from the capital of San Jose, and then a scenic 35-minute boat ride across the calm gulf to get to Nicuesa Lodge. Once you're there, nature rules. Take long walks on trails through the 165-acre private rainforest reserve and see incredible wildlife face-to-face. Swim, snorkel, paddleboard or kayak (all free activities) in the warm, clear, blue-green water of the gulf. Go on a whale watching tour, fishing, or explore a mangrove forest by boat and kayak.
Private cabins and guest rooms, that spoil you in simple luxury, rest amid towering trees and thick jungle. A quick walk down a short gravel path takes you to the pebble and sand beach where you have lounge chairs, a shaded deck, shaded yoga platform, and a long pier – great for fishing or jumping off for a swim.
The treehouse-style main lodge building is where guests gather for family-style meals and a nightly happy hour – great ways to connect with other like-minded travelers from around the world.
There's limited Wi-Fi – free in the main lodge area – and no televisions on property. Guests are encouraged to completely unplug, relax and truly enjoy their vacation. It's a good way to remember that making memories doesn't have to always happen with a phone in your hand.
"We stayed at Nicuesa for three days at the end of July. Had an amazing time: we fished from the pier in the rain, saw turtles, dolphins and whales, had a great kayak excursion through the mangroves and did some snorkeling. We also did an amazing hike up to a waterfall in the forest. The resort is in an incredible location, in the middle of the forest. Staff and guides very friendly and a very relaxed place generally. We went with our two teenage children and our 15-year-old did not once complain Wi-Fi was a bit patchy," wrote a guest on TripAdvisor.
Come discover a Costa Rica retreat where you can enjoy a balance of adventure, conservation, and relaxation on a digital detox vacation. Through Sept. 30, guests receive one free night when they stay a minimum of three nights at Nicuesa Lodge.