Santa Teresa, Costa Rica might be known for its epic surfing waves and jungle-fringed beaches, but there's a lesser known side to the cosmopolitan tropical paradise. Rolling green hills, shady tree-lined dirt roads, clear running streams, and verdant pastures populated by long-eared Brahman cows – all can be explored on a thrilling horseback riding tour with Hacienda Ario.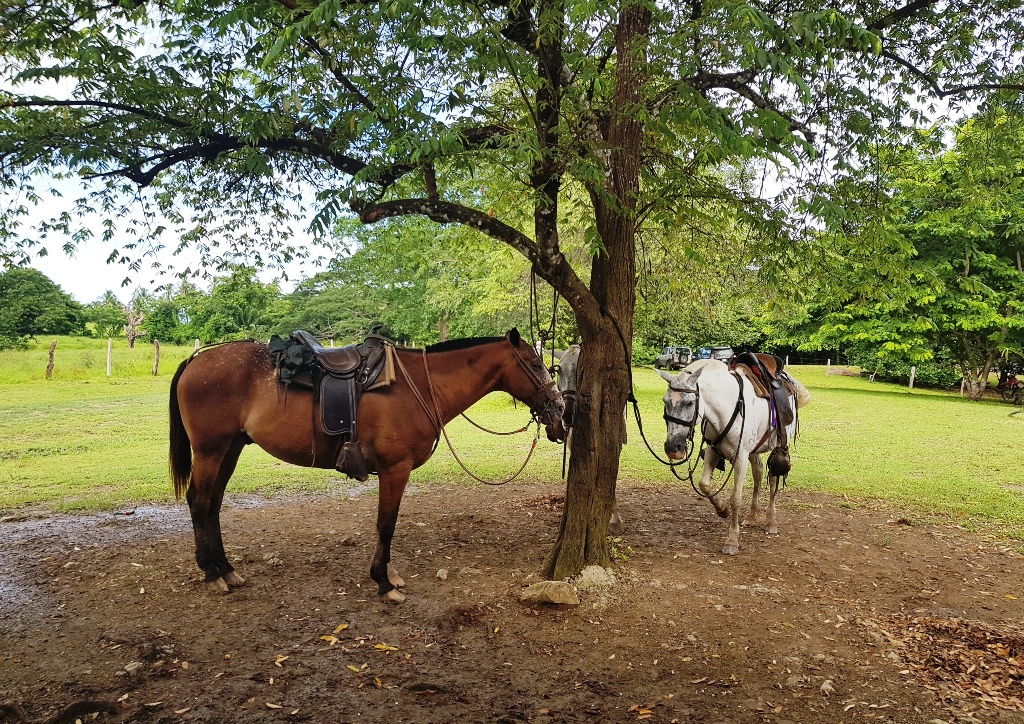 Article by Shannon Farley
I have to admit, I'm a bit nervous.
It has been years – many years – since I've ridden a horse. I hope it's like a bicycle – once you learn, you never forget.
For my nieces, Adeline, 8, and Katelyn, 10, this is one of the things they most want to do during their first vacation to Costa Rica. Raised in Southern California around horse ranches, the girls have been riding since they were ages 4 and 6. In fact, they are the most experienced riders in our group.
On a sunny Saturday morning, while on vacation in Santa Teresa Beach, my visiting family and I have driven the rugged road 15 minutes north to the tiny fishing village of Manzanillo. From there, we ascend up into the coastal foothills to the sprawling 4,700-acre ranch of Hacienda Ario. The family owned, working ranch encompasses rolling foothills, fertile river valleys, primary and secondary tropical forest, mangrove forests and beautiful, desolate beaches along the Pacific Ocean of the Nicoya Peninsula.
This is a side of Santa Teresa many tourists never see. Most people fall under the spell of white sand, coconut palms, azure sea and stellar waves, never leaving the beaches.
At the ranch, well-cared-for horses graze in verdant pastures. Five are saddled up waiting for us at a little building that houses gear and bathrooms. Our bilingual guide, Karol, pleasantly greets us and introduces us to our cowboy, Douglas, who is busy readying the horses.
One by one we are matched with a horse that meets our riding experience. My 8-year-old niece, Adeline, gets a pony named Perla and is thrilled. All of my unnecessary nervousness disappears when I stare into the large, tranquil, brown eyes of my trusty steed, Pinto. Douglas' calming words of: "Don't worry, you'll be fine" also help.
All of Hacienda Ario's tour horses – along with the herd of 80 or so more on the ranch – are raised with natural horsemanship, a philosophy of working with horses based on the horse's natural instincts and methods of communication rather than fear or pain. Their horses are healthy, calm, well-trained and active. They use comfortable Western-style saddles, and as in most of Costa Rica, the horses had halter-style bridles without bits.
Far from a routine, standard trail ride, Hacienda Ario guides tailor and adapt each tour based on participants' experience and abilities. Given that my sister, brother-in-law and I were beginner riders, compared to my young nieces, our guides chose a leisurely route along sparsely traveled ranch roads and trails.
For the next three hours, we rode along lovely, shady, tree-lined dirt roads, across grassy pastures and the occasional small stream. Douglas, who along with his father, grandfather, and all of his siblings had worked with horses his entire life, taught us about the various trees and tropical birds we saw along the way. At one point, we saw a large family of howler monkeys sheltering from the hot sun in the arms of an expansive Guanacaste tree.
A short side trail led us out onto the grassy crest of a hill to see dramatic vistas over miles of undeveloped countryside stretching all the way to the coast. When we got to a large river crossing, we hesitated a moment before plunging in along with Douglas and Karol, reassured by their encouraging smiles. The water barely came up to our horses' knees in the deepest part.
After a quick five minutes further, we pulled up to the local cantina La Perla for a cold drink and a much-needed stretch. Back in the saddle again, we were off to see a giant 100-year-old cenízaro tree (Samanea saman) in a vivid green field. Nearing the end of our ride, we came out onto a breathtaking empty beach that borders the ranch. Two other Hacienda Ario cowboys were escorting a small herd of Brahman cows along the surf line. We rode around a small coastal mangrove forest, through a few ranch fence gates and up a grassy incline to our starting point.
The spectacular natural landscapes and unforgettable experience of riding freely across protected, uninhabited land were worth all of the stiff muscles later in the day.
"This was one of the best horseback riding tours we have ever taken anywhere! It was a controlled ride yet we had complete freedom," said my sister, Mary, after the tour. "Karol and Douglas were excellent guides in their personal attention and professionalism. I would whole-heartedly recommend Ario Tours as the best adventure tour in Santa Teresa."
Hacienda Ario is an eco-horseback riding tour founded on the commitment to sustainable land stewardship and conservation for future generations. Small group or private tours, held daily, let you experience the beauty of Costa Rica and connect with nature and local culture at the same time.
Where to stay in Santa Teresa: Pranamar Oceanfront Villas and Yoga Retreat. The beachfront hotel in Santa Teresa offers you barefoot luxury right on the sand by the beautiful surfing beach of Playa Hermosa. Make reservations for Hacienda Ario tours at Pranamar Villas reception desk.