Meet the staff at Playa Nicuesa Rainforest Lodge responsible for your delicious meals while on vacation in Costa Rica.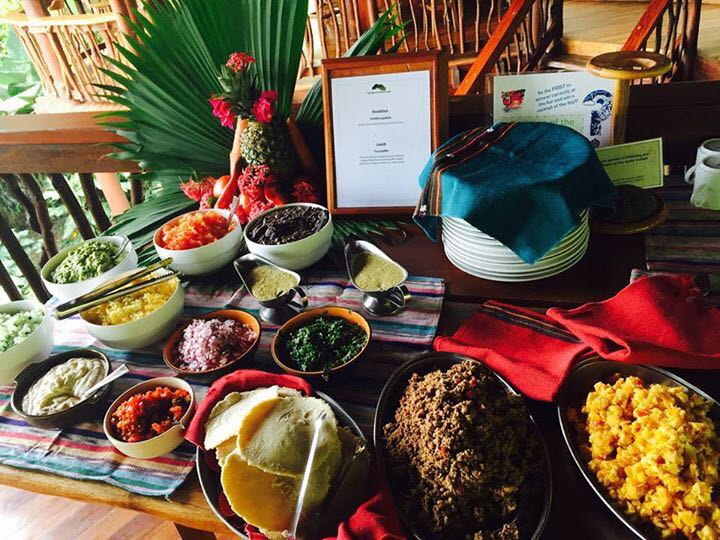 Article by Shannon Farley
Nothing says hospitality like the staff that makes your hotel visit a memorable experience.
That's certainly true of the kitchen staff at Playa Nicuesa Rainforest Lodge in Costa Rica. These men and women ensure that all guests enjoy fabulous meals at Nicuesa Lodge. Thanks to their experience, genuine enthusiasm and friendliness, your stay at this award-winning ecolodge will be a wonderful and memorable holiday in Costa Rica.
Head Cook: Edixon Lezcano Matarrita. Originally from Puerto Jimenez, just across the gulf from Nicuesa Lodge, Edixon has been our head cook for 10 years. He brings a huge helping of creativity to Nicuesa's menus – Asian influences, Latino influences, and what we call "Edixon influences" like homemade rich dark chocolate cake served with a sweet cas fruit sauce (a kind of guava). He trained with the National Training Institute (INA) in Costa Rica. When not cooking amazing meals in the kitchen, Edixon loves to walk the rainforest trails in Nicuesa's private reserve.
Cook: Brayan Rojas Matarrita. Also from Puerto Jimenez, Brayan is new with Nicuesa Lodge this season, beginning in November 2017. He also trained with the National Training Institute (INA) in Costa Rica. Brayan's favorite thing to do at Nicuesa is go fishing.
Wait staff: Melisa Moreno Mora. Another local resident from Puerto Jimenez, Melisa has been working at Nicuesa Lodge for five years. Learning on-the-job during her time at Nicuesa, Melisa enjoys walking the trails around the lodge when she is not busy in the restaurant.
Wait staff: Pamela Mesen Rodríguez. Rounding out our Puerto Jimenez team in the kitchen, Pamela is another new addition. Like Brayan, she began working at the lodge in November 2017. She has studied administration, computers, human relations and conflict management with the National Training Institute (INA) in Costa Rica. When not working, she likes to exercise in the fresh air at Nicuesa.
Wait staff: Yahaira Concepción Agüero. From the nearby town of Golfito, Yahaira is our newest kitchen team member, having just begun this month. She recently graduated from high school in tourism business management studies. At Nicuesa Lodge, she enjoys walking the trails and helping other staff.
DINING AT NICUESA LODGE
Playa Nicuesa Rainforest Lodge showcases local Costa Rican cuisine that is sustainable and as fresh as can be. They serve fresh fish caught right out of the gulf of Golfo Dulce in front of the lodge, tropical fruits and vegetables grown on site, and products that are sourced locally.
All healthy and delicious meals at Playa Nicuesa Rainforest Lodge are included with your stay due to the remote wilderness location. Meals are served in their open-air, canopy level restaurant that is masterfully designed like an elegant treehouse. The views and wildlife spotting from there are fantastic. You will enjoy family-style dining with other guests that let you share experiences of the day, your travels and life.
Nicuesa Lodge offers vegetarian dishes and children's menus, and is able to accommodate other dietary needs (vegan, gluten-free, lactose-free, etc.) with prior notice.