Meet the guides at Nicuesa Lodge and find out why you want them with you to make your adventures in the Costa Rica rainforest and on the gulf of Golfo Dulce an extraordinary experience.
Article by Shannon Farley
Exuding passion for what they do, genuine friendliness, and with an incredible knowledge of nature, the guides at Nicuesa Lodge can make your experience in the Costa Rica rainforest extraordinary.
Do you know which plants not to touch in the jungle? Can you easily spot a sloth in dense rainforest? Or what a white-faced capuchin monkey sounds like, so you can look up in the trees when you hear them?
If not, having a naturalist guide with you – who does know – can make or break your adventure.
The guides at Nicuesa Lodge spend every day in the rainforest of southern Costa Rica by the gulf of Golfo Dulce. They know their way around the jungle and enjoy sharing this pristine place, where breathtaking nature still exists, with visitors. They are Costa Rican, bilingual in Spanish and English, and certified naturalist guides by the Costa Rican Tourism Board (ICT).
"We went on several boat tours: up the river for a kayak adventure and dolphin sightseeing with snorkeling. The guides went out of their way to try to get us to view all of the wildlife possible. There were plenty of things we would not have spotted without the guides and they were very entertaining and informative," wrote a Nicuesa Lodge guest on TripAdvisor earlier this year.
Make the most of your visit to the Costa Rica rainforest by going on some of the guided tours during your stay at Nicuesa Lodge – waterfall hike, dolphin watching boat tours, river mangrove kayaking, bird watching, night wildlife hike, and more.
GET TO KNOW THE GUIDES AT PLAYA NICUESA RAINFOREST LODGE
Josue Quesada
Age: 22. From: Siquirres, Limon province, Costa Rica Caribbean region.
Guiding experience: 1.5 years as an ICT certified naturalist guide; also a licensed local guide for Tortuguero National Park. Working at Nicuesa Lodge since 2017.
Favorite tours at Nicuesa: Golfo Dulce Dolphin Tour and the Waterfall Hike.
"Both tours are very dynamic and involve physical activity, which I like. On the Golfo Dulce Tour, we see dolphins and sometimes sea turtles, whale sharks, and really beautiful starfish when we go snorkeling," says Josue.
"On the Waterfall Hike, we are walking in the middle of the rainforest and we have to be alert to see wildlife. The environment at Nicuesa is really wild. We help translate nature to guests to explain what they are seeing and the relationship between all of the different elements of plant life and animal life. It's also hard to see animals in the wild if you don't know what you are looking for, so we help people see what they might miss. We also explain why it is important to take care of nature," he says.
Another tour that guests should do: Josue says that Nicuesa guests should really do the Night Hike to see the animals that are getting ready to go to sleep for the night, and the nocturnal animals that are starting to be active. The tour goes from 4:30 to 6:30 p.m. (weather permitting).
"We see many animals like anoles, red-eyed tree frogs, gladiator frogs, and sometimes tayras; and plants that change from the day to the night," he says.
Best wildlife moment at Nicuesa: "When I was really close to a whale shark that came right up to the boat. I loved seeing how it behaved and its colors. It was amazing to see one so close and to know that we have these animals in Golfo Dulce because we are taking care of the environment to keep it pristine."
What he loves about being a guide: "I love learning new things. Every day is different, and we see different things every day. And when we see unusual things, it is fantastic!"
Guest reviews: "We did everything from nighttime hikes to snorkeling to river kayak tours and waterfall hikes. We learned a TON about the wildlife in Costa Rica, thanks to our amazing guide, Josue, who led us every step of the way and really took the time to take care of us during our stay."
Valeria Roman
Age: 31. From: Cartago, southeast of San José in the Central Valley.
Guiding experience: 10 years as an ICT certified naturalist guide; experience in Tortuguero, Puerto Viejo, Tirimbina, La Fortuna. Working at Nicuesa Lodge since 2018.
Favorite tours at Nicuesa: River Tour and hiking tours.
"This is one of the most beautiful places in Costa Rica. Nothing compares to this place. There are species of animals that are endemic to the area, like the Golfo Dulce poison dart frog," says Valeria.
"The River Tour combines the Golfo Dulce and the mangrove estuary, where we see dolphins, birds, turtles, and different ecosystems. The mangrove forest is unique and has its special characteristics that provide food and shelter to different species. Guests are always excited to see the animals and the way the river looks like the Amazon. It's a long tour (4-5 hours) and we have time to really share and talk with the guests," she says.
Another tour that guests should do: The Edible Landscape Tour. "It's good for people to see how food grows and where their breakfast, lunch and dinner are coming from. They can see how we grow things organically and hydroponically here. It's a short tour and easy to do right at the lodge. As part of the tour, people get to cook something that will be eaten at one of the meals that day."
"Also the chocolate tour is very good. I love teaching people about where chocolate comes from!"
Best wildlife moment at Nicuesa: "I saw an ocelot during a night hike once. And when hiking during the day with some families, we saw a big group of about 50 peccaries crossing the trail."
What she loves about being a guide: "I love educating people about wildlife and the plants and trees they are seeing. I love being immersed in nature with peace and quiet."
Guest reviews: "The staff was very good and Valeria was a knowledgeable and fun guide."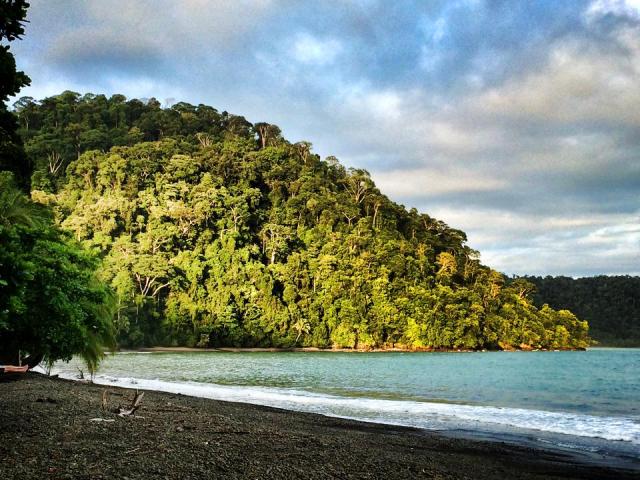 How to visit Nicuesa Lodge
Playa Nicuesa Rainforest Lodge is a top Costa Rica ecolodge by the Piedras Blancas National Park and Corcovado National Park with a private 165-acre rainforest reserve next to the gulf of Golfo Dulce. Nicuesa Lodge once again in 2018 holds the highest level of Certification in Sustainable Tourism – 5 Leaves – from the Costa Rican Tourism Board (ICT).
Enjoy their Green Season Special: get one free night when you stay a minimum of 3 or more paid nights, valid from May 1 to Sept. 30, 2018.