From yoga retreats to creativity workshops, award-winning eco-lodge Playa Nicuesa Rainforest Lodge in Costa Rica is your ideal group retreat destination in paradise.
Playa Nicuesa Rainforest Lodge in southern Costa Rica is a perfect choice for your next group retreat. The stunning tropical escape is located in the gorgeous, wild Osa Peninsula – Golfo Dulce region, harmonizing jungle and sea in an ideal setting for relaxing, reconnecting and rejuvenating.
Nicuesa Lodge's beautiful, secluded location – access from nearby villages is by water only – helps kindle an inclusive, interactive group dynamic. The lodge's front yard is literally the gulf of Golfo Dulce, off the Pacific Ocean, alive with tropical fish, dolphins, sea turtles, and humpback whales during migrating season. The backyard covers thousands of acres of pristine tropical rainforest from the lodge's own 165-acre private reserve and the adjoining Piedras Blancas National Park.
While being the ultimate eco-tourism destination for retreats, at the same time, Playa Nicuesa Rainforest Lodge offers deluxe facilities and amenities. Retreat leaders have access to a four to seven night retreat package with either exclusive or shared use of the lodge, which accommodates up to 28 guests comfortably in five private cabins (three 1-bedroom, one 2-bedroom and one cabin suite), one three-bedroom house and the Mango Guesthouse with four private rooms. All accommodations feature private uniquely-designed open-air baths, canopied beds, ceiling fans, and full length louver doors that wrap around rooms, with private verandas providing spectacular views of rainforest.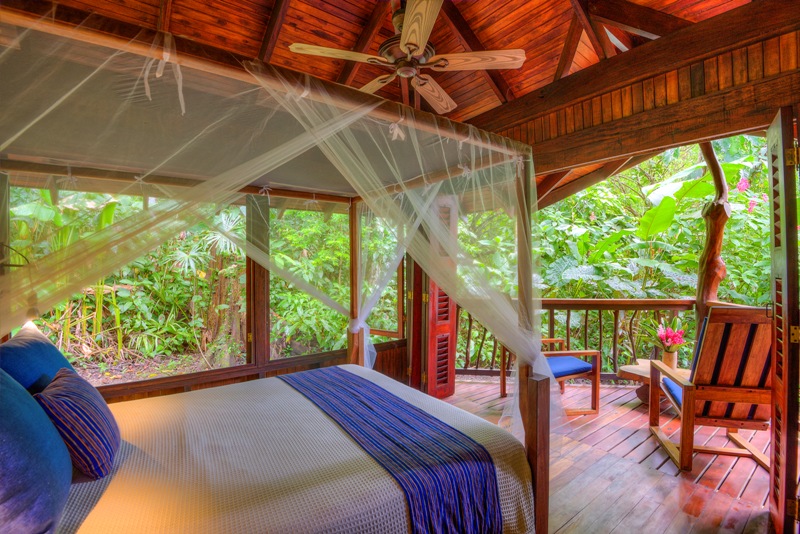 The award-winning Costa Rica eco-lodge offers an exclusive Rainforest Adventure Retreat Package for retreat leaders and their students – excellent for instructors of yoga, wellness, creativity, photography, and spirituality workshops.
Nicuesa's beautiful, large wooden yoga deck is right on the beach under the shade of palm trees and jungle, where you can watch the ocean and sunsets as you practice.
"The beauty of running a yoga retreat at Nicuesa Lodge was that it far exceeded the expectations of all participants, including me. We were able to do yoga twice a day and interact with the environment through adventures right in proximity of the lodge," said yoga retreat leader, Carolyn Christie from New York.
Why Nicuesa Lodge should be your next group retreat destination:
Three delicious healthy meals daily that focus on locally caught fresh fish and locally harvested tropical fruits and vegetables, prepared by an in-house Costa Rican chef (vegetarian menus available);
Comfortable, private rooms in a natural setting;
Beautiful hardwood open-air waterfront yoga/massage deck protected from the rain/sun and ideal for group activities;
Yoga/meditation platform tucked away in the lush jungle canopy;
Endless nature and adventure activities for retreat groups;
Free use of recreational equipment: kayaks, fishing gear and snorkeling gear;
165-acre private reserve with trails adjacent to the Piedras Blancas National Park;
Boat pick up and drop off from town of arrival/departure (Golfito/Puerto Jimenez);
Help with flight and transportation to get to Nicuesa Lodge;
Retreat leader's room and meals at Nicuesa Lodge are included at no charge.
Nicuesa Lodge is highly awarded for its environmental conservation. The extraordinary Costa Rica eco-hotel holds the highest Certification for Sustainable Tourism (CST) in Costa Rica, the prestigious TripAdvisor GreenLeaders Platinum Status, and the Ecological Blue Flag Award for one of the cleanest beaches in Costa Rica. In addition, Playa Nicuesa Rainforest Lodge is a member of Enchanting Hotels of Costa Rica and the TripAdvisor Hall of Fame.
Article by Shannon Farley