Yoga retreats at Pranamar Oceanfront Villas & Yoga Retreat, on award-winning Santa Teresa Beach in Costa Rica, draw people from all over the world. So do Pranamar Villas' daily yoga classes with popular instructor and Pranamar yoga director, Nancy Goodfellow.
Now Nancy will be holding two inspirational Costa Rica yoga retreats, called "Embracing Totality", at Pranamar Villas in Santa Teresa, Costa Rica, next year in 2016. The seven-night all-inclusive retreats will be held May 21 to 28, 2016 and Aug. 13 to 18, 2016 in Pranamar's beautiful, spacious beachfront Yoga Shala
"So many people come to Pranamar for yoga classes with Nancy. She is very popular in the yoga world," said Agustina Zocchi at Pranamar Villas.
Nancy has been practicing yoga for 20 years and teaching for 15 years. She is extremely well-known among local and international yoga students for her inspiring and creative daily yoga classes, workshops, and retreats at Pranamar Villas.
Nancy began her yogic studies in the Ashtanga Vinyasa tradition. Following her dream of adventure and living a more simple life in nature, she moved to Costa Rica and continued her yogic practice, while continuing to study with top international yoga instructors. Nancy has completed more than 500 hours of Yoga Alliance teacher training and began teaching classes in 1998. Nancy dedicated many years of study also to the Anusara method of yoga, with its principles of alignment, Tantric philosophy and Bhakti filled practice. She has completed more than 500 hours of certified Anusara teachings and traditional non-dualistic Tantra studies.
The all-inclusive "Embracing Totality" yoga retreats at Pranamar Villas will include:
Twice daily Tantric-based Hatha Yoga practices – morning Shakti Flow Vinyasa and afternoon moon practices
Daily meditations and mantra practices
Seven nights' accommodation at Pranamar Oceanfront Villas
Three daily delicious, healthy meals at Pranamar Villas' Buddha Eyes Restaurant
An evening dinner out at a local beachfront restaurant
A one-hour therapeutic massage treatment at Pranamar Villas' Spa
A Stand Up Paddleboarding (SUP) adventure tour on the Rio Bongo by Santa Teresa
A Sacred Fire ceremony (letting go of anything to release) and Water Blessing (to honor the ocean and the wishes desired in life)
Optional activities during the Pranamar yoga retreat include:
Surfing and/or private surf lessons
Private yoga sessions with Nancy
Mayan Calendar Astrological readings
Rates for the Embracing Totality yoga retreats at Pranamar Villas range from $1,500 to $2,900, depending on the choice of accommodation, and whether single or double occupancy. Accommodations at Pranamar Villas include luxurious Poolside Villas, Oceanfront Bungalows, and the large two-story shared Kula House.
Santa Teresa Costa Rica yoga retreats at Pranamar Villas fill up fast so make reservations today! Pack your bags, grab your mat, and travel to the beach in Santa Teresa, Costa Rica for a yoga retreat with Nancy Goodfellow at the amazing beachfront Pranamar Oceanfront Villas & Yoga Retreat.
Pranamar Oceanfront Villas & Yoga Retreat
The beachfront hotel in Santa Teresa, Costa Rica, on the southern Nicoya Peninsula, specializes in Costa Rica yoga vacations and Costa Rica surfing vacations. Pranamar Villas was named a Top 5 Yoga Retreat in Costa Rica by Travel & Leisure Magazine, and was awarded TripAdvisor's 2015 Certificate of Excellence. Santa Teresa Beach was chosen one of the Top 15 Places to Go in 2015 by Condé Nast Traveler, and holds the status of being one of the cleanest beaches in Costa Rica.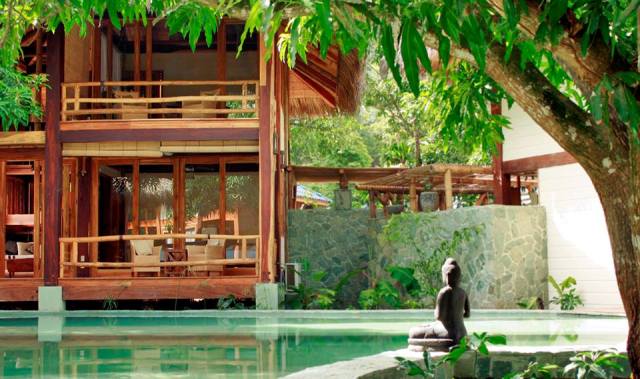 Public yoga classes at Pranamar Villas are held from Monday to Saturday in the hotel's beautiful oceanfront Yoga Shala. All classes are taught for students of all levels, with variations and modifications offered and encouraged. Mats and props are available at no extra charge. Private yoga sessions can be arranged with Nancy. Pranamar's yoga class schedule changes weekly and is posted on their Facebook page.
If you are a yoga instructor interested in having a yoga retreat at Pranamar Villas, contact the hotel.
Article by Shannon Farley
Related articles