Think Costa Rica only has rainforest? Think again. Discover why the Guanacaste dry tropical forest is so amazing, and rare.
Article by Shannon Farley
Most people think of Costa Rica as being covered with thick, lush rainforest.
You'll probably be amazed then to find out that Costa Rica also has one of the largest areas of dry tropical forest in Central America.
Tropical forest that is dry? Seems like a misnomer, right? Especially given that tropical rainstorms are legendary.
One of the rarest ecosystems in the Americas, Seasonally Dry Tropical Forest is found from Mexico to Argentina, and throughout the Caribbean islands.
Also known as semi-deciduous tropical dry broadleaf forest, this delicate life system survives in arid areas with much less water than in the rainforest – like Costa Rica's northwestern province of Guanacaste.
With a dry season that lasts approximately eight months, plants and animals in the dry tropical forest have adapted to fit these conditions. Predominantly deciduous trees shed their leaves during the dry season to conserve essential water; and animals require large territories for food supply.
However, despite restrictions in water and resources, the dry tropical forest has the greatest biodiversity after the rainforest and is full of a splendid variety of plants, trees and wildlife.
The Rincon de la Vieja National Park in Guanacaste is an excellent place to experience the dry tropical forest of Costa Rica. Its unique landscapes, climate, and wildlife make visits fascinating.
Dry tropical forest looks nothing like the rainforest, mostly because of the deciduous trees and dense shrubbery and ground cover.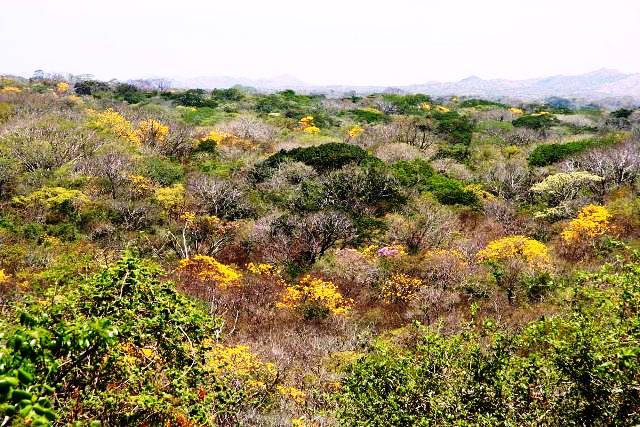 Trees include Costa Rica's national tree, the Guanacaste (Enterolobium cyclocarpum), along with dry season flowering trees like the Cortés Amarillo (Tabebuia ochracea) that sports yellow trumpet flowers, and the Malinche Tree (Delonix regia) featuring reddish-orange flowers. Other main dry forest trees include Pochote (Bombacopsis quinata), Guapinol (Hymenaea courbaril), "Indio Desnudo" (Bursera simaruba), and Caoba (Swietenia macrophylla).
Wildlife is plentiful. Rincon de la Vieja is home to 300 bird species, including the White-throated Magpie-Jay (Calocitta formosa), Violaceous Trogon (Trogon violaceus), Collared Aracari (Pteroglossus torquatus), and the Turquoise-browed Motmot (Eumomota superciliosa), as well as a host of parrots, parakeets and hummingbirds.
Mammals here include collared peccaries, agoutis, nine-banded armadillos, white-nosed coatis, raccoons, white-tailed deer, pumas, and three species of monkeys (white-faced capuchin, howler and spider).
The Rincon de la Vieja National Park surrounds the Rincon de la Vieja Volcano, one of six active volcanoes in Costa Rica (along with another 61 that are dormant or extinct). The giant, 600,000-year-old volcano soars 6,286 feet (1,916 meters) high and its caldera is nine miles (15 km) wide, bridging the Continental Divide.
Hiking in the Rincon de la Vieja National Park on the Las Pailas ("The Cauldrons") loop trail takes you 2.5 miles (3.5 km) through this exotic dry tropical forest. The route also shows off the awesome power of the live volcano with steaming fumaroles, mini-geysers, bubbling volcanic mud pits, and sulfur-smelling hot springs.
You can easily visit one of Central America's largest areas of dry tropical forest, and Rincon de la Vieja National Park, when you stay at Hotel Hacienda Guachipelin. The award-winning eco-hotel is located on a 3,400-acre ranch in the dry tropical forest, minutes from the Las Pailas entrance to the national park. Their Adventure Center offers guided tours in the park, along with some of the best adventure tours in Guanacaste.