Your email inbox has 50 new messages. Your boss needs that top-priority presentation on her desk by midday. Your phone won't stop ringing. Your smart phone is buzzing with more email and text alerts. Your work team has called an impromptu crisis meeting requiring your immediate attention. Your key assistant is out sick and your client orders are out of control. You're still trying to figure out how to get Billy to soccer practice and Betsy to her ballet recital across town with only 15 minutes between the two. What was that your husband said not to forget about dinner?
If any of these scenarios sound familiar, keep reading … a spa vacation may be just the ticket to reclaiming your sanity.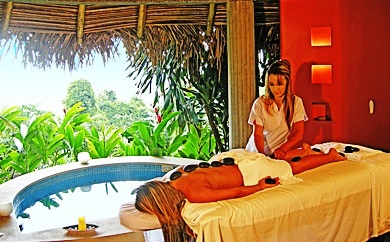 In today's world of non-stop communication, increasing career and family responsibilities, and escalating demands for time, finding ways to balance our "life load" can be challenging, notes the International Spa Association. According to the American Medical Association, stress is a factor in more than 75% of illnesses today.
With so many things competing for our attention in our fast-paced lives, it's challenging to find the time to care for ourselves. Spas offer a precious escape from a frenzied pace. They are a safe haven to relax and disconnect from the world as you recharge your mind, body and spirit. In whatever amount of time you can afford, spas provide peace, relaxation, and the desperately-needed downtime to restore yourself and create a healthier you.
"A spa with a holistic vision will enable you to feel better all over … that is, physically, intellectually, emotionally and spiritually," affirms Konrad Esquivel, Spa Director at Xandari Resort & Spa in Costa Rica. "When I think about spa treatments, I think: Love myself and recharge, so I can go back feeling like new!"
More and more travelers are turning to spa or "wellness" travel as an alternative vacation. Instead of trying to pack in as much activity as possible, eating and drinking way too much, and returning home exhausted and maybe 5-10 pounds heavier, more people are opting to spend all or at least part of their vacations at resort and destination spas around the world. At a spa resort, while usually there are plenty of activities, the main focus is on rest, relaxation, healthy eating, exercise, and other forms of stress reduction.
Costa Rica vacation experts, Team CRT, have crafted a 7-day/6-night destination spa vacation package called the "Costa Rica Paradise Spas." With this fabulous spa vacation package, you'll have the opportunity to fully relax while visiting top Costa Rica destinations and three of the best Costa Rican spa resorts.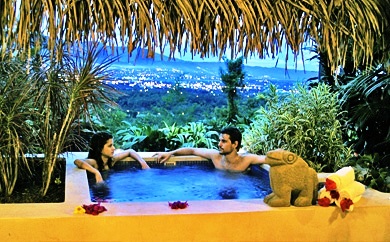 Spend your first night at the award-winning Xandari Resort & Spa, only 20 minutes from the Juan Santamaria International Airport yet world's away. Located in the highlands leading up to the Poas Volcano, just above the city of Alajuela, Xandari was named "Costa Rica's Leading Spa Resort" and a Travel & Leisure "Top 10 Central & South American Resort."
Then head to Costa Rica's famous Arenal Volcano for 2 nights at the Arenal Kioro Suites & Spa. The TripAdvisor "Travellers' Choice 2013" award winner looks right at the massive volcano, and besides its luxury spa, offers private natural thermal springs.
Your last 3 nights will be at Hotel Villa Caletas, located on a rainforest hilltop overlooking Costa Rica's beautiful Central Pacific coastline. From each side of the mountain, rainforests spread to sandy, quiet beaches below. Views of lush tropical vegetation with the turquoise blue ocean complement some of the most breathtaking sunsets over the Nicoya Gulf you will ever see. Named a "Costa Rica Leading Hotel," Villa Caletas is also a TripAdvisor "Travellers' Choice 2013" award winner.
Additional sightseeing tours and activities are included or available in Team CRT's spa vacation package.
For your Costa Rica travel plans and Costa Rica vacation packages, Team CRT offers you an abundant selection. With more than 20 years of experience in Costa Rica travel, Team CRT gives you expert guidance and personalized service while they help craft your tailor-made Costa Rica vacation; they also offer vacation packages to neighboring Panama and Nicaragua. Traveling with Team CRT ensures personalized service, professional guides, reliable transportation, and quality tours and accommodations.
Travel Tip: Consult with the spa director or head therapist so that they can suggest a treatment geared toward your personal needs.
By Shannon Farley
Related articles