Make 2018 your year to get healthy, take care of yourself, make new friends, take up a hobby, and be a better person. Get going with it all on a healthy Costa Rica vacation at Hotel Tropico Latino in Santa Teresa!
Article by Shannon Farley
The turn of a new year brings the opportunity to start afresh, and people around the world always use the occasion to resolve to change something in their lives for the better.
Being a better person tops the 2018 New Year's resolution list, according to polls. Other popular resolutions for 2018 are to eat healthier, get more exercise, lose weight, get more rest, make new friends, and take up a new hobby.
Make 2018 your best year ever and really make your New Year's resolutions happen on a healthy Costa Rica vacation.
This is the place you need – Hotel Tropico Latino on Santa Teresa Beach on Costa Rica's Nicoya Peninsula. Set right on a gorgeous tropical beach, backed by lush forest and gardens, at Hotel Tropico Latino you can exercise, eat healthy, rest, relax, make new friends, and be a better you – all in one place.
Escape the winter and take charge of your life now for a week (or two) of beach, sun, and nature on a healthy Costa Rica vacation. The eco-conscious beachfront boutique hotel offers special promotions all year long, plus vacation packages and organized retreats, so you have no excuses. You can even bring the kids on a family vacation package.
Make 2018 Your Best Year Ever – Healthy and Happy!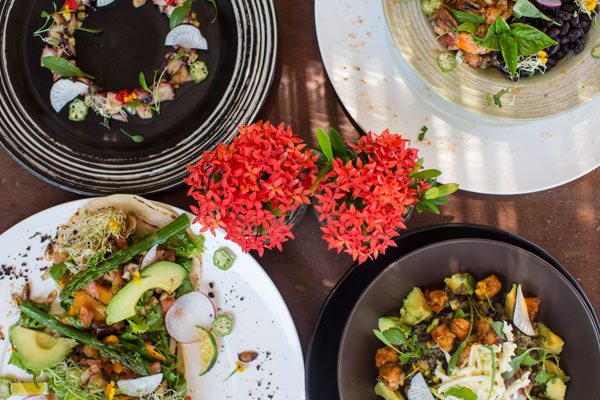 Eat Healthy. Not only does Hotel Tropico Latino's Shambala Restaurant serve healthy, organic cuisine using local and native products in traditional and avant-garde dishes, but their chef, Randy Siles, is Costa Rica's international ambassador for the national Sustainable and Healthy Gastronomy program. Eating healthy has never tasted so delicious!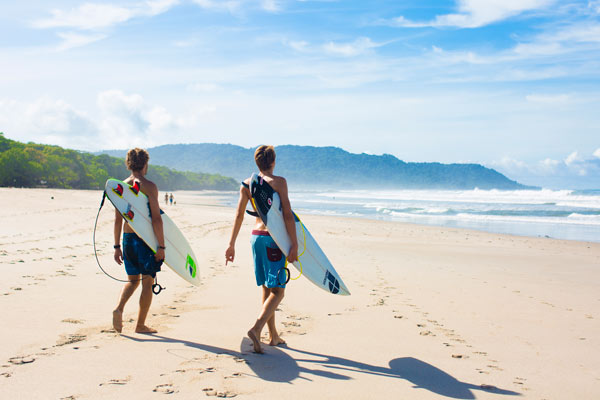 Get More Exercise. You can't help but do this here. It's not like back home where you have to force yourself to go to the gym. At Tropico Latino, long beautiful beaches for walking (or jogging, if you're really motivated) are steps from your comfortable accommodations. You can be exercising in seconds. Plus, warm weather, sunshine and fresh ocean breezes give you so much energy, that you'll want to get moving.
The hotel offers daily yoga classes on beachfront, open-air, shaded platforms. And you can go surfing, or take a surf lesson, right in front of the hotel. It's that easy.
Create your own vacation focused on surfing or yoga with Tropico Latino's special vacation packages.
Take Care of Yourself: Rest and Relax. Sure, there is free Wi-Fi, but the point of a healthy Costa Rica vacation is to disconnect and relax. After a morning of exercise, an afternoon snooze in a shady hammock under palm trees is ideal. Sleep in. Take notes from Costa Rica's sloths on happy living, and give yourself the rest you need.
If you need a little help winding down, Hotel Tropico Latinos day Spa Natural is just the place. After a massage or custom body treatment, relaxation will be second nature.
Make New Friends. Get to know new friends from all over the world by joining a Costa Rica yoga retreat or surf camp. Tropico Latino has week-long specialized yoga retreats all year long with international instructors. And Costa Rica surf camps are offered through April.
Try a new hobby. Go stand-up paddling, surfing, horseback riding, and hiking in a scenic national park. Be adventurous on a canopy zip line tour. Swim and snorkel with tropical fish in crystal-clear, turquoise ocean by an idyllic tropical island complete with white sand beaches and green palm trees. Take up yoga or improve your practice. Try these hobbies out in Costa Rica and keep them going back home.