End 2018 on a high note with thrilling adventure tours on an adventure vacation at Hacienda Guachipelin in Costa Rica.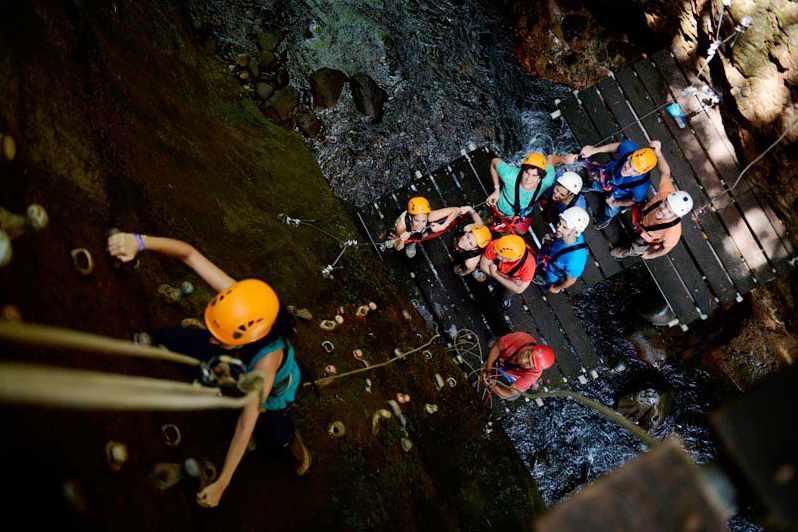 Article by Shannon Farley
Live life to its fullest and check off some of the big items on your adventure wish list before the end of 2018 with an adventure vacation at Hacienda Guachipelin in Guanacaste, Costa Rica.
Hacienda Guachipelin can help you end the year on a high note with dozens of thrilling adventure tours.
Guanacaste is a great year-round destination for adventures in Costa Rica. The mostly sunny, warm weather makes it an amazing playground for outdoor enthusiasts. The exotic dry tropical forest and rugged terrain around Hacienda Guachipelin, at the foot of the Rincon de la Vieja Volcano, is one of the best places for zip lining, mountain biking, horseback riding, hiking, waterfall rappelling and river tubing. The active volcano gives the bonus of natural hot springs. Hacienda Guachipelin's Adventure Center is open daily for both hotel guests and day visitors.
Zip lining
Going on a Costa Rica zip line tour is possibly one of the most exhilarating things you can do. Soaring through the air over breathtaking landscapes will have your adrenaline pumping. The Canyon Canopy Tour at Hacienda Guachipelin uses professional safety harnesses and equipment, traversing steel cables that can support at least 5,000 lbs. of weight. More than only zip lines, the Canyon Canopy Tour includes rock climbing, a controlled rappel, Tarzan swings and hanging bridges.
Waterfall rappelling
The exhilarating adventure of Hacienda Guachipelin's Waterfalls Canyoning Tour has you rappel down a powerful, gushing waterfall and finish with a splash into the pool below.
River tubing
Splash through the watery rollercoaster of the Rio Negro (Black River) rapids on a river tubing adventure. Like river rafting, however, individuals ride in a big inflatable river tube and don't have to paddle. You just hang on and enjoy the ride! The river is narrow and shallow, and adventure guides accompany tour participants to keep everyone safe.
Horseback riding
Fulfill your cowboy or cowgirl dreams on a fun horseback ride along scenic forest trails on Hacienda Guachipelin's ranch. Six different horseback riding tours go to the Rincon de la Vieja National Park, waterfalls and natural hot springs. You can also try a "Cowboy for a Day" tour.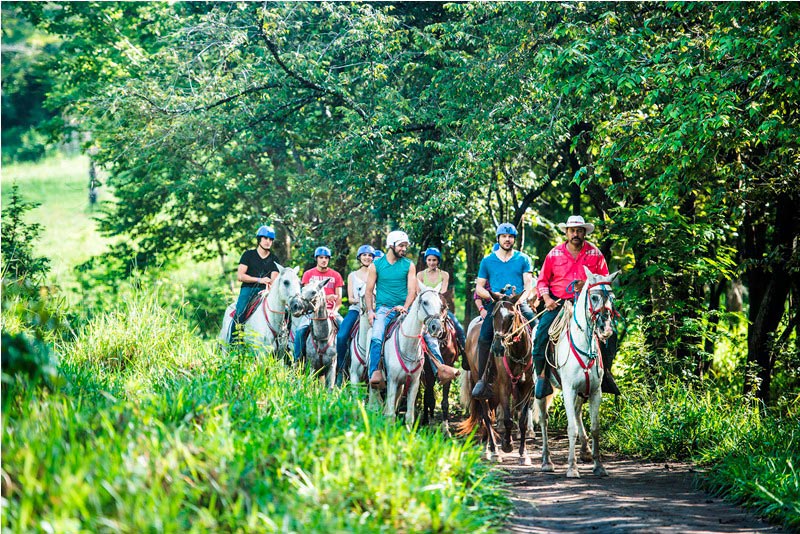 Mountain biking
Experience thrilling mountain bike tours at Hacienda Guachipelin riding trails through the rugged terrain by the Rincon de la Vieja Volcano. It's the only mountain bike tour in Costa Rica on an active volcano. Singletrack trails and dirt roads lead you through beautiful forest and to waterfalls.
Hacienda Guachipelin also offers new electric power-assisted mountain bikes to open the sport of mountain biking to everyone. You still have to pedal and do physical exercise to put an electric bike in motion, because the motor only kicks in once you start pedaling. Then you can set the level of power assistance that you want.
Hiking
Always wanted to hike by a live volcano? You can do that in the Rincon de la Vieja National Park by Hacienda Guachipelin. The Las Pailas ("The Cauldrons") loop trail takes you 2.5 miles (3.5 km) through unique dry tropical forest and shows off the awesome power of the live Rincon de la Vieja Volcano with steaming fumaroles, mini-geysers, bubbling volcanic mud pits, and sulfur-smelling hot springs.
Hot springs
You can enjoy beautiful and relaxing volcanic hot springs at two locations at Hacienda Guachipelin. The Rio Negro ("Black River") hot springs have 10 man-made pools that capture the steaming mineral-rich water heated naturally by the largest volcano in Guanacaste.
Along the banks of the bubbling Colorado River, the Simbiosis Spa features pools of thermo-mineral water, a wood-heated sauna, and facilities for massages and spa treatments like warm, healing, volcanic mud baths.
One Day Adventure Pass
Go for the ultimate adventure vacation buzz by combining several of the best Costa Rica adventure tours on the One Day Adventure Pass at Hacienda Guachipelin.