Only appearing at low tide, the huge tidepool in Santa Teresa is a favorite spot for swimming and snorkeling. Besides surfing and yoga, it is one of the favorite things to do in Santa Teresa.
Article by Shannon Farley
One of my favorite things to do in Santa Teresa, Costa Rica, when I visit Pranamar Oceanfront Villas, is to swim in the huge tidepool near the hotel.
The larger-than-Olympic-sized shallow sea water swimming pool is a bit of a secret spot since Santa Teresa's world-renowned surf gets most people's attention. It only appears at low tide, when the long flat beach of Playa Hermosa widens immensely. So, when you can go varies on the tides.
From Pranamar Oceanfront Villas and Yoga Retreat, the tidepool is a five-minute walk toward El Peñón – the massive rock jutting out of the sea where Santa Teresa Beach turns into Hermosa Beach. Both Santa Teresa and Playa Hermosa are listed by TripAdvisor as Top 10 Beaches in Central America and in Costa Rica.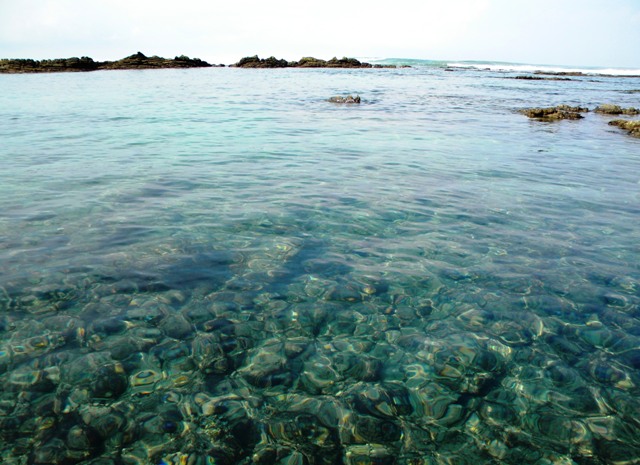 The tidepool is formed by irregularly-shaped volcanic rock reef and is both wide and long. An outer rocky reef protects the pool from pounding waves, and there are rock formations between the sand and the pool. The sun-warmed water ranges from knee-deep to about chest-deep, depending on the tide level, and is filled with all kinds of interesting sea creatures that get trapped when the tide goes out. You can find sea anemones, starfish, crabs, mussels, hermit crabs and lots of little brightly colored fish.
Since the water is shallow and it's right off the beach, this is a perfect swimming and snorkeling site for families with kids. It's also one of the only places to swim in the ocean without waves in Santa Teresa.
You will want to pay attention to the tides, however, and leave before the waves start getting too close as the tide comes in. It can be dangerous to walk back to shore across the rocky reef with waves or high water.
To walk across the rocks, you will want to wear water shoes or strap-on beach sandals that can get wet. Keep in mind when you are snorkeling in Costa Rica that the country is located very near the equator and the tropical sun reflecting off the water will fry your skin faster than a fish over fire. Wear a T-shirt or nylon shirt, a hat, and a generous layer of SPF 30 or 50 waterproof sports sunscreen.

Playa Hermosa in Santa Teresa, Costa Rica
The long, curving beach of Playa Hermosa is one of the most picturesque beaches in Santa Teresa. Officially called "San Martin," visitors to the beach commented so often on how beautiful it was that it became known as Playa Hermosa, or "beautiful beach" in Spanish. Playa Hermosa is a Blue Flag beach – rewarded by the Costa Rican Tourism Board for being one of the cleanest beaches in the country.
Pranamar Villas sits directly on the beach at Playa Hermosa. You can walk out from your beachfront or garden bungalow, or poolside villa, onto the soft sand under an oasis of coastal almond and palm trees. The beautiful Bali-style beachfront hotel in Santa Teresa has been awarded TripAdvisor's Certificate of Excellence for many years and was named a Top 5 Yoga Retreat in Costa Rica by Travel & Leisure Magazine.